World records for Cole, Boki and Brazil at 2015 IPC Swimming World Championships
Australian Ellie Cole set her second world record of the day whilst there were three golds for the USA.
13 Jul 2015
Imagen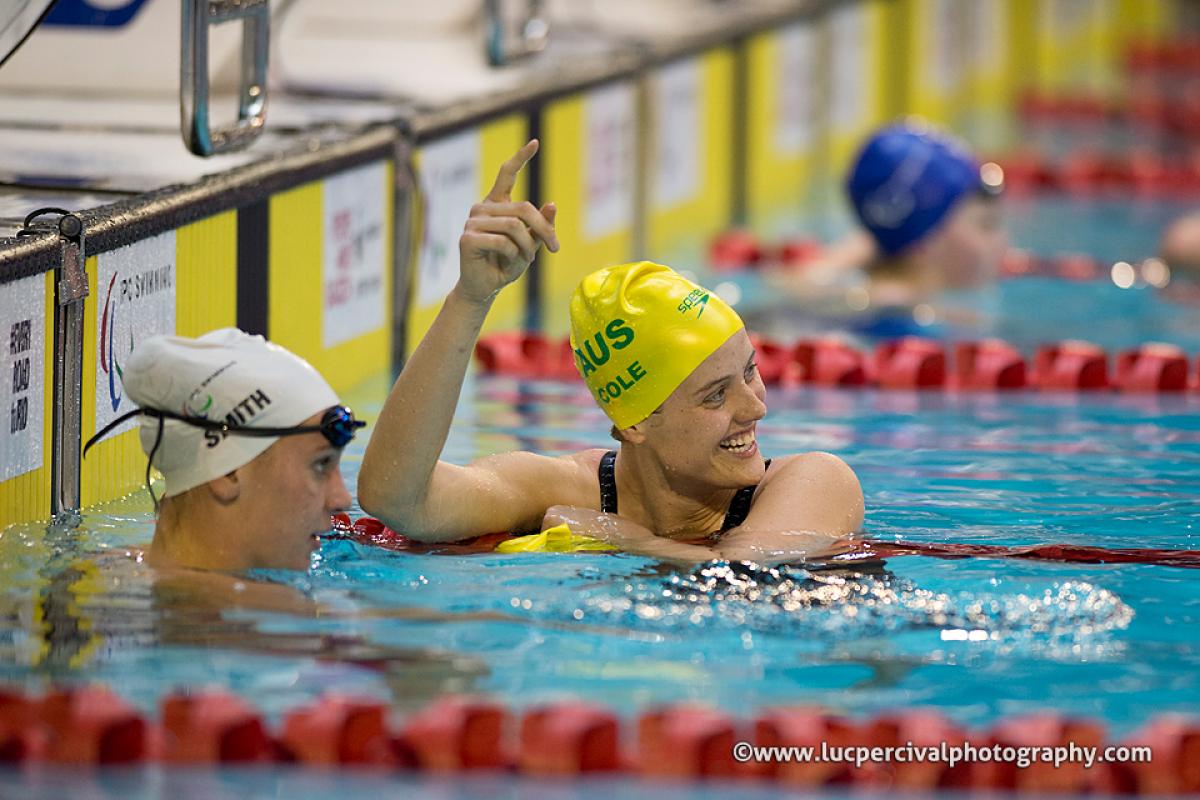 ⒸLuc Percival
By IPC
"I did hopefully what I needed to do. It was a good time on my part and it one of the best times I've done since [London] 2012. It was the best I could have done on the day to be honest."
Australia's Ellie Cole enjoyed a memorable first day at the IPC Swimming World Championships on Monday (13 July) in Glasgow, Great Britain, by winning one gold medal and setting two new world records.
The 23-year-old (1:08.67) won gold in the women's 100m backstroke S9 to lower the world record she had set in the morning's heats by 0.22 seconds. Great Britain's Tully Kearney (1:10.52) took silver whilst Spain's Nuria Marques (1:10.68) won the bronze.
Belarus' serial gold medal winner Ihar Boki (23.20) lowered his own men's 50m freestyle S13 world record on his way to another world title. In a supremely fast race, Brazil's Carlos Farrenberg (24.13) broke the Americas record to take the silver. Ukraine's Iaroslav Denysenko (24.23) had to settle for bronze.
In the final race of the day, the Brazilian team of Estefany Rodrigues, Clodoaldo Silva, Daniel Dias and Joana Maria Silva (2:29.80) sealed the third world record of the evening session with victory in a thrilling 4x50m freestyle 20 points. Ukraine (2:35.88) were second and Russia (2:37.63) third.
Earlier in the evening there was a major shock in the women's 400m freestyle S6 as Ukraine's Yelyzaveta Mereshko (5:21.76) beat Great Britain's Ellie Simmonds (5.22.54) to the world title. The pair fought hard, but Mereshko managed to beat Simmonds, who had won gold in the event at every major international event since 2008, to the wall. Italy's Vianney Trejo (5:46.12) was third.
"It was such a tough race," Simmonds said. "I did hopefully what I needed to do. It was a good time on my part and it one of the best times I've done since [London] 2012. It was the best I could have done on the day to be honest."
Daniel Dias (35.34), Brazil's most successful Paralympic swimmer, set a new Championship record as he got the better of home favourite Andrew Mullen (37.68) in their long-anticipated face-off in the men's 50m backstroke S5. Turkey's Beytullah Eroglu (40.27) completed the podium.
Continuing the Brazilian success was reigning world champion Andre Brasil (23.20) in the men's 50m freestyle S10. Although he was just outside of the world record, Brasil pulled out his best when it counted to beat his teammate Phelipe Rodrigues (23.81). Canada's Nathan Stein (23.84) was third.
South Korea's Jo Giseong (2:56.23) made a splash as he set a Championships record in the men's 200m freestyle S4. The 19-year-old was overcome as he beat Russia's Roman Zhdanov (3:03.27) and Mexico's Gustavo Sanchez (3:07.19) onto the podium.
China's Paralympic champion Shiyun Pan (1:01.53) won gold in the men's 100m freestyle S7 with a new Championships record. Australian Matthew Levy (1:02.51) secured silver, leading Russian Sergey Sukharev (1:03.27) onto the podium.
Russian Anna Krivshina (27.49) set a new Championships record with gold in the women's 50m freestyle S13. Ukraine's Anna Stetsenko (27.80) swam to silver whilst Poland's Joanna Mendak (28.39) was third.
Krivshina's compatriot Denis Tarasov (1:01.05) led France's Charles Rozoy and Mexico's Armando Andrade (1:03.92) onto the men's 100m butterfly S8 podium.
The USA won the most individual world titles on the first day of Glasgow 2015 with Cortney Jordan winning the first of three golds for Team USA with victory in the women's freestyle S7. Jordan (1:11.93) pulled away from the field on the turn to leave an incredibly close fight for silver and bronze. Russia's Ani Palian (1:12.98) and Great Britain's Susannah Rodgers (1:13.10) battled it out to the wall to take second and third respectively.
Bradley Snyder (56.78) won his first world title in the men's 100m freestyle S11with a Championships record that was just over one tenth of a second off the world record. Brazil's Matheus Sousa (59.20) took silver whilst South Africa's Hendri Herbst (1:00.35) secured bronze.
"I've had my eye on that [world] record since 2012 and I know I'm capable of it," Snyder said. "I'm looking forward to hopefully having another shot at it in Rio next year. I've proved to myself that I'm capable and now I just have to do it."
Jessica Long (1:09.79) said she was "ecstatic" after winning a keenly contested women's 100m butterfly S8. Holding a slender lead after the turn, the US swimmer held off a stiff challenge from Ukraine's Katernya Istomina (1:10.05) who settled for silver. Australia's Maddison Elliott (1:14.20) took the bronze.
Ukraine's Dmytro Vynohradets (3:28.89) got his campaign to retain his seven world titles underway with a win in the men's 200m freestyle S3. Russia's Alexander Makarov (3:35.19) took silver ahead of Italian newcomer Vincenzo Boni (3:41.96).
Canada's Aurelie Rivard (27.87) stormed to victory in the women's 50m freestyle S10, finishing ahead of Russia's Nina Ryabova (27.91) in a new Americas record time. Rivard also took the scalp of New Zealand's world champion Sophie Pascoe (28.00) who could only manage the bronze.
"It's a great start." Rivard said. "It gives me a lot of confidence for the week and a lot of motivation."
Spain's multiple Paralympic champion Teresa Perales (44.61) finally got the world title she had been longing for in the women's 50m backstroke S5. The Czech Republic's Bela Trebinova (46.23) finished second ahead of Norway's multiple Paralympic and world champion Sarah-Louise Rung (46.96).
Australia collected a second gold medal in the men's 100m backstroke S9, with Brendan Hall (1:05.01) just taking Great Britain's James Crisp (1:05.12) on the line. Hungary's Toth Tamas (1:05.24) rounded off the top three.
Dutch world champion Marc Evers (1:07.10) retained his men's 100m breaststroke SB14 world title in a sensational race which set the Tollcross International Swimming Centre alight.
Great Britain's silver medallist Scott Quin (1:07.99) just lost out to Evers in the last few metres and had to share silver with Japan's Paralympic champion Yusuhiro Tanaka who clocked exactly the same time.
Evers' teammate Magda Toeters (1:16.16) won her first world title in the women's 100m breaststroke SB14. Russia's Valeriia Shabalina (1:19.24) and world and Paralympic champion Michelle Alonso (1:19.64) completed the podium.
New Zealand's Mary Fisher (1:10.30) won her sixth career world title in the women's 100m freestyle S11. Germany Daniel Schulte (1:11.33) showed that she is still amongst the best in the world by taking silver, as did China's Guizhi Li (1:11.74) who took bronze.
Italy's Francesco Bocciardo (5:06.49) managed to hang on to take gold from advancing Russian swimmer Andrei Granichka (5:06.51) in the men's 400m freestyle S6. Ireland's Darragh Mcdonald (5:12.61) was third.
Race footage is available directly from IPC Swimming, as well as daily newsfeeds x 2 (following News Access Rules) for non-rights holders. For more information contact [email protected].
Pictures are available at www.flickr.com/paralympic. High resolution versions are available on request from [email protected]
The 2015 IPC Swimming World Championships, which run until 19 July, will feature around 580 athletes from nearly 70 countries and will be one of the biggest qualification opportunities for Rio 2016.
Tickets are still available and all seven days of action will be shown live at Glasgow2015.com alongside live results between 13-19 July.
Fans can also follow @IPCSwimming on Twitter and Facebook and Paralympics Instagram for behind-the-scenes updates and pictures.