Imagen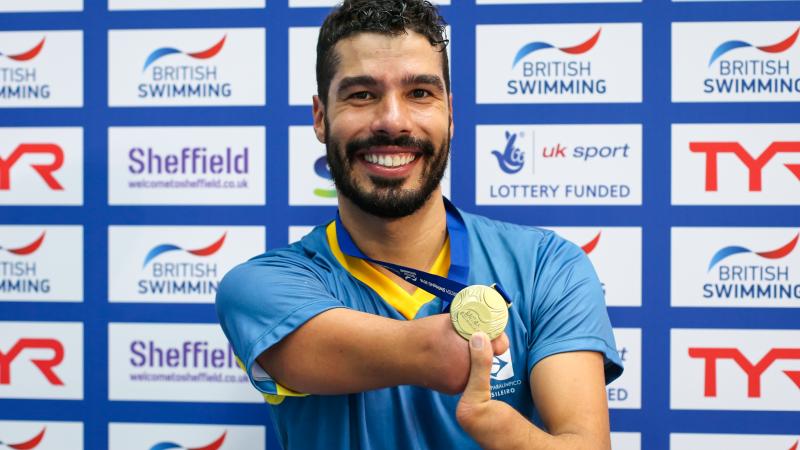 Daniel Dias confirmed his status as Brazil's most decorated Paralympian ever with four gold, three silver and two bronze medals at his home Paralympic Games, in Rio de Janeiro.
The swimmer has already won a staggering 24 medals over three Paralympic Games and is probably hoping to add more in four-years-time in Tokyo, Japan.
Earlier in 2016, Dias received the Laureus World Sports Award for Sportsperson of the Year with a Disability for a third time, which is also a record, as he won in 2009 and 2013.
In 2015, Dias brought his career world title count to 24 from four editions at the IPC Swimming World Championships in Glasgow, Great Britain.
At the Toronto 2015 Parapan American Games, Dias left once again as the most decorated athlete with eight gold medals from all events.
The year also ended well for the Brazilian with the birth of his second son.
Born in 1988, Dias was inspired to take up Para swimming after seeing fellow Brazilian Clodoaldo Silva at the Athens 2004 Paralympic Games.
His first World Championships were in 2006, and he left Durban, South Africa as a three-time world champion.
At the Beijing 2008 Paralympic Games he made a significant impact, winning a total of nine medals, including four golds. His medal haul made him the most decorated athlete at the Games, a fact that did not go unnoticed by Laureus who presented him with the Sportsperson of the Year with a Disability award in 2009.
That same year, he also won eight individual golds and three relay silvers at the IPC Swimming World Championships Short Course in Rio de Janeiro, Brazil.
A year later he was pretty much unbeatable at the 2010 IPC Swimming World Championships in Eindhoven, the Netherlands winning eight gold and a silver medal.
He was in even more impressive form at the 2011 Parapan American games in Guadalajara, Mexico. The S5 swimmer claimed gold medals in all 11 events he competed in.
London 2012 saw him win six golds and set four world records, and he won the Laureus Award once again for his achievements in March 2013.
When he retires he wants to encourage youngsters with an impairment to take up Para swimming.
Photo Gallery
Imagen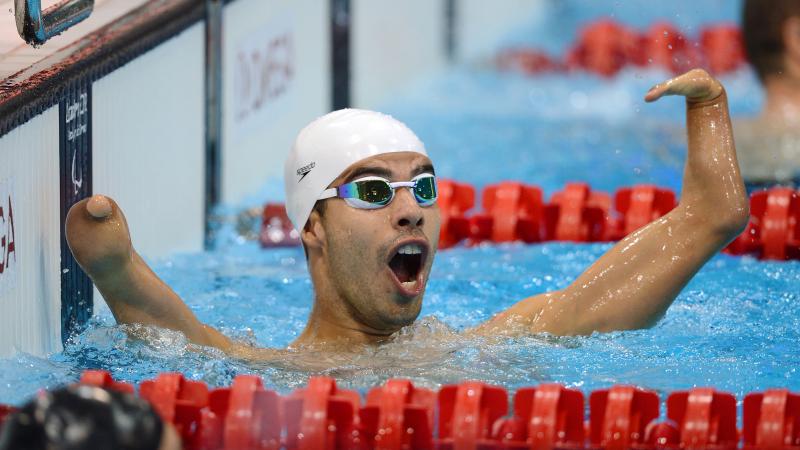 Imagen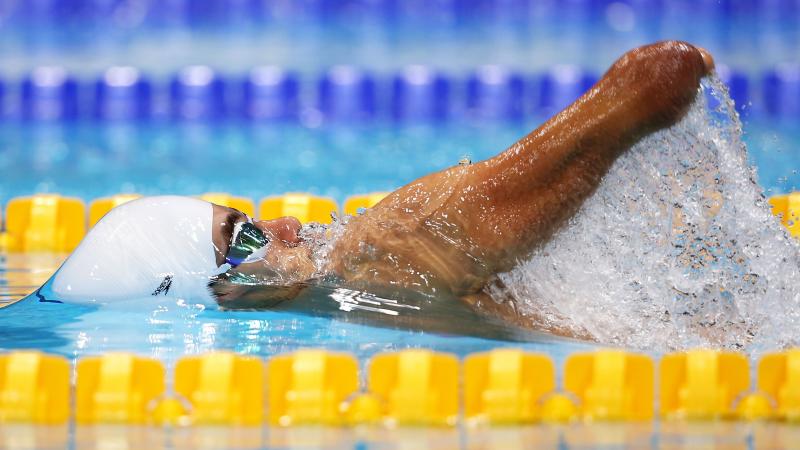 Imagen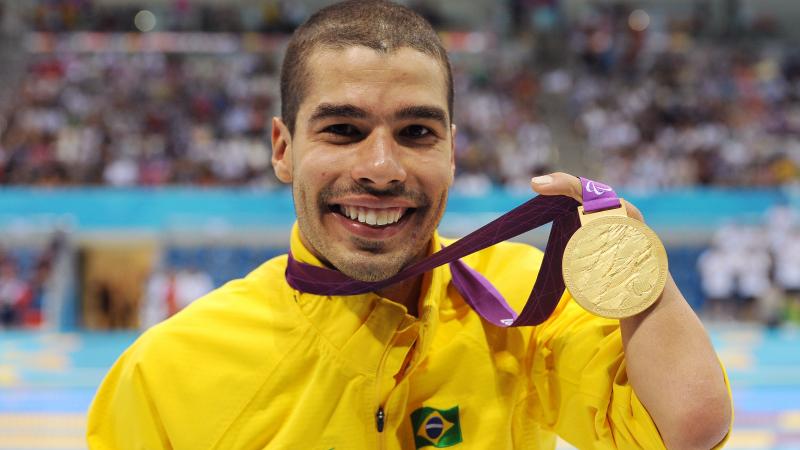 Imagen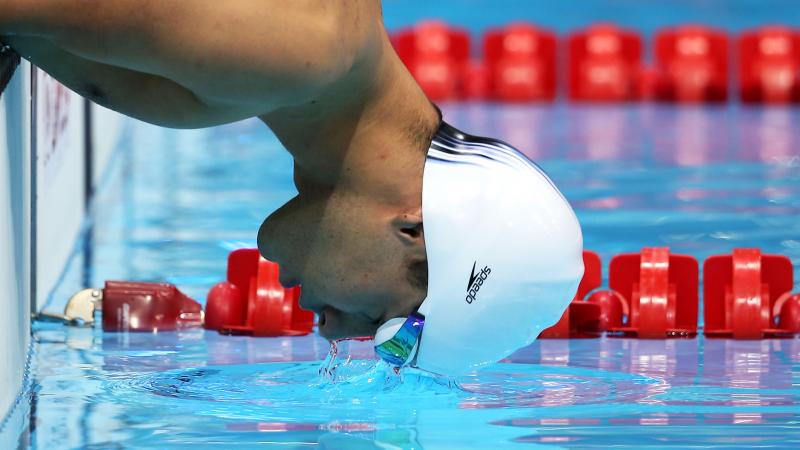 Imagen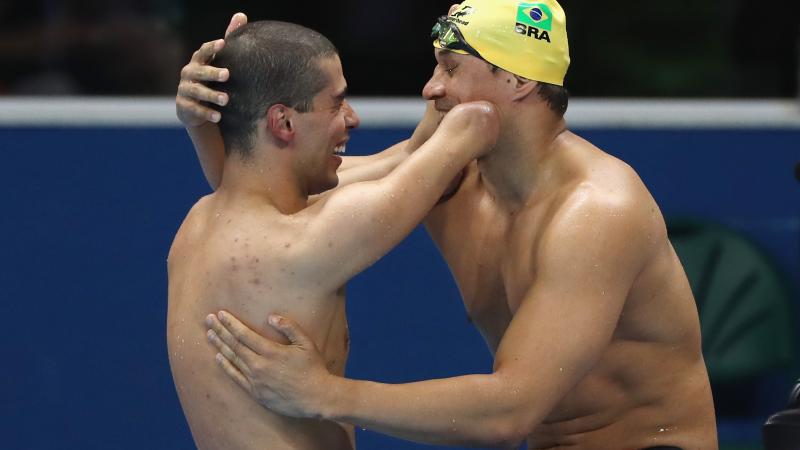 Imagen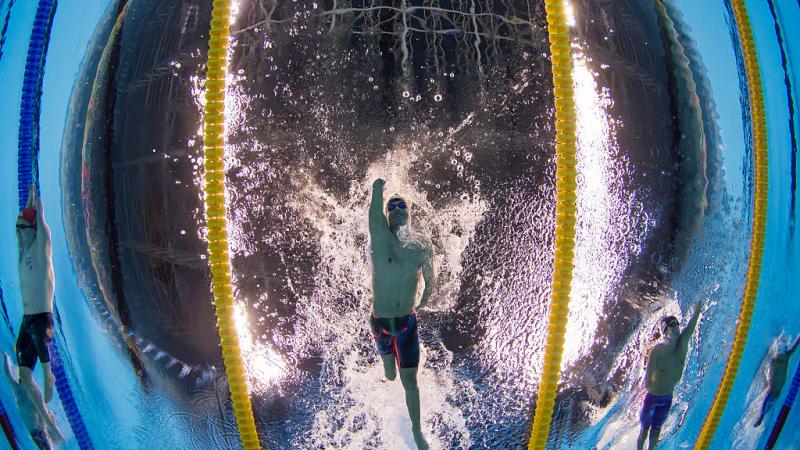 Imagen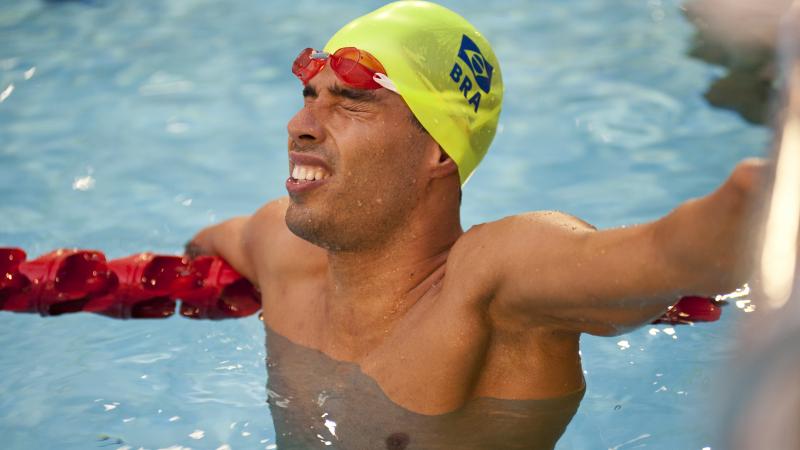 Imagen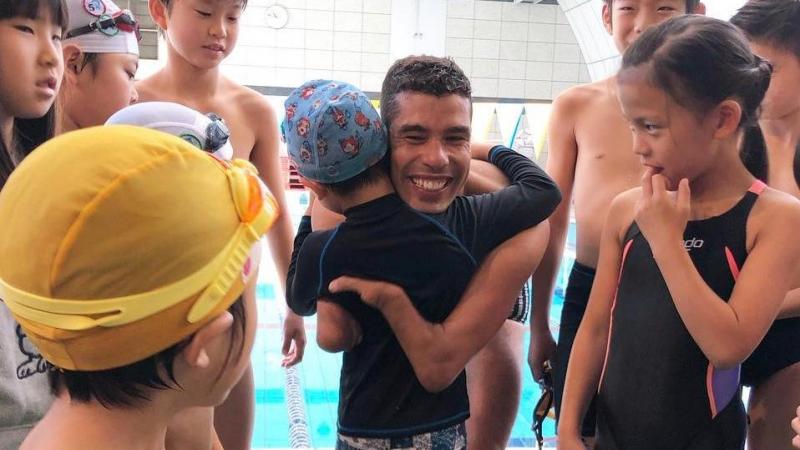 Imagen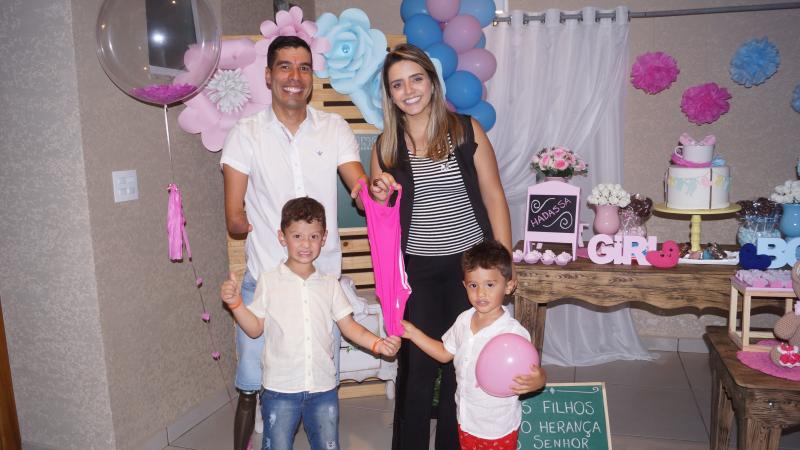 Results
IPC Swimming World Championships Eindhoven 2010 (Eindhoven, Netherlands)

| Event | Medal | Unit | Date | Rank |
| --- | --- | --- | --- | --- |
| Men's 50 m Freestyle S5 | | Final Round | | 1 |
| Men's 200 m Individual Medley SM5 | | Final Round | | 1 |
| Men's 200 m Individual Medley SM5 | | Heat 2 | | 1 |
| Men's 200 m Freestyle S5 | | Final Round | | 1 |
| Men's 200 m Freestyle S5 | | Heat 2 | | 1 |
| Men's 100 m Freestyle S5 | | Final Round | | 1 |
| Men's 100 m Freestyle S5 | | Heat 2 | | 1 |
| Men's 100 m Breaststroke SB4 | | Final Round | | 1 |
| Men's 4x100 m Freestyle 34pts | | Heat 2 | | 2 |
| Men's 4x100 m Freestyle 34pts | | Final Round | | 2 |
| Men's 4x100 m Medley 34pts | | Heat 1 | | 2 |
| Men's 50 m Freestyle S5 | | Heat 3 | | 1 |
| Men's 50 m Butterfly S5 | | Final Round | | 1 |
| Men's 50 m Butterfly S5 | | Heat 3 | | 1 |
| Men's 50 m Backstroke S5 | | Final Round | | 1 |
| Men's 50 m Backstroke S5 | | Heat 2 | | 1 |
| Men's 4x50 m Medley 20pts | | Final Round | | 1 |
| Men's 4x50 m Medley 20pts | | Heat 1 | | 1 |
| Men's 4x50 m Freestyle 20pts | | Final Round | | 5 |
| Men's 4x50 m Freestyle 20pts | | Heat 1 | | 2 |
| Men's 4x100 m Medley 34pts | | Final Round | | 5 |
IPC Swimming World Championships Durban 2006 (Durban, South Africa)

| Event | Medal | Unit | Date | Rank |
| --- | --- | --- | --- | --- |
| Men's 100 m Freestyle S5 | | Heats | | 3 |
| Men's 100 m Freestyle S5 | | Final Round | | 1 |
| Men's 200 m Individual Medley SM5 | | Final Round | | 1 |
| Men's 4x100 m Medley 34 pts | | Heats | | 6 |
| Men's 4x100 m Medley 34 pts | | Final Round | | 6 |
| Men's 4x50 m Freestyle 20 pts | | Final Round | | 9999 |
| Men's 4x50 m Medley 20 pts | | Final Round | | 1 |
| Men's 50 m Backstroke S5 | | Heats | | 2 |
| Men's 50 m Backstroke S5 | | Final Round | | 2 |
| Men's 50 m Butterfly S5 | | Heats | | 2 |
| Men's 50 m Butterfly S5 | | Final Round | | 2 |
2013 IPC Swimming World Championships (Montreal, Canada)

| Event | Medal | Unit | Date | Rank |
| --- | --- | --- | --- | --- |
| Men's 50 m Butterfly S5 | | Heat 2 | 2013-08-12 | 1 |
| Men's 50 m Butterfly S5 | | Final 1 | 2013-08-12 | 2 |
| Men's 200 m Freestyle S5 | | Heat 2 | 2013-08-13 | 1 |
| Men's 200 m Freestyle S5 | | Final 1 | 2013-08-13 | 1 |
| Men's 4x50 m Freestyle 20pts | | Final 1 | 2013-08-14 | 1 |
| Men's 50 m Backstroke S5 | | Final 1 | 2013-08-14 | 1 |
| Men's 50 m Backstroke S5 | | Heat 2 | 2013-08-14 | 1 |
| Men's 200 m Individual Medley SM5 | | Heat 2 | 2013-08-15 | 1 |
| Men's 200 m Individual Medley SM5 | | Final 1 | 2013-08-15 | 1 |
| Men's 4x100 m Freestyle 34pts | | Final 1 | 2013-08-15 | 2 |
| Men's 4x50 m Medley 20pts | | Final 1 | 2013-08-16 | 9999 |
| Men's 100 m Freestyle S5 | | Final 1 | 2013-08-17 | 1 |
| Men's 50 m Freestyle S5 | | Heat 2 | 2013-08-18 | 1 |
| Men's 50 m Freestyle S5 | | Final 1 | 2013-08-18 | 1 |
| Men's 4x100 m Medley 34pts | | Final 1 | 2013-08-18 | 5 |
2015 IPC Swimming World Championships (Glasgow, Great Britain)

| Event | Medal | Unit | Date | Rank |
| --- | --- | --- | --- | --- |
| Men's 50 m Backstroke S5 | | Heat 2 | 2015-07-13 | 2 |
| Mixed 4x50 m Freestyle 20pts | | Final 1 | 2015-07-13 | 1 |
| Men's 50 m Backstroke S5 | | Final 1 | 2015-07-13 | 1 |
| Men's 200 m Freestyle S5 | | Heat 2 | 2015-07-15 | 1 |
| Men's 200 m Freestyle S5 | | Final 1 | 2015-07-15 | 1 |
| Men's 50 m Butterfly S5 | | Final 1 | 2015-07-16 | 1 |
| Men's 50 m Butterfly S5 | | Heat 2 | 2015-07-16 | 2 |
| Men's 50 m Freestyle S5 | | Heat 2 | 2015-07-17 | 1 |
| Men's 50 m Freestyle S5 | | Final 1 | 2015-07-17 | 1 |
| Men's 4x100 m Freestyle 34pts | | Final 1 | 2015-07-17 | 2 |
| Men's 100 m Breaststroke SB4 | | Heat 1 | 2015-07-18 | 3 |
| Men's 100 m Breaststroke SB4 | | Final 1 | 2015-07-18 | 1 |
| Men's 100 m Freestyle S5 | | Final 1 | 2015-07-19 | 1 |
| Men's 100 m Freestyle S5 | | Heat 2 | 2015-07-19 | 1 |
Mexico City 2017 World Para Swimming Championships (Mexico City, Mexico)

| Event | Medal | Unit | Date | Rank |
| --- | --- | --- | --- | --- |
| Men's 4x100 m Freestyle 34pts | | Final 1 | 2017-12-02 | 1 |
| Men's 100 m Freestyle S5 | | Final 1 | 2017-12-02 | 1 |
| Men's 50 m Backstroke S5 | | Final 1 | 2017-12-04 | 1 |
| Men's 50 m Backstroke S5 | | Heat 2 | 2017-12-04 | 1 |
| Men's 50 m Freestyle S5 | | Final 1 | 2017-12-05 | 1 |
| Men's 50 m Freestyle S5 | | Heat 2 | 2017-12-05 | 1 |
| Men's 200 m Freestyle S5 | | Final 1 | 2017-12-06 | 1 |
| Men's 4x100 m Medley 34pts | | Final 1 | 2017-12-06 | 1 |
| Mixed 4x50 m Freestyle 20pts | | Final 1 | 2017-12-07 | 9999 |
London 2019 World Para Swimming Championships (London, Great Britain)

| Event | Medal | Unit | Date | Rank |
| --- | --- | --- | --- | --- |
| Men's 50 m Freestyle S5 | | Final 1 | 2019-09-09 | 1 |
| Men's 50 m Freestyle S5 | | Heat 2 | 2019-09-09 | 1 |
| Mixed 4x50 m Medley 20pts | | Final 1 | 2019-09-10 | 5 |
| Mixed 4x50 m Medley 20pts | | Heat 2 | 2019-09-10 | 5 |
| Mixed 4x50 m Freestyle 20pts | | Final 1 | 2019-09-11 | 4 |
| Mixed 4x50 m Freestyle 20pts | | Heat 1 | 2019-09-11 | 2 |
| Men's 50 m Butterfly S5 | | Final 1 | 2019-09-12 | 3 |
| Men's 50 m Butterfly S5 | | Heat 1 | 2019-09-12 | 3 |
| Men's 50 m Backstroke S5 | | Heat 2 | 2019-09-14 | 3 |
| Men's 50 m Backstroke S5 | | Final 1 | 2019-09-14 | 3 |
| Men's 100 m Freestyle S5 | | Final 1 | 2019-09-15 | 2 |
| Men's 100 m Freestyle S5 | | Heat 1 | 2019-09-15 | 2 |