Tokyo 2020 Day 1: Ones to Watch
Brazilian superstar swimmer Daniel Dias and Australia's Ryley Batt, considered the best wheelchair rugby player in the world, are among the attractions of the first day of competition
24 Aug 2021
Imagen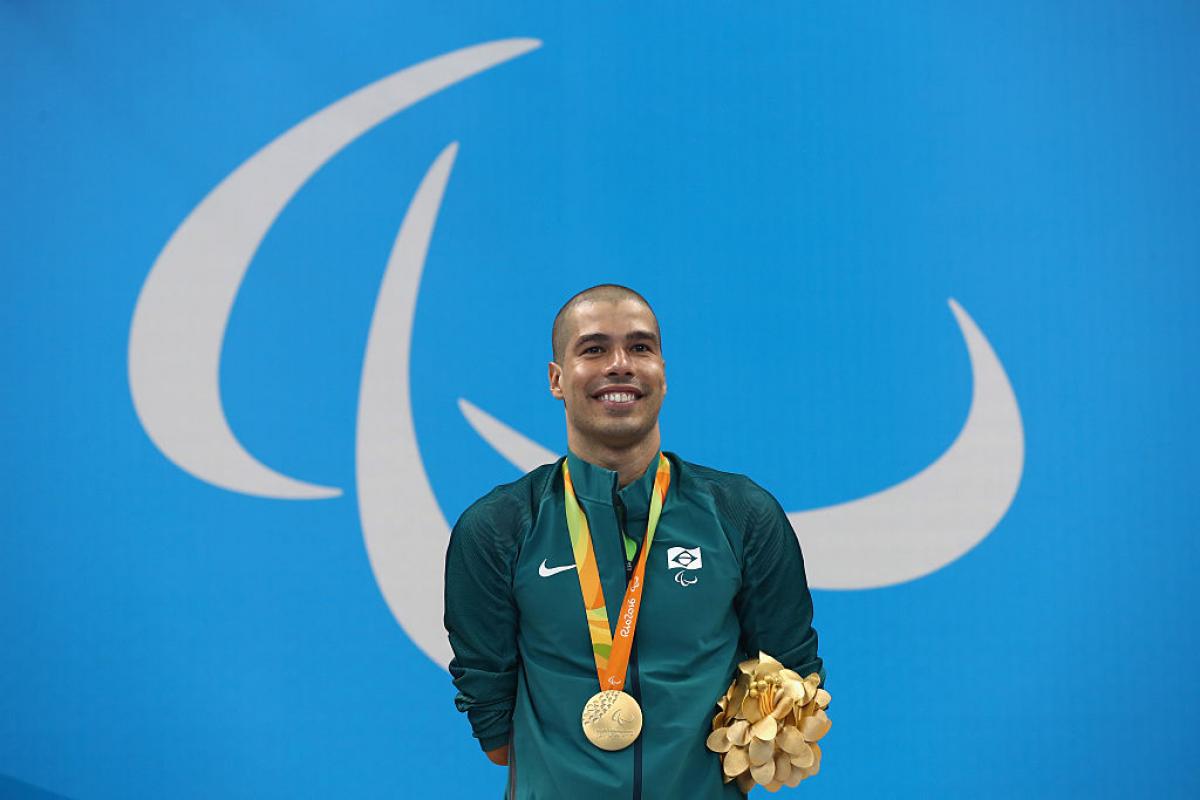 By IPC
The first competition day of the Tokyo 2020 Paralympic Games will feature some of the sport's best, such as Daniel Dias and Ryley Batt. The Brazilian has the chance to become the most decorated Paralympic male swimmer of all time at Tokyo 2020. He needs to add just three more golds to his current haul of 14 gold, seven silver and three bronze to move past record holder, Mike Kenny, who has won 16 golds. 
Considered the best wheelchair rugby player in the world, Batt will look to lead Australia to a third straight gold medal, something yet to be achieved at the Games in this sport.
Swimmer Sophie Pascoe, from New Zealand, will be another athlete to watch, as she comes from winning three gold and two silver medals at Rio 2016.
Daniel Dias (BRA)
Before he bows out of his Paralympic career, the Brazilian superstar has the chance to become the most decorated Paralympic male swimmer of all time at Tokyo 2020. The Brazilian needs to add just three more golds to his current haul of 14 gold, seven silver and three bronze to move past record holder, Mike Kenny, who has won 16 golds.  Born in Campinas, Dias discovered Para swimming watching fellow Brazilian Clodoaldo Silva competing at the Athens 2004 Paralympic Games. Two years later, Dias was already smashing world records and making his World Championships debut in Durban, South Africa taking three gold medals. His Paralympic debut came at Beijing 2008 with the Brazilian returning from China with nine medals (four golds, four silvers and one bronze). At London 2012, Dias won six golds out of six events at the London Aquatics Centre. Dias was recently named a member of the Laureus World Sports Academy, dubbed the most exclusive team in sport – and having won nine medals in front of a home crowd at Rio 2016, the S5 swimmer will be confident he can create even more history in Tokyo.
Sophie Pascoe (NZL)
Pascoe knows all too well what it is like to make a Paralympic debut as a teenager. Having won three golds and one silver aged 15 at Beijing 2008, the New Zealand athlete did even better four years later in London, taking home three titles and three silver medals. Pascoe, who lost her left leg following a lawnmower accident at 2 years old, is now approaching her fourth Paralympic Games. She will aim to build on her three gold and two silver medals from Rio 2016 and emerge as the most decorated Paralympian of her country. 
Aurelie Rivard (CAN)
Whilst Aurelie Rivard claimed a silver medal in the 400m freestyle S10 at the London 2012 Paralympic Games, it is in the years since that the Canadian has really come to the fore.In 2013 she won four medals at her home World Championships in Montreal, Canada. Still though, she struggled to overcome New Zealand's multiple world and Paralympic champion Sophie Pascoe to claim top place on the podium. That all changed in 2015 when Rivard stormed to two gold medals in the 50m and 400m freestyle S10 for her first world titles in Glasgow, Great Britain, against Pascoe. At the Toronto 2015 Parapan American Games, once again in her home waters, Rivard brought down Pascoe's 100m freestyle world record by 0.06 seconds. Firmly embedding herself in the national consciousness, Rivard won six gold medals in Toronto to become the most decorated female athlete across all sports and third most medalled overall. Rivard was one of the national favourites heading into her second Paralympic Games at Rio 2016, and she did not disappoint. Trumphant in three events with world records in the 50m and 400m freestyle, Rivard also showed Pascoe her rise to the top was complete.
Bo Kramer (NED)
Bo Kramer is looking to do what no Dutch woman has ever done – lead her team to a Paralympic gold in wheelchair basketball. A perennial favourite, the Netherlands have made it to the Paralympic semifinals five times since 1988, without yet winning gold. Expectations have been ramped up since the team won its first-ever World Championship gold in 2018 – a tournament in which Kramer was instrumental.  One of the youngest Paralympians at Rio 2016, the now 22-year-old Kramer will arrive in Tokyo as one of the sport's brightest young stars. She led the team in scoring in two of the three 2018 World Championship playoff games to finish as the tournament's second highest scorer. Already one of the sport's most agile players – with a fantastic shot from range – Kramer moved to the RBBL2's Hot Rolling Bears Essen club team in order to optimise her training ahead of Tokyo. 
Rose Hollermann (USA)
There may be no player in the world better than Rose Hollermann, who will be important as defending Paralympics wheelchair basketball champions USA look to rebound from a disappointing sixth place finish at the most recent World Championships. Still just 25 years old, Hollermann has been a mainstay on American junior and senior teams since 2011, racking up trophies and individual accolades along the way.  A 3-time national junior champion, she led her university team, the UTA Lady Movin' Mavs, to three national championship finals and two titles. Hollermann has won gold with the national team at the U20 Worlds (2010), the U25 Worlds (2011, 2019), and two Parapan Am Games (2011, 2015). She was the youngest player on the senior team from her debut at the 2011 Worlds through to the 2016 Paralympic Games, where she also secured gold. 
Sini Zeng (CHN)
Zeng blazed into the Paralympic scene after winning three medals – two golds – on the track and road at London 2012. A C2 cyclist, Zeng returned to her second Games in Rio de Janeiro, Brazil, hoping to defend her titles but fell just short of the podium in both her track events. She managed silver in the road race and bronze in the road time trial, and has since continued showing she has golden potential at her third Games in both disciplines. She won the individual time trial and took bronze in the road race at the 2019 Road Worlds, and showed her speed again by winning the individual pursuit at the 2020 Track Worlds. 
Ryley Batt (AUS)
Considered by many as the world's best player, the powerful Australian has very few weaknesses. Speed, strength and incredible game awareness makes Ryley Batt almost impossible to stop. Tokyo 2020 will be his fifth Paralympics and he will look to lead his country to a third straight gold medal, a feat that is yet to be achieved at the Games in wheelchair rugby. The Rio 2016 gold medal match against the USA will go down as one of the greatest in Games history, with Batt making some unbelievable plays as Australia won a double-overtime thriller, 59-58. He was at his devastating best as Australia was crowned world champions for the first time in 2014 in Odense, Denmark, but was unable to lead the side to back-to-back victories in 2018 as Japan broke through for its first Worlds triumph, 62-61 on Australian soil. While he has always been a power scorer, Batt's defensive capabilities have improved throughout his career with an amazing ability to close down players and force turnovers when his team needs it the most.
Mayo Hagino (JPN)
For Japan's Mayo Hagino, a stalwart low-pointer that has been with the national team since 2010, the Tokyo Paralympics represents an opportunity to accomplish something the Japanese team has not done in over 20 years – win a Paralympic medal. That was long before Hagino got her start in the sport after seeing it at Beijing 2008. She picked up wheelchair basketball in 2009 – and made the national team in time for the 2010 World Championships, where Japan finished 7th. After her first Worlds experience, Hagino put on the Japan jersey for the 2011 and 2015 U25 World Championships, where she was named one of the Top 5 players. Born with a spinal tumor that severely limits her ability to move, Hagino has been in a wheelchair since childhood. She is currently one of only two women on Miyagi Max in Japan's Premiere League – which is one of two teams she has led to a national championship. Can she lead Japan to a memorable title at home in Tokyo? 
Kelly van Zon (NED)
A two-time Paralympic and three-time world champion, the Dutch superstar heads to Tokyo 2020 in search of a third straight gold medal at the Games in the table tennis women's class 7. Her debut Paralympics at Beijing 2008 resulted in a bronze medal in the singles, but she went to the top of the podium at London 2012 and defended her title at Rio 2016.Van Zon made headlines at Rio 2016 when she pulled off a miraculous diving shot around the net and left her opponent and eventual silver medallist, Turkey's Kubra Korkut, stunned. She has won singles gold at every single major international tournament since 2009, with the exception of the 2013 and 2017 European Championships, and completed a hat trick of World Championship titles in 2018. Van Zon started playing table tennis aged 9 and made her international debut in 2003.
Amanda Dennis (USA)
Two-time Paralympian Amanda Dennis was a core part of the USA's return to the Paralympic goalball podium at Rio 2016. Blocking an incredible 40 shots from Brazil in the women's bronze medal match, Dennis helped her team to a 12th medal. As team captain, she was also the USA's top scorer at the 2018 World Championships. Dennis, who is married to German national team player Michael Dennis, started playing goalball right-handed at the age of 7 but switched to her left. As a result, the 27-year-old is uniquely ambidextrous and has been working on her right-handed throw in recent months. 
Kylie Grimes (GBR)
The Brit is a dual-sport double Paralympian from London 2012 and Rio 2016. She took up wheelchair rugby in 2010 and was called up to the national team one year later. She represented her country at the 2012 Paralympics on home soil, where the British squad ended fifth in the sport. Grimes then switched to Para athletics, finishing fourth in the women's club throw F51 at Rio 2016. She returned to wheelchair rugby afterwards, helping the British team become European champions in Denmark in 2018.