Imagen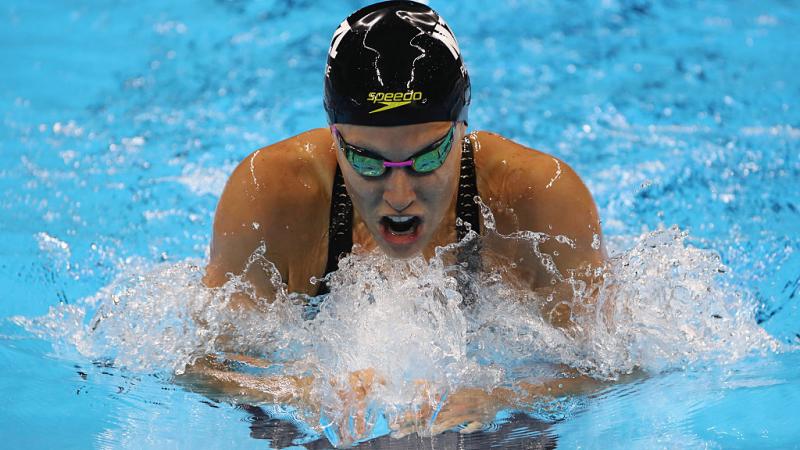 Aged just 15, Sophie Pascoe was the youngest member of the New Zealand team at Beijing 2008 where she won three gold and one silver medal in the Water Cube.
Her success in Beijing earned her four awards at the 2009 Canterbury Sportsperson Awards, including the prestigious Sportsperson of the Year Award.
At London 2012 she did even better than in Beijing taking home three gold and three silver medals in front of 17,000 people.
"I'm incredibly rapped to finish the games off like that. My ultimate goal was to get on the podium and that's what I've done. I'm finished and had a great campaign," she said after the final race of her second Paralympic Games.
After setting personal bests in all the races she won silver in at London 2012 she was determined to add to her gold medal collection at the 2013 IPC Swimming World Championships in Montreal, Canada, and came away with an incredible five world titles.
The S10 swimmer had a difficult season in 2015 with the absence of her coach Roly Crichton, but still made the best of the year by adding three world titles to her bulging collection.
Pascoe, who lost her left leg following a lawnmower accident at two years old, shone again at the Rio 2016 Paralympic Games, taking three golds and two silvers, and breaking one world and one Paralympic records along the way.
Photo Gallery
Imagen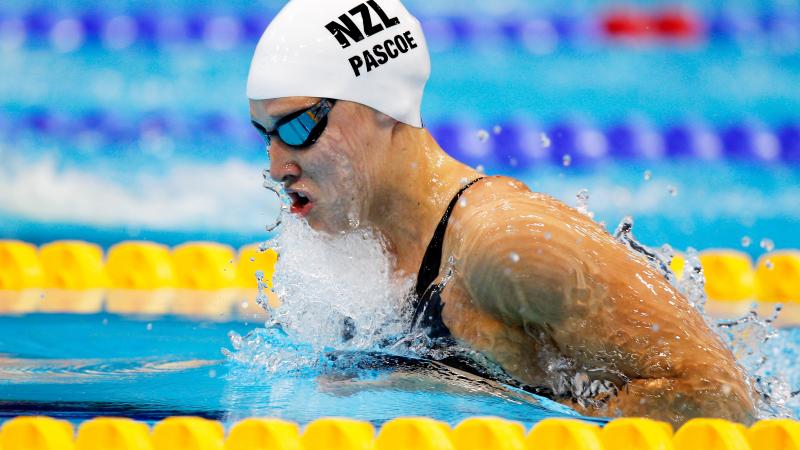 Imagen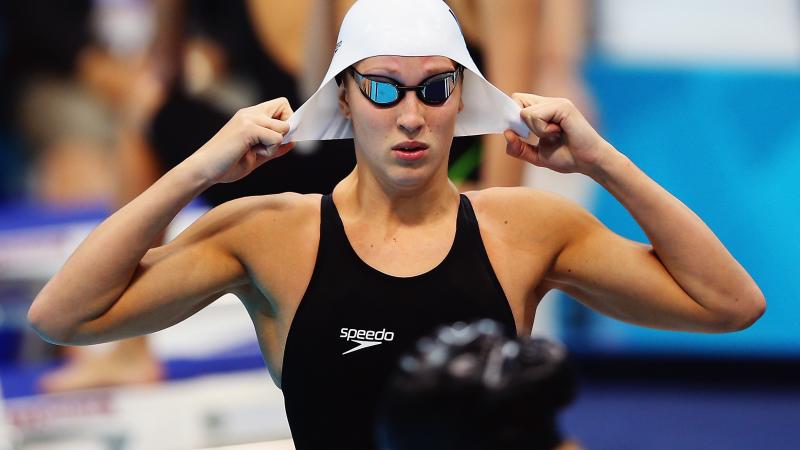 Imagen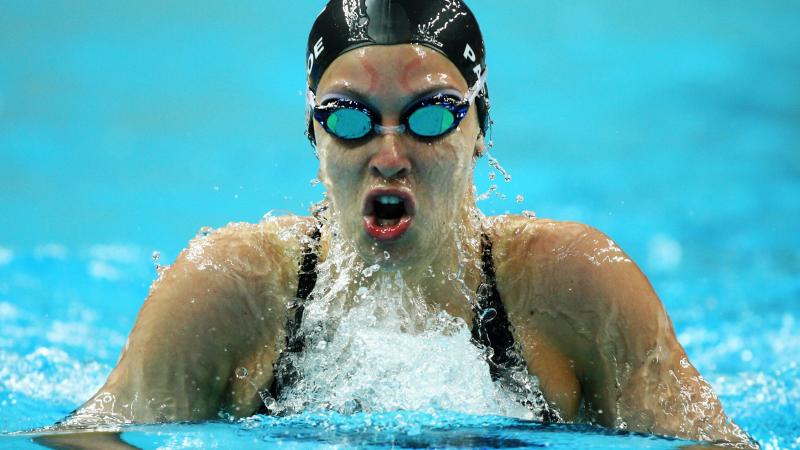 Imagen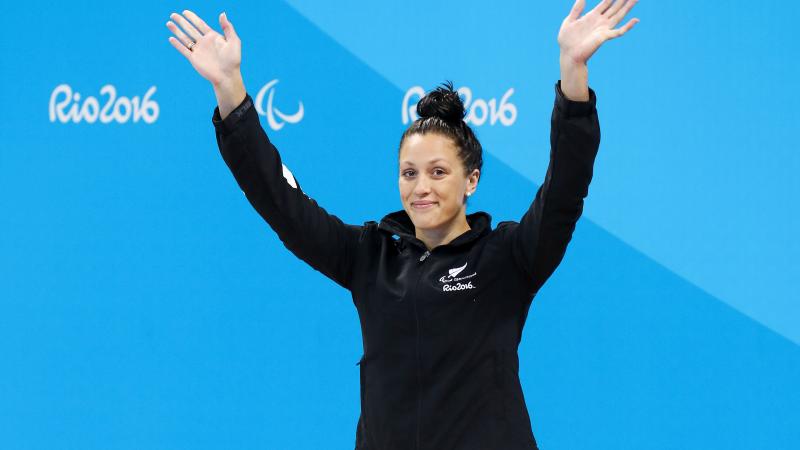 Imagen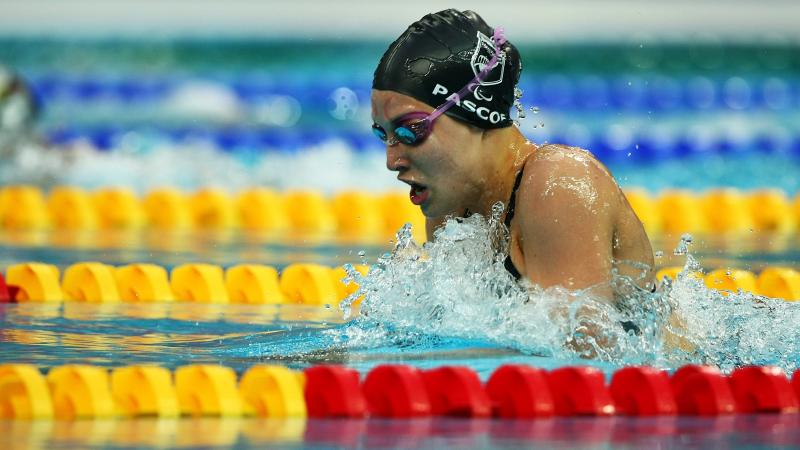 Imagen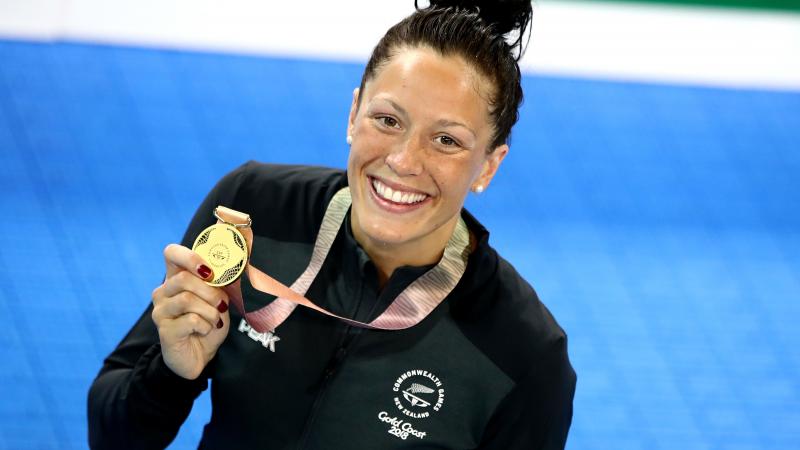 Imagen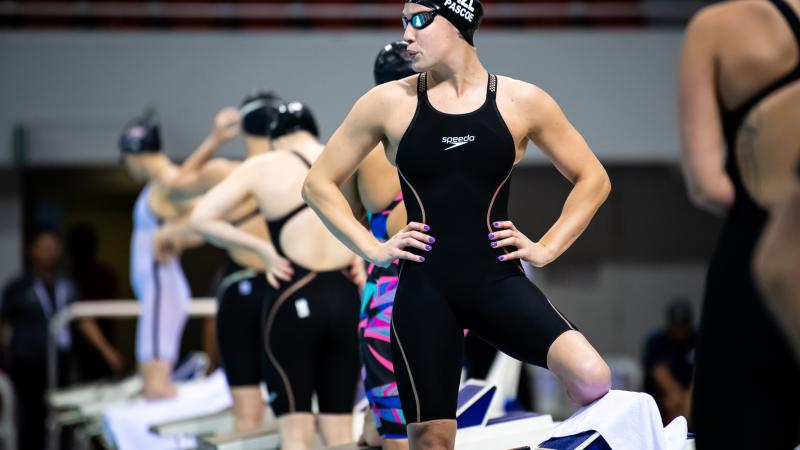 Imagen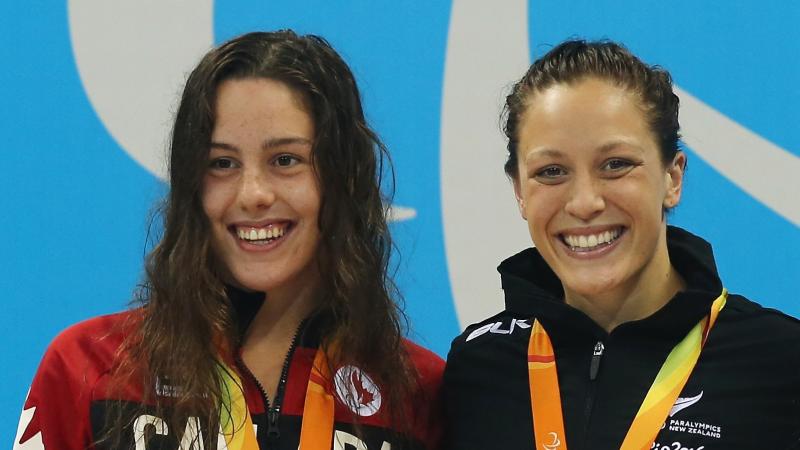 Imagen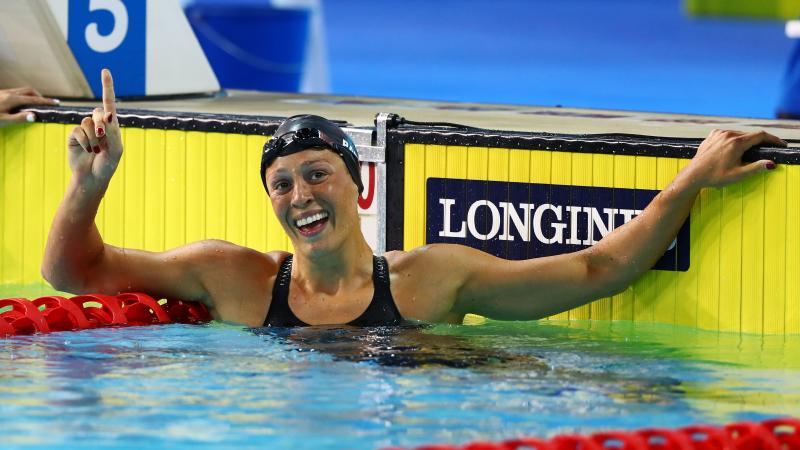 Results
IPC Swimming World Championships Eindhoven 2010 (Eindhoven, Netherlands)

| Event | Medal | Unit | Date | Rank |
| --- | --- | --- | --- | --- |
| Women's 50 m Freestyle S10 | | Final Round | | 2 |
| Women's 100 m Backstroke S10 | | Heat 1 | | 1 |
| Women's 100 m Backstroke S10 | | Final Round | | 2 |
| Women's 100 m Breaststroke SB9 | | Heat 1 | | 3 |
| Women's 100 m Breaststroke SB9 | | Final Round | | 3 |
| Women's 100 m Butterfly S10 | | Heat 2 | | 1 |
| Women's 100 m Butterfly S10 | | Final Round | | 1 |
| Women's 200 m Individual Medley SM10 | | Heat 1 | | 1 |
| Women's 200 m Individual Medley SM10 | | Final Round | | 2 |
| Women's 50 m Freestyle S10 | | Heat 1 | | 1 |
IPC Swimming World Championships Durban 2006 (Durban, South Africa)

| Event | Medal | Unit | Date | Rank |
| --- | --- | --- | --- | --- |
| Women's 400 m Freestyle S10 | | Heats | | 12 |
| Women's 200 m Individual Medley SM10 | | Final Round | | 3 |
| Women's 100 m Freestyle S10 | | Heats | | 13 |
| Women's 100 m Butterfly S10 | | Heats | | 10 |
| Women's 100 m Breaststroke SB9 | | Final Round | | 4 |
| Women's 100 m Breaststroke SB9 | | Heats | | 1 |
| Women's 100 m Backstroke S10 | | Heats | | 9 |
| Women's 50 m Freestyle S10 | | Heats | | 12 |
2013 IPC Swimming World Championships (Montreal, Canada)

| Event | Medal | Unit | Date | Rank |
| --- | --- | --- | --- | --- |
| Women's 100 m Freestyle S10 | | Final 1 | 2013-08-12 | 1 |
| Women's 100 m Freestyle S10 | | Heat 2 | 2013-08-12 | 1 |
| Women's 100 m Breaststroke SB9 | | Heat 1 | 2013-08-14 | 1 |
| Women's 100 m Breaststroke SB9 | | Final 1 | 2013-08-14 | 1 |
| Women's 100 m Butterfly S10 | | Heat 2 | 2013-08-16 | 1 |
| Women's 100 m Butterfly S10 | | Final 1 | 2013-08-16 | 1 |
| Women's 100 m Backstroke S10 | | Heat 2 | 2013-08-17 | 1 |
| Women's 100 m Backstroke S10 | | Final 1 | 2013-08-17 | 1 |
| Women's 50 m Freestyle S10 | | Final 1 | 2013-08-18 | 1 |
| Women's 50 m Freestyle S10 | | Heat 2 | 2013-08-18 | 1 |
2015 IPC Swimming World Championships (Glasgow, Great Britain)

| Event | Medal | Unit | Date | Rank |
| --- | --- | --- | --- | --- |
| Women's 50 m Freestyle S10 | | Final 1 | 2015-07-13 | 3 |
| Women's 50 m Freestyle S10 | | Heat 2 | 2015-07-13 | 2 |
| Women's 200 m Individual Medley SM10 | | Heat 2 | 2015-07-14 | 1 |
| Women's 200 m Individual Medley SM10 | | Final 1 | 2015-07-14 | 1 |
| Women's 100 m Breaststroke SB9 | | Heat 1 | 2015-07-15 | 2 |
| Women's 100 m Breaststroke SB9 | | Final 1 | 2015-07-15 | 3 |
| Women's 100 m Backstroke S10 | | Heat 1 | 2015-07-16 | 2 |
| Women's 100 m Backstroke S10 | | Final 1 | 2015-07-16 | 2 |
| Women's 100 m Butterfly S10 | | Final 1 | 2015-07-17 | 1 |
| Women's 100 m Butterfly S10 | | Heat 2 | 2015-07-17 | 1 |
| Women's 100 m Freestyle S10 | | Final 1 | 2015-07-18 | 1 |
| Women's 100 m Freestyle S10 | | Heat 2 | 2015-07-18 | 2 |
| Women's 4x100 m Medley 34pts | | Final 1 | 2015-07-19 | 7 |
London 2019 World Para Swimming Championships (London, Great Britain)

| Event | Medal | Unit | Date | Rank |
| --- | --- | --- | --- | --- |
| Women's 100 m Freestyle S9 | | Heat 2 | 2019-09-09 | 1 |
| Women's 100 m Freestyle S9 | | Final 1 | 2019-09-09 | 1 |
| Women's 100 m Backstroke S9 | | Final 1 | 2019-09-10 | 1 |
| Women's 100 m Backstroke S9 | | Heat 1 | 2019-09-10 | 1 |
| Women's 100 m Butterfly S9 | | Final 1 | 2019-09-11 | 1 |
| Women's 100 m Butterfly S9 | | Heat 2 | 2019-09-11 | 1 |
| Women's 50 m Freestyle S9 | | Heat 2 | 2019-09-15 | 1 |
| Women's 50 m Freestyle S9 | | Final 1 | 2019-09-15 | 1 |