Imagen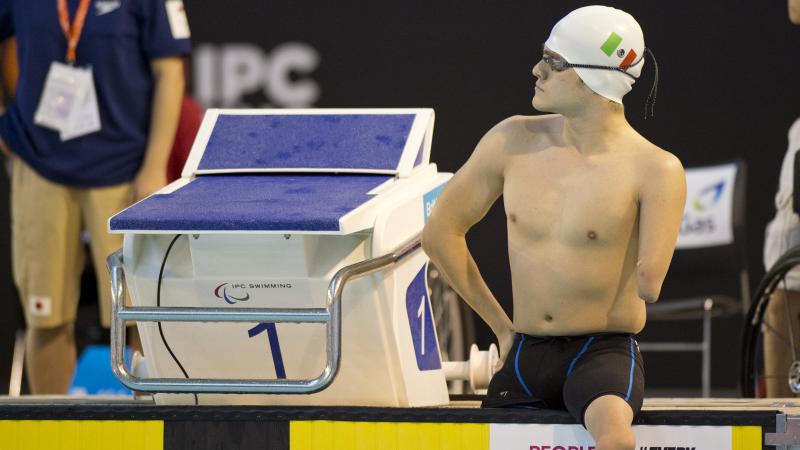 Gustavo Sanchez Martinez
Swimming
Seventies rock fan Gustavo Sanchez was the top performing Mexican male Para swimmer at the 2013 IPC Swimming World Championships, winning five out of the six medals his country's men secured in Montreal, Canada.
With a raft of Americas records to his name, he is also one of the most prolific Para swimmers in the region.
Born with a congenital limb deficiency, Sanchez began Para swimming at the age of seven.
His first World Championships were in the same year as his international debut (2010) where he quickly made his mark with three bronze medals in freestyle S4 events.
From there Sanchez progressed, winning four medals – two gold – at his home 2011 Para Pan American Games in Guadalajara.
By the time London 2012 came around, the then 18-year-old was ready for the biggest competition of his life and delivered two golds, one silver and one bronze in front of thousands at the Aquatics Centre.
A 200m freestyle specialist, Sanchez was again the best performer in his team and as a result was awarded the 2012 National Sport Award in the Paralympic athlete category by the Mexican Olympic Committee.
He enjoys sushi, science fiction and video games and believes that "everything you want, you will get if you want it hard enough."
In his classification he faces a tough challenge from Slovenia's Darko Duric who, in Montreal, beat him to the 50m butterfly S4 and 100m freestyle S4 world titles.
In 2015, once again at the Worlds, the field had got even deeper. South Korea's Giseong Jo burst onto the scene to win two titles, including the 200m freestyle.
But Sanchez proved his podium potential once again, claiming bronze in his favourite 200m freestyle. In 2017, he will have the chance to go for medals in his home country when the World Para Swimming Championships roll into Mexico City from 30 September. Sanchez will be looking to give Mexico something to cheer about as one of his country's brightest hopes.
Results
IPC Swimming World Championships Eindhoven 2010 (Eindhoven, Netherlands)

| Event | Medal | Unit | Date | Rank |
| --- | --- | --- | --- | --- |
| Men's 100 m Freestyle S4 | | Heat 2 | | 2 |
| Men's 50 m Freestyle S4 | | Final Round | | 3 |
| Men's 50 m Freestyle S4 | | Heat 1 | | 2 |
| Men's 50 m Butterfly S4 | | Final Round | | 4 |
| Men's 50 m Butterfly S4 | | Heat 1 | | 2 |
| Men's 50 m Breaststroke SB3 | | Heat 1 | | 5 |
| Men's 50 m Backstroke S4 | | Final Round | | 5 |
| Men's 50 m Backstroke S4 | | Heat 2 | | 3 |
| Men's 4x50 m Medley 20pts | | Final Round | | 7 |
| Men's 4x50 m Medley 20pts | | Heat 2 | | 4 |
| Men's 4x50 m Freestyle 20pts | | Final Round | | 8 |
| Men's 4x50 m Freestyle 20pts | | Heat 1 | | 4 |
| Men's 200 m Freestyle S4 | | Final Round | | 3 |
| Men's 150 m Individual Medley SM4 | | Heat 1 | | 4 |
| Men's 100 m Freestyle S4 | | Final Round | | 3 |
2013 IPC Swimming World Championships (Montreal, Canada)

| Event | Medal | Unit | Date | Rank |
| --- | --- | --- | --- | --- |
| Men's 50 m Freestyle S4 | | Heat 2 | 2013-08-12 | 2 |
| Men's 50 m Freestyle S4 | | Final 1 | 2013-08-12 | 2 |
| Men's 50 m Backstroke S4 | | Heat 2 | 2013-08-13 | 2 |
| Men's 50 m Backstroke S4 | | Final 1 | 2013-08-13 | 3 |
| Men's 50 m Butterfly S4 | | Final 1 | 2013-08-14 | 3 |
| Men's 100 m Freestyle S4 | | Final 1 | 2013-08-15 | 3 |
| Men's 100 m Freestyle S4 | | Heat 2 | 2013-08-15 | 1 |
| Men's 200 m Freestyle S4 | | Final 1 | 2013-08-16 | 1 |
| Men's 150 m Individual Medley SM4 | | Final 1 | 2013-08-17 | 4 |
| Men's 50 m Breaststroke SB3 | | Final 1 | 2013-08-18 | 9999 |
| Men's 50 m Breaststroke SB3 | | Heat 2 | 2013-08-18 | 8 |
2015 IPC Swimming World Championships (Glasgow, Great Britain)

| Event | Medal | Unit | Date | Rank |
| --- | --- | --- | --- | --- |
| Men's 200 m Freestyle S4 | | Heat 1 | 2015-07-13 | 3 |
| Men's 200 m Freestyle S4 | | Final 1 | 2015-07-13 | 3 |
| Men's 50 m Freestyle S4 | | Heat 2 | 2015-07-14 | 4 |
| Men's 50 m Freestyle S4 | | Final 1 | 2015-07-15 | 5 |
| Men's 150 m Individual Medley SM4 | | Final 1 | 2015-07-15 | 8 |
| Men's 150 m Individual Medley SM4 | | Heat 1 | 2015-07-15 | 7 |
| Men's 100 m Freestyle S4 | | Heat 2 | 2015-07-16 | 3 |
| Men's 100 m Freestyle S4 | | Final 1 | 2015-07-16 | 6 |
| Men's 50 m Breaststroke SB3 | | Heat 1 | 2015-07-17 | 9 |
| Men's 50 m Backstroke S4 | | Final 1 | 2015-07-19 | 4 |
| Men's 50 m Backstroke S4 | | Heat 1 | 2015-07-19 | 7 |
Mexico City 2017 World Para Swimming Championships (Mexico City, Mexico)

| Event | Medal | Unit | Date | Rank |
| --- | --- | --- | --- | --- |
| Men's 50 m Backstroke S4 | | Final 1 | 2017-12-03 | 3 |
| Men's 50 m Freestyle S4 | | Final 1 | 2017-12-05 | 2 |
| Men's 200 m Freestyle S4 | | Final 1 | 2017-12-06 | 1 |
| Men's 150 m Individual Medley SM4 | | Final 1 | 2017-12-07 | 2 |
London 2019 World Para Swimming Championships (London, Great Britain)

| Event | Medal | Unit | Date | Rank |
| --- | --- | --- | --- | --- |
| Men's 100 m Freestyle S4 | | Final 1 | 2019-09-10 | 6 |
| Men's 100 m Freestyle S4 | | Heat 2 | 2019-09-10 | 5 |
| Men's 50 m Butterfly S5 | | Heat 1 | 2019-09-12 | 9999 |
| Men's 50 m Backstroke S4 | | Heat 2 | 2019-09-12 | 7 |
| Men's 50 m Backstroke S4 | | Final 1 | 2019-09-12 | 6 |
| Men's 50 m Freestyle S4 | | Final 1 | 2019-09-13 | 6 |
| Men's 50 m Freestyle S4 | | Heat 2 | 2019-09-13 | 7 |
| Men's 200 m Freestyle S4 | | Heat 1 | 2019-09-14 | 6 |
| Men's 200 m Freestyle S4 | | Final 1 | 2019-09-14 | 6 |