Imagen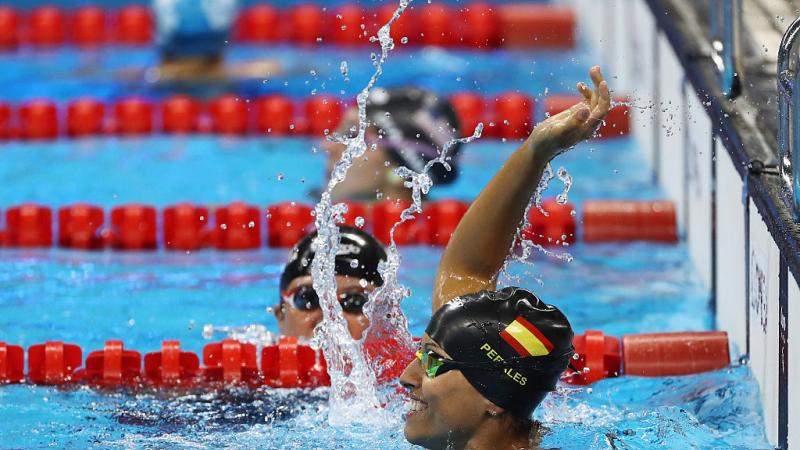 Born in 1975, Perales started swimming at age 19, after developing neuropathy. Her first international appearance was in 1998 at the IPC Swimming World Championships in Christchurch, New Zealand, where she won a bronze medal in the 50m freestyle.
Just two years later, Perales made her Paralympic Games debut, winning a silver in the 50m butterfly and four bronze medals, in the 50m, 100m and 200m freestyle and the 50m backstroke at the Sydney 2000 Games.
Perales finished the World Championships in Mar del Plata, Argentina with a total of eight medals, but none of them were gold.
After her five medals in Sydney, Perales managed to improve this result at Athens 2004, adding two gold medals to her collection.
Being a double-Paralympic champion, Perales again could not secure that world title at the 2006 IPC Swimming World Championships in Durban, South Africa, finishing second in the 50m butterfly and third in the 50m freestyle and 50m backstroke.
Returning to the Paralympic Games stage two years later in Beijing, Perales put on her best performance yet, securing three Paralympic golds and breaking two world records. She won the gold medal in the 50m freestyle in a world-record time of 35.88, and in the 100m freestyle in the world record time of 1:16.65. One more silver medal followed in the 50m backstroke, and a bronze in the 100m breaststroke.
After Beijing, Perales, who was voted onto the IPC Athletes Council, took some time off the sport to give birth to her child before returning to the international stage in July 2011 at the IPC Swimming European Championships in Berlin. And what a come back she had, winning a total of eight medals, including one gold in the 100m freestyle, four silver and three bronze medals.
The London 2012 Paralympics were Perales' fourth Games, and she retained her 100m freestyle title for the third consecutive time.
For Rio 2016, Perales switched tactics and decided to focus on the 50m backstroke - an event which she had never won gold in despte many podium appearances. Having taken the world title in 2015 and European title in early 2016, Perales managed to claim her first Paralympic gold in the event in Rio.
Perales is still going strong in the pool, and remains one of the swimmers to beat in the S5 events chased by Norway's Sarah-Louise Rung.
Aside from her athletic exploits, Perales is an excellent advocate for the Paralympic Movement and speaks publicly about her experiences as a Para athlete to inspire the next generation.
Photo Gallery
Imagen
Imagen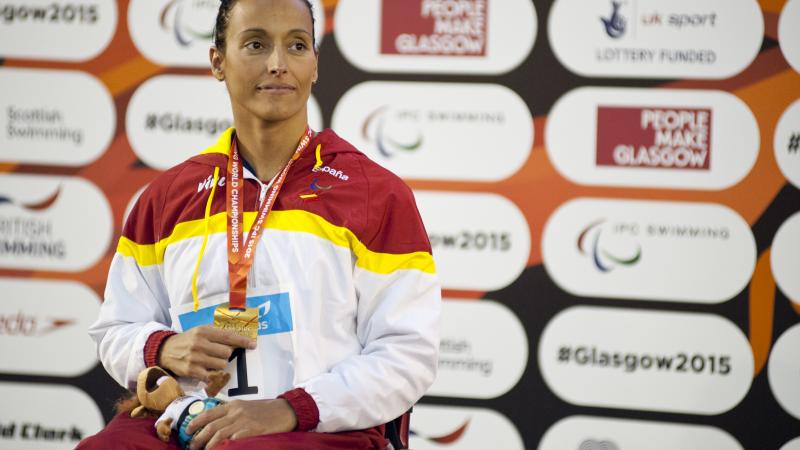 Imagen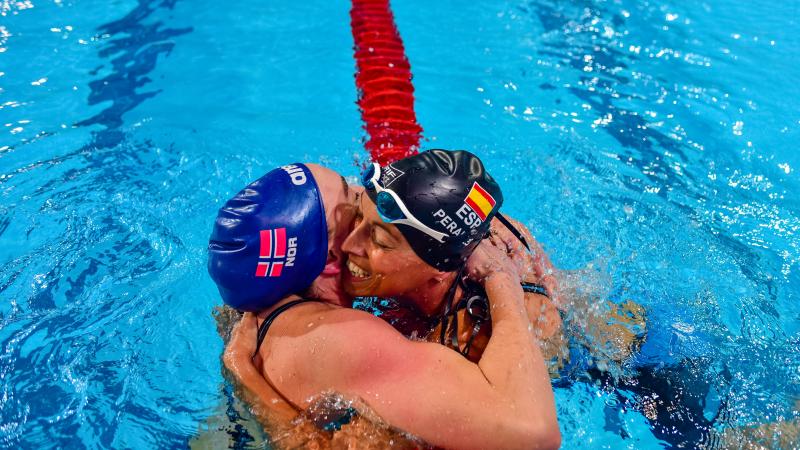 Results
IPC Swimming World Championships Durban 2006 (Durban, South Africa)

| Event | Medal | Unit | Date | Rank |
| --- | --- | --- | --- | --- |
| Women's 50 m Butterfly S5 | | Final Round | | 2 |
| Women's 50 m Backstroke S5 | | Final Round | | 3 |
| Women's 50 m Backstroke S5 | | Heats | | 3 |
| Women's 4x100 m Medley 34 pts | | Final Round | | 5 |
| Women's 50 m Freestyle S5 | | Final Round | | 3 |
| Women's 50 m Freestyle S5 | | Heats | | 3 |
| Women's 4x100 m Freestyle 34 pts | | Final Round | | 4 |
IPC Swimming World Championships Mar del Plata 2002 (Mar del Plata, Argentina)

| Event | Medal | Unit | Date | Rank |
| --- | --- | --- | --- | --- |
| Women's 200 m Individual Medley SM5 | | Final Round | | 2 |
| Women's 50 m Butterfly S5 | | Final Round | | 2 |
| Women's 50 m Butterfly S5 | | Heats (S3-5) | | 2 |
| Women's 100 m Breaststroke SB4 | | Final Round | | 2 |
| Women's 50 m Backstroke S5 | | Final Round | | 3 |
| Women's 50 m Backstroke S5 | | Heats | | 3 |
| Women's 200 m Freestyle S5 | | Final Round | | 3 |
| Women's 200 m Freestyle S5 | | Heats | | 3 |
| Women's 100 m Freestyle S5 | | Final Round | | 2 |
| Women's 100 m Freestyle S5 | | Heats | | 3 |
| Women's 50 m Freestyle S5 | | Heats | | 2 |
| Women's 50 m Freestyle S5 | | Final Round | | 2 |
IPC Swimming World Championships Christchurch 1998 (Christchurch, New Zealand)

| Event | Medal | Unit | Date | Rank |
| --- | --- | --- | --- | --- |
| Women's 400 m Freestyle S6 | | Final Round | | 4 |
| Women's 4x50 m Medley Open | | Final Round | | 4 |
| Women's 4x50 m Freestyle Open | | Final Round | | 4 |
| Women's 100 m Freestyle S6 | | Final Round | | 7 |
| Women's 100 m Freestyle S6 | | Heats | | 6 |
| Women's 50 m Butterfly S6 | | Final Round | | 8 |
| Women's 50 m Butterfly S6 | | Heats | | 7 |
| Women's 50 m Freestyle S6 | | Final Round | | 3 |
| Women's 50 m Freestyle S6 | | Heats | | 1 |
2015 IPC Swimming World Championships (Glasgow, Great Britain)

| Event | Medal | Unit | Date | Rank |
| --- | --- | --- | --- | --- |
| Mixed 4x50 m Freestyle 20pts | | Heat 1 | 2015-07-13 | 4 |
| Women's 50 m Backstroke S5 | | Final 1 | 2015-07-13 | 1 |
| Women's 50 m Backstroke S5 | | Heat 2 | 2015-07-13 | 3 |
| Mixed 4x50 m Freestyle 20pts | | Final 1 | 2015-07-13 | 5 |
| Women's 200 m Freestyle S5 | | Heat 2 | 2015-07-15 | 3 |
| Women's 200 m Freestyle S5 | | Final 1 | 2015-07-15 | 3 |
| Women's 50 m Butterfly S5 | | Final 1 | 2015-07-16 | 2 |
| Women's 50 m Butterfly S5 | | Heat 1 | 2015-07-16 | 2 |
| Women's 4x100 m Freestyle 34pts | | Final 1 | 2015-07-16 | 5 |
| Women's 50 m Freestyle S5 | | Heat 2 | 2015-07-17 | 1 |
| Women's 50 m Freestyle S5 | | Final 1 | 2015-07-17 | 2 |
| Women's 200 m Individual Medley SM5 | | Final 1 | 2015-07-18 | 3 |
| Women's 200 m Individual Medley SM5 | | Heat 1 | 2015-07-18 | 4 |
| Women's 4x100 m Medley 34pts | | Final 1 | 2015-07-19 | 6 |
| Women's 100 m Freestyle S5 | | Final 1 | 2015-07-19 | 1 |
| Women's 100 m Freestyle S5 | | Heat 2 | 2015-07-19 | 3 |
Mexico City 2017 World Para Swimming Championships (Mexico City, Mexico)

| Event | Medal | Unit | Date | Rank |
| --- | --- | --- | --- | --- |
| Women's 100 m Freestyle S5 | | Heat 1 | 2017-12-02 | 4 |
| Women's 100 m Freestyle S5 | | Final 1 | 2017-12-02 | 2 |
| Women's 50 m Backstroke S5 | | Final 1 | 2017-12-04 | 2 |
| Women's 50 m Backstroke S5 | | Heat 2 | 2017-12-04 | 2 |
| Women's 50 m Freestyle S5 | | Final 1 | 2017-12-05 | 1 |
| Women's 50 m Freestyle S5 | | Heat 1 | 2017-12-05 | 1 |
London 2019 World Para Swimming Championships (London, Great Britain)

| Event | Medal | Unit | Date | Rank |
| --- | --- | --- | --- | --- |
| Women's 50 m Freestyle S5 | | Heat 2 | 2019-09-09 | 5 |
| Women's 50 m Freestyle S5 | | Final 1 | 2019-09-09 | 5 |
| Mixed 4x50 m Medley 20pts | | Final 1 | 2019-09-10 | 6 |
| Mixed 4x50 m Medley 20pts | | Heat 2 | 2019-09-10 | 6 |
| Mixed 4x50 m Freestyle 20pts | | Final 1 | 2019-09-11 | 7 |
| Mixed 4x50 m Freestyle 20pts | | Heat 2 | 2019-09-11 | 7 |
| Women's 50 m Butterfly S5 | | Final 1 | 2019-09-12 | 4 |
| Women's 50 m Butterfly S5 | | Heat 2 | 2019-09-12 | 2 |
| Women's 4x100 m Medley 34pts | | Final 1 | 2019-09-13 | 3 |
| Women's 50 m Backstroke S5 | | Final 1 | 2019-09-14 | 1 |
| Women's 50 m Backstroke S5 | | Heat 2 | 2019-09-14 | 4 |