World's fastest Paralympian aims to go even faster at Rio 2016
Ireland's Jason Smyth aims to surpass the 10.46 seconds he set to win his second successive 100m Paralympic gold at London 2012.
12 Aug 2016
Imagen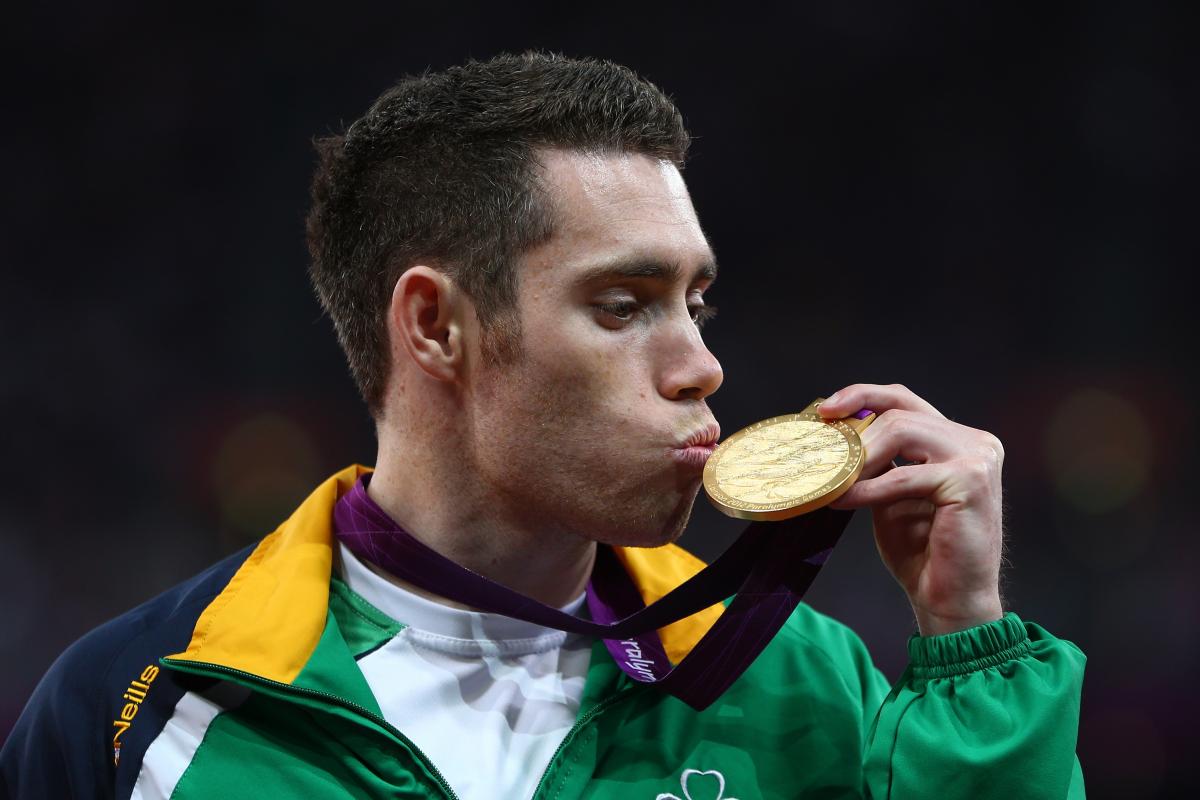 ⒸGetty Images
By IPC
"I ran 10.39 at a race in Florida – the quickest I've run since 2013, so things are good,"
A lot has changed in the last 10 months for Irish sprinter Jason Smyth.
Fatherhood and a move back to Northern Ireland with his family means there are new priorities in his life.
But one thing remains constant – the fastest Paralympian on the planet is determined to win gold at his third consecutive Paralympic Games, and he believes he can go faster than ever before at Rio 2016.
"Absolutely I feel like there is a potential to run quicker than I have in the last Paralympic Games. I intend to – what happens on the day is always a different thing, but I'm optimistic that I can," said Smyth, who set a new 100m world record at London 2012 when he clocked 10.46 seconds, four years on from breaking the world record at the Beijing Games in 2008.
The 29-year-old became a father for the first time last November - daughter Evie was born just in time for Smyth to return home from the World Championships in Doha, Qatar, having won his third 100m world title.
Has fatherhood made him more determined?
"It's definitely made me more tired! Has it made me more determined? I'd say it probably has. You've got someone relying on you.
"She's a bit young at the minute but when I think in a number of years' time how incredible it will be competing and she'll actually be there watching and be able to understand what's going on - if that doesn't give you huge incentive I don't know what does," he said.
The arrival of baby Evie has also meant newfound responsibilities for Smyth, as well as inevitable sleepless nights. Earlier this year he and his family left their London base and returned to Smyth's hometown of Derry in Northern Ireland.
"It's a wonderful city, but leaving London means a better standard of living being away from London. Having a family has been part of that decision to leave - everything changes really," admitted Smyth.
One thing has not changed, however. Smyth tops the world rankings for the 100m T13 – a position he has held steadfastly for more than five years.
So far 2016 has gone well for the Irishman, who spent eight weeks training and racing in Florida in the USA earlier this year.
"I ran 10.39 at a race in Florida – the quickest I've run since 2013, so things are good," he said.
"I've been consistent – 10.40s, 10.50s so to be honest I'm happy with how things have moved along."
Smyth trained in Florida under the watchful eye of his coach Clarence Callender – it is a trip the pair have made a number of times in recent years. But this time there was rather more baggage to transport, as his family came along too.
"I wouldn't go away that long without them," admitted Smyth, who appreciated the distraction family life provided.
"There are certain things you can't bring them along to but when it's that length of time you just transfer home to a different place for a while, which I quite like.
"Other times when you are away with fellow athletes it's just athletics, athletics, athletics. Whereas this time you can come home and you're back to home life."
Working hard – but also having the chance to take his mind off the track – could prove vital for Smyth, who knows he has a lot to live up to at Rio 2016, having won 100m and 200m gold at both Beijing 2008 and London 2012.
"It obviously means a lot (winning gold in Rio) – with Beijing and London going so well, it's about trying to continue that and maintain that high standard.
"You put years of work in for one moment so it means everything to go there and do well," added Smyth, who intends to keep sprinting on to the Tokyo 2020 Paralympics Games.
As for young Evie following in her father's footsteps, Smyth keeps an open mind – although his competitive edge is forever present.
"I'm happy whatever she wants to do. With any individual sport unless you are willing to fully commit to it in my opinion there is no point doing it.
"So it depends what she want to do and if she wants to work hard at it. But I'll be looking to win the dad's race at school sports day."
__
Sport fans from around the world can now buy their Paralympic tickets for Rio 2016 from authorised ticket resellers (ATRs)
The IPC's Global ATR is Jet Set Sports, and Rio 2016 tickets and packages can be purchased on the CoSport website.
Residents of Brazil can buy 2016 Paralympics tickets directly from the Rio 2016 website.
Visa International is the exclusive payment card and the official payment system for the Paralympic Games.