Zhou taking nothing for granted ahead of Beijing Grand Prix
The T53 racer won two Paralympic titles at Rio 2016 and is hoping for more success at London 2017.
05 May 2017
Imagen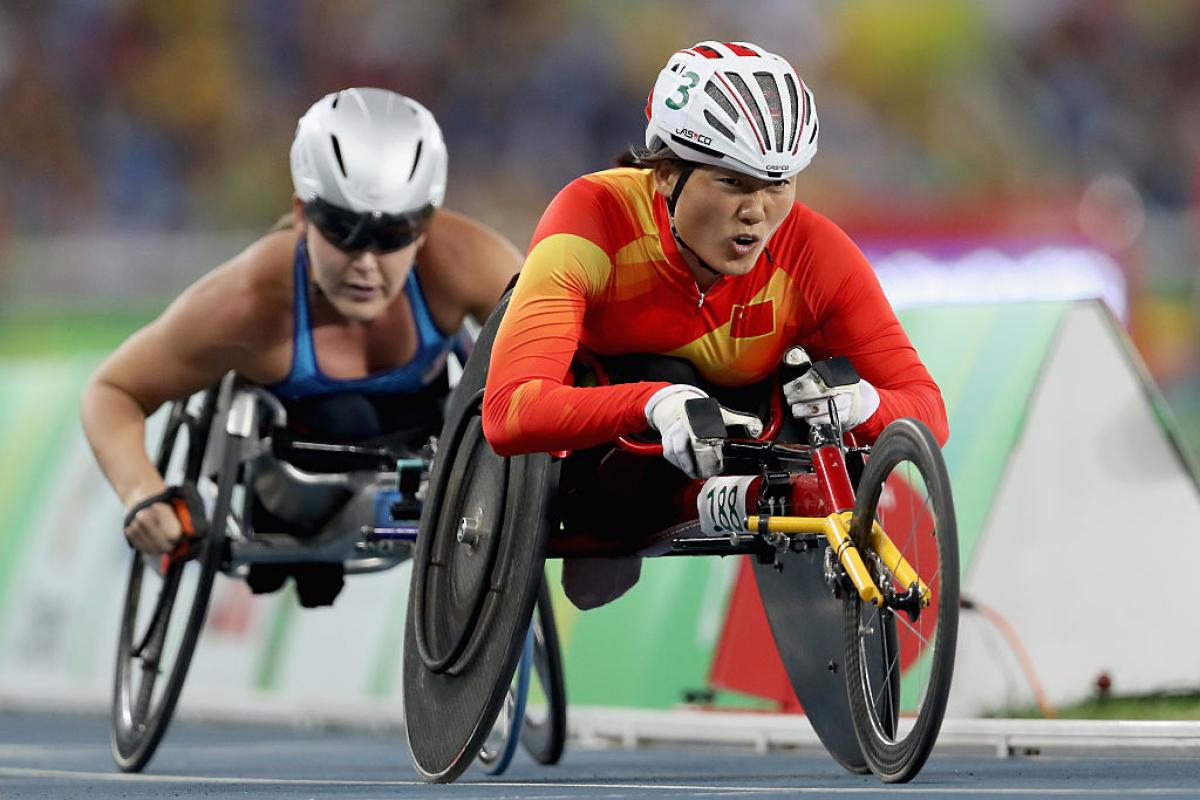 ⒸGetty Images
"I attribute my success to my coaches and the care from the Chinese government."
China's Hongzhuan Zhou may have numerous world and Paralympic titles to her name, but the T53 wheelchair racer is taking nothing for granted as she prepares to line up at next week's (13-15 May) Beijing World Para Athletics Grand Prix.
At Rio 2016, Zhou won gold medals in the 400m and 800m T53. She was also part of China's winning 4x400m T53/54 relay quartet, and clinched silver over 100m too.
In fact, the 28-year-old has won gold at the last three Paralympic Games and the last three World Championships – but still she treats every competition like it is her first.
"I attribute my success to my coaches and the care from the Chinese government," explained Zhou.
"But once I step off the podium, everything starts from new. I will continue to train at my home, everything will start from scratch."
The Beijing Grand Prix traditionally sees many of China's top Para athletes take to the track, and while Zhou recognises the importance of a strong performance, her longevity at the top means she is also mindful of the time it now takes for her body to recover from major competitions.
"After the Rio Paralympic Games I've been in a rest and recovery period and I did not start training officially. I'll try my best to have a good performance at the Beijing Grand Prix, though it might be affected by my recovery status," she explained.
"With growing older and with my old injury, my recovery time is also extended. But my experience in Championships also increases; my ability to control my performance is also strengthened with time."
Less than two months after the Beijing Grand Prix Zhou plans to line up at the London 2017 World Championships.
After losing out to Australia's Angie Ballard over 400m and Madison de Rozario over 800m at Doha 2015, Zhou is determined to regain the titles she last won in 2013.
"I believe with all the hard work and with enthusiastic guidance and encouragement from coaches and my teammates, I can and I will. I would like to return the love of the motherland with a good performance.
"This goal will motivate me to perform in a higher level," acknowledged Zhou, who also set new 400m and 800m T53 world records on her way to Rio gold.
"I enjoy competing with high-level athletes. They always motive me to compete with passion and tenacity. They bring out the best in me."
China's strength in depth in women's wheelchair racing is well known – together, Zhou and her T53 and T54 teammates won 10 medals at Rio 2016 – Lihong Zou won the marathon T54, Wenjun Liu won the 100m T54 and Lisha Huang won the 100m T53.
Zhou is proud of her group's success, and believes she has made fast progress as a direct result of the positive atmosphere that they create together. Improving on her performances of 2016 seems all the more possible thanks to their support.
"I will continue to work hard to improve my performances and continue to fight for our country in 2017," continued Zhou.
"At Rio 2016 I broke the 400m world record, but I will not be complacent. Like I mentioned, once I step off the podium, everything starts anew.
"China's wheelchair racing team is a group where everyone helps each other selflessly. With their encouragement, I believe I will conquer all the difficulties lying ahead."