Great Britain sets example in opening Para ice hockey to more female players
Great Britain launched the women's Para ice hockey programme last year and coach Peggy Assinck hopes that other countries will follow suit
14 Sep 2022
Imagen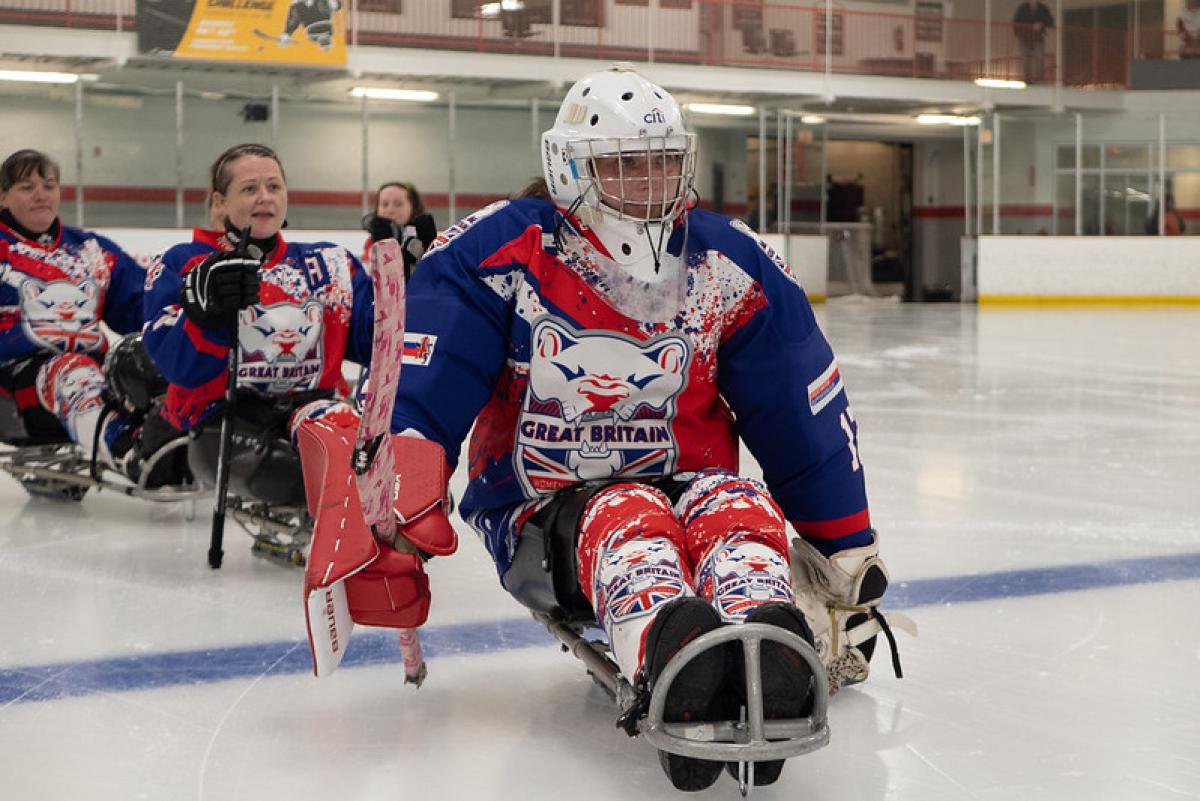 ⒸCharlie Skinner / WPIH
By Ayano Shimizu | For PARA SPORT
Peggy Assinck believes there should be more opportunities for female athletes to enjoy Para ice hockey. The sport she loves is currently dominated by male players at the Paralympic Games.
With this in mind, the veteran Canadian athlete helped to launch a women's programme last year in Great Britain, bringing more than 20 players with lower limb impairments into the sport.
Assinck, who also serves as Great Britain's coach, hopes that launching the programme will prove to people in other countries that it is possible to create a stage for more female players to take up the sport.
"Probably the biggest excitement that I have to share with the world is that any other country can do this too, if they decide it's their priority," Assinck said.
"I get excited now when I start to see that there are more women playing, and I do think that's changed over the last 15 to 20 years that I have been playing," she added.
Being the only girl
Assinck took up Para ice hockey when she was 11 after being diagnosed with spina bifida. A sport enthusiast from a young age, she came across Para ice hockey, which was the only Para sport she had exposure to at the time.
At first, the "coolest thing" about the sport was meeting other children with impairments because Assinck previously never met kids in wheelchairs. But as she continued with the sport, she started enjoying the competitiveness of it as well.
While her first team had an inclusive atmosphere despite Assinck being the only girl on a male roster, she also experienced teams that were not as welcoming to female athletes.
At the Paralympic level, Para ice hockey is a mixed gender event, but there have only been three women who have competed at the Games. 
Launching the programme
Helping to create a women's programme and breaking gender barriers was a way for Assinck to grow Para ice hockey after moving to Great Britain a few years ago.
The British Para Ice Hockey Association made a public call for women with lower limb impairments and received 63 replies. Following interviews and research into the applicants' backgrounds, the programme was launched in October 2021 featuring 27 athletes who were mostly new to the sport.
"This group of women were just incredible. They took on new challenges," Assinck said. "They were told they needed to buy new equipment, they were told they needed to pay their own way, get to all the camps, and that they needed to learn more about ice hockey, and they just stepped up to the challenge and made it happen."
The biggest challenge about starting the programme was not recruiting players, but getting equipment and teaching the sport to new athletes.
In Para ice hockey, athletes are strapped on a two-blade sledge that is raised enough to allow the puck to pass beneath. They move and play using two hockey sticks that have spikes and blades.
"Equipment is very hard to source anywhere, but having 27 sets of equipment for a brand new group of women in a country that had very little equipment or extra equipment whatsoever was really a struggle," Assinck said.
It was ultimately thanks to donations from Canada that Great Britain's new programme was able to hold its first camp.
The other challenge was having athletes understand the sport better.
"Ice time is very expensive. We can only secure it very late at night," Assinck said. "We got around that by having lots of classroom sessions where we could have presentations, tape out a hockey rink on the floor and think about positioning and talk about those bits and pieces."
In August 2022, Great Britain competed in their first-ever major tournament, the Para Ice Hockey Women's World Challenge presented by Citi in Green Bay, Wisconsin in the United States. 
While they finished last in the four-team field, the British players were delighted to compete in the tournament, which served as a major stepping stone on the road to an eventual Women's World Championship.
"The development in Britain, this is the first of its kind, so there was just a small number to start with and we are trying to increase that," said defence player Helen McGivern, who participated in her second competition.
"I definitely think now the word is getting out there. We've got more women interested and wanting to give it a go, so I'm hoping that we can make that bigger and get more women wanting to be involved in the sport and make it as big as the other sports."
More efforts to follow
Assinck hopes that other countries will launch women's programmes after Great Britain showed that it is possible.
"You don't need an entire roster of women who've been playing ice hockey for a really long time. What you need is a call out to women with lower body disabilities from other sports and to teach them what they need to know about ice hockey," Assinck said.
"That means any country that decides they want to put their energy, their time and their finances into growing a women's programme can actually do that in under a year because GB has proven that it's possible."
Steps to encourage more women to play Para ice hockey have been taken in some countries already.
In Finland, Tomi Rovio has held several camps for female athletes. His ultimate goal is to create a women's national team.
"I would like to see it grow in that direction as well, but before you can even dream about an actual national team, you need players," he said. "It should be something that everybody can do and have a nice sport for themselves and at all levels."
Currently serving as the general manager of Finland's mixed-gender national team, Rovio is aiming to launch the women's national team in 2025 or 2026. The challenge, he said, would be to recruit people to play the sport when there are so many other Para sports that may be easier to start.
"It's a possibility, but it requires a lot of work and success and luck to reach out to all who could be interested and could be involved," Rovio said.
Assinck is also not expecting short-term change in the sport. However, she remains optimistic about the future. 
"In a perfect world, six, seven years from now, I want to have many, many countries represented, have women's Para ice hockey programmes, have more and more women empowered to be in the sport in these individual countries," shes said. "That will be the most amazing thing."