IPC development camps support female hockey players before Women's World Challenge
Athletes supported through the NPC Development Programme participated in the tournament in Green Bay, Wisconsin
30 Aug 2022
Imagen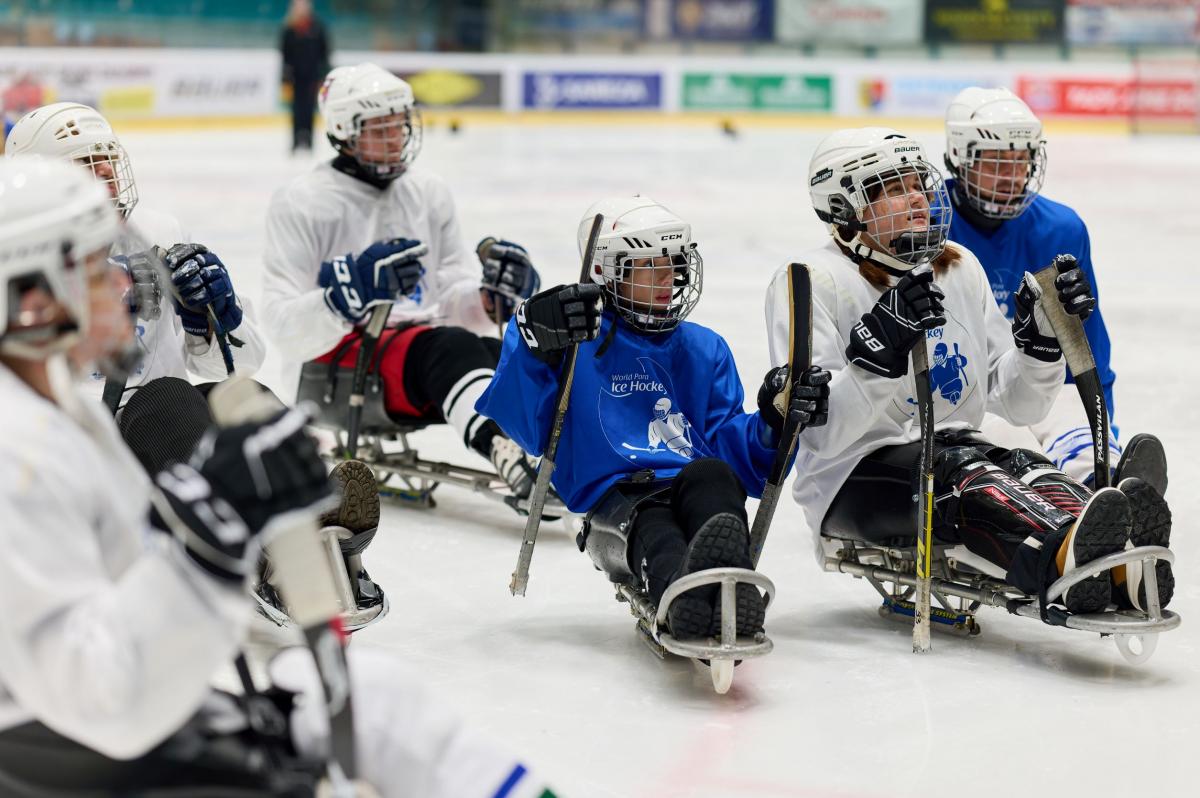 ⒸWorld Para Ice Hockey
By Ayano Shimizu | For the IPC
Dina Grinberga still recalls the first time she tried Para ice hockey in her home country Latvia a few years ago. She thought the sport was interesting and wanted to cheer on the players, but she did not see herself joining them at the rink.
But after taking part in a development programme for women held last year in Ostrava, Czech Republic, Grinberga said the sport grew on her and became something she wants to continue pursuing.
"I like being with a team. I like that we are all together on the ice, we are not alone," she said of Para ice hockey. "(Even though) I thought it wasn't for me, now my thoughts are different."
Last weekend, Grinberga took part in her first major competition, the inaugural Women's World Challenge presented by Citi in Green Bay, USA. While she is a novice in the sport and was not expecting top results, she believed that meeting players from other countries would be an inspiration.
Five days in Ostrava
In December 2021, Grinberga was among roughly 15 players and coaches who took part in the World Para Ice Hockey Development Camp in the Czech city to learn the basics of the sport.
Coaches and athletes from Hungary and Latvia were invited to the camp, held between 9 and 13 December and supported through the NPC Development Programme, powered by the International Paralympic Committee's (IPC) partnership with Toyota.
Grinberga, a 28-year-old above-the-knee amputee with experience in athletics, said "everything" about the programme was helpful, as it taught her the skills she needed to get started in the sport.
"They started to teach us from the basics, like how to skate, how to manouevre the sledge, how to turn correctly and how to hit the puck," said Grinberga, who now trains once a week in Latvia with her husband.
"They taught us from zero. Without them, I wouldn't know what to do on the ice."
The camp, which also received support from the national team coaches of Czech Republic, provided opportunities for participants to learn about the classification process and anti-doping procedures. 
On the final day of the programme, players took part in a friendly match against a local club, which was officiated by World Para Ice Hockey officials. 
"That was the fun part. Of course, we were so weak, we were just like kids on ice, but we just kept fighting and enjoyed the time," Grinberga said.
"We couldn't really compete, but it was fun and it gave me the taste of what it is, and how it should be, and a goal for us to train for."
Developing the women's side
Para ice hockey is a mixed gender event at the Winter Paralympics, but there have only been three women who have competed at the Games. 
At Beijing 2022, Yu Jing played for the host country, becoming the third woman to play Para ice hockey in the Winter Paralympics after Norway's Brit Mjaasund Oeyen at Lillehammer 1994 and Lena Schroeder at PyeongChang 2018.
Players and coaches have called for developing the women's side of the sport and creating opportunities so that more women can take part.
The IPC has also carried out other development activities prior to last year's edition in Ostrava.
Past programmes include the 2017 Women's Para ice hockey training camp in South Korea, which was part of the "Actualising the Dream" project delivered in partnership with the PyeongChang 2018 Organising Committee.
Peggy Assinck, a Canadian player and participant of IPC's past programmes, said women face different challenges depending on their level. At the grassroots level, she said, ice hockey is not the most inclusive sport to begin with.
"That is a really hard thing, if you have a disability, to feel comfortable with joining a club, feel comfortable with playing with mostly all male athletes, feel comfortable with having coaches and leaders who are supporting you as a female athlete," Assinck said.
"I love the fact that we're now supporting the creation of women's programmes that are entirely for women to be playing against women and to highlight their skills in a female environment because that's really where women are going to be able to shine."
Assinck, who helped launch Great Britain's women's national team about 10 months ago, said she learned about coaching when she took part in the 2017 development camp in South Korea.
"I learned a lot personally with regards to coaching and supporting other athletes," she said. "Without having had those opportunities, I probably wouldn't be the coach and supporter that I am today."
Women's World Challenge
The Women's World Challenge in Green Bay featured four teams – Canada, Great Britain, USA and a Team World - made up of athletes from different nations. They competed in a round-robin style tournament followed by a medal round.
The USA won gold on home ice, Canada took silver and Team World earned bronze during the tournament, which took place between 26 and 28 August.
Tomi Rovio, the manager of Team World and Finland's mixed national team, said the event was an opportunity for him to ask female players about the challenges they are facing. He aims to help put together a women's national team in Finland and has already organised several women's camps.
"We can find out the barriers so we can start removing those," Rovio said. "It's difficult to develop anything if you don't know the facts around it."
The Women's World Challenge will serve as the next stepping stone on the road to an eventual Women's World Championship, with the ultimate goal of expanding female participation in Para ice hockey worldwide.
"I may be the weakest player on the ice, but it will still be the greatest experience," said Grinberga before putting on her Team World jersey. "I can learn tonnes of things."