Jing Yu wants to inspire more female players after 'perfect day' in Paralympic debut
On International Women's Day Chinese athlete becomes just the third woman to play Para ice hockey at the Winter Games
08 Mar 2022
Imagen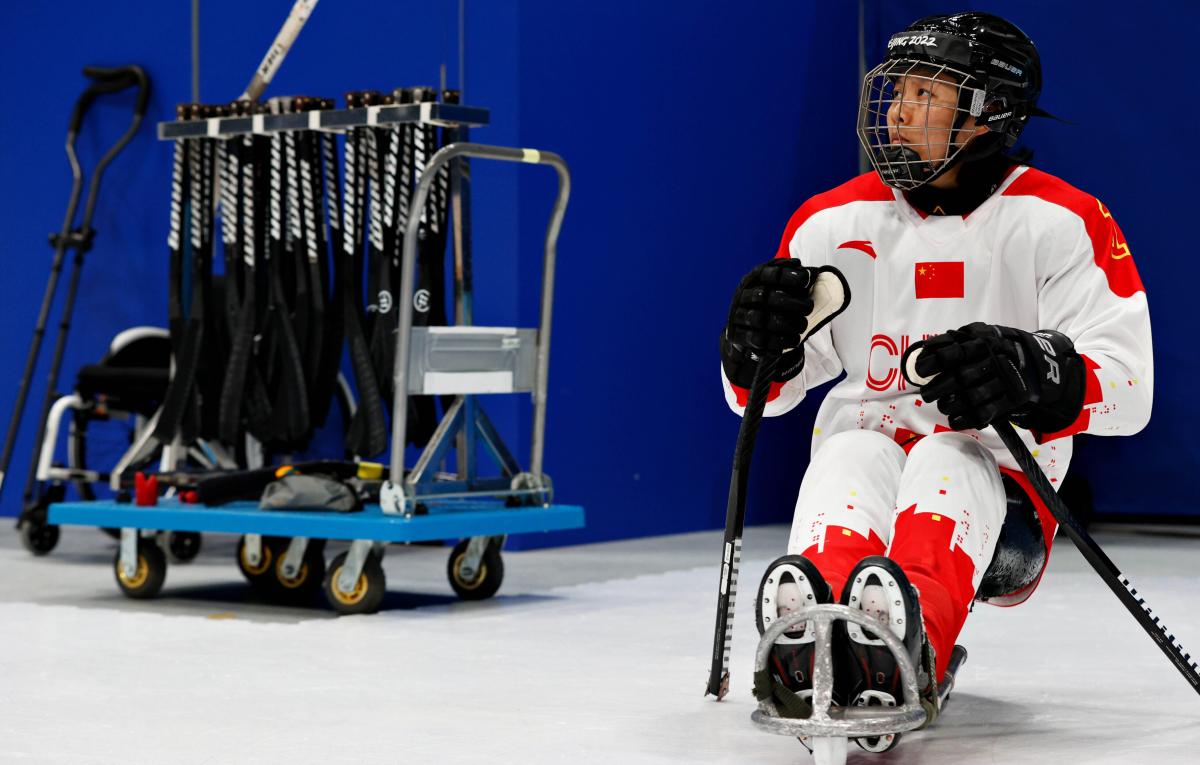 ⒸSteph Chambers/Getty Images
By Filip Ozbolt | World Para Ice Hockey
Chinese Para ice hockey player Jing Yu had an International Women's Day that she will never forget.
The 38-year-old forward made her Paralympic debut in China's 6-0 win over Italy in the final day of the preliminary round at the Beijing 2022 Winter Games on Tuesday (8 March). Yu had a total time on ice of 5:19. 
BASKETBALL BACKGROUND
As she walked into the Mixed Zone carrying a bouquet in one hand and three roses in the hand, Chinese journalists started to run towards her. Not a single male player on the roster got as much attention as Yu.
"I am feeling really good right now," said Yu. "I was able to compete against Italy on this special day. It makes me feel meaningful as well. This is a perfect day for me."
After missing the first two victories against Slovakia and Czech Republic, Yu got the chance to show her skills in front of the home audience in the National Indoor Stadium.
Asked about her Para ice hockey beginnings, she answered:
"I played [wheelchair] basketball before and then a friend introduced me to Para ice hockey. At first, I didn't have any idea about the sport, but when I tried it for the first time, it really made me happy. That is why I continued to play it."
Although she is the only female player at the Games, Yu is not the sole Para ice hockey representative in China.
"There are many girls in China who would like to join the sport and there are already many who play it. I am the representative of these female players in this team. I got the chance to play for the national team and be on this stage to show the power of Chinese women to the world."
Yu is just the third woman to play Para ice hockey in the Winter Paralympics - after Norway's Brit Mjaasund Oeyen at Lillehammer 1994 and Lena Schroeder at PyeongChang 2018.
PROTECTIVE TEAMMATES
The player from Shandong Province first appeared on the international stage at the Ostersund 2021 World Championships B-Pool.  China swept the ice with Germany, Sweden, Japan, Finland and Poland and reached the A-Pool for the first time in history.
Being on the team with 17 male players is not an issue for Yu.
"They treat me like their little sister'" she said with a big smile on her face. "They are taking care of me and protecting me on a daily basis. I feel like a giant panda that everyone takes care of."
"Before I joined this team, I thought Para ice hockey was fierce, very difficult and that it would be hard for a woman to play. But when I joined I found the guys were very nice and they taught me a lot of technical skills and they loved to talk with me. It feels very good. We are always joking together." 
Yu also deserves special attention from Team China coach Nikolay Sharshukov.
"The head coach implemented a special practice programme for me based on my physical ability."
Against Italy the hosts did the work in the first two periods scoring all six goals. Dianpeng Xiu and Zhidong Wang bagged two each with Xuesong Bai and Guangjian Hu getting on the scoresheet once.
There is no rest for China as they take on Czech Republic in the qualifying finals game on Wednesday (9 March) at 20:05 (local time).
Live streaming and live results from Beijing 2022 will be available on Paralympic.org. You can follow all the action, behind the scenes and news on World Para Ice Hockey social media channels on Facebook, Instagram and Twitter.