Water sports devotee Rivera crosses Atlantic for historic Para kiteboarding event
World Sailing is organising the first ever Para kiteboarding clinic in Campione del Garda, Italy from 23 to 26 June
24 Jun 2022
Imagen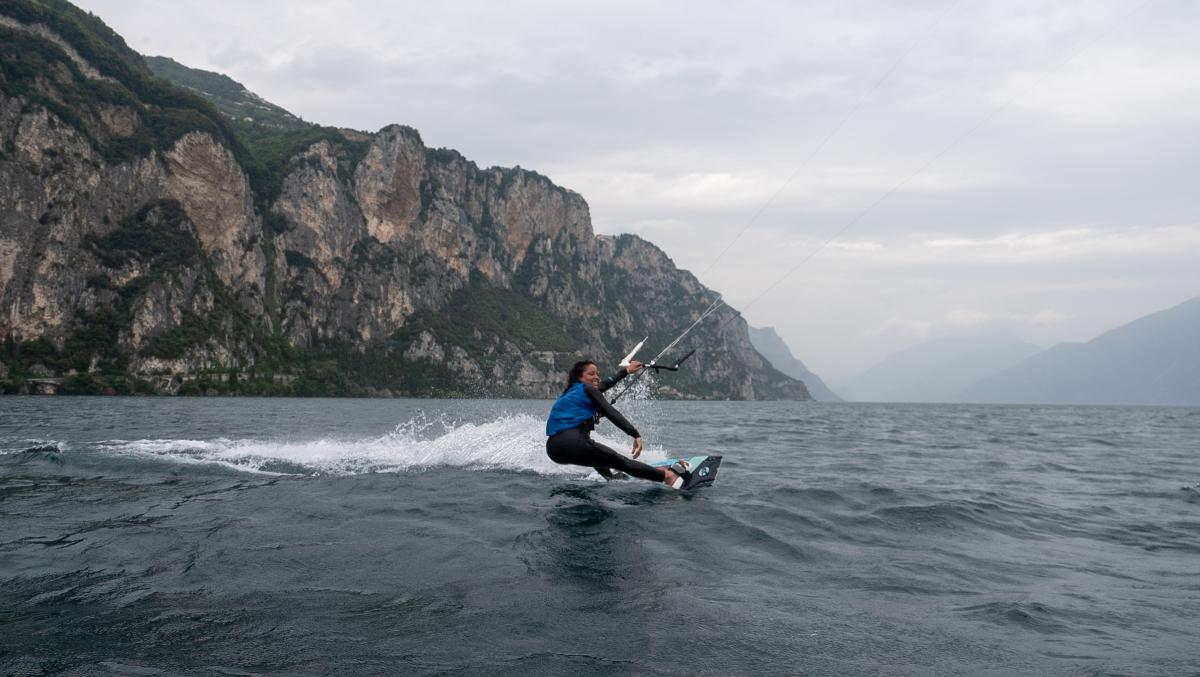 ⒸTom Roberts/World Sailing
By Lena Smirnova | For PARA SPORT
Florida-based Frances Rivera has spent the last six years teaching people adaptive kiteboarding. This week she has become a student herself as World Sailing holds the first ever development clinic in Para kiteboarding.
World Sailing is organising the clinic in Campione del Garda from 23 to 26 June alongside the Formula Kite – Grand Prix Campione di Garda competition. The clinic brings together four coaches and seven athletes for workshops on kiting and coaching practices, wrapping up with a Para kiting regatta where participants can put their new skills to use.
Rivera is one of the two representatives from the United States, together with coach Jon Beery. There are also participants from Australia, France, Germany, Iran, Italy, and the Netherlands.
Come away to the water
Born and raised in Puerto Rico, Rivera was involved in water sports since she was a child. But above all the sports she tried, it was kiteboarding she loved most. 
Rivera started kiteboarding in 2007, and when she had an accident in 2011 and had to amputate her left leg, giving up her favourite sport proved particularly painful.
However, she did not stay away for long. 
"Some people might say I'm stubborn," Rivera said with a laugh. "When I was in the hospital, the doctor said that I should slow down and do physical activities that wouldn't be so demanding. My body and I took that as, 'You're telling me that I can't do kiteboarding so I'm definitely going to do kiteboarding now'.
"Kiteboarding was the one. You can jump 20, 30 feet in the air, you can catch waves, you can do so much. There are many different variations to it that even if it wasn't something that would develop into a Paralympic sport, it was something that is part of what drives me in life," she added. "It was part of me so I wasn't willing to give that up."
Rivera started getting back into kiteboarding about eight months after her accident, and the journey was not immediately a smooth one.
"Not having part of the leg and now just trying to guess the pressure," Rivera said of the biggest change she experienced returning to kiteboarding after an amputation. "You don't have that ability anymore so you have to adjust with your knee or with your hip.
"Adapting to the pressure was a big challenge, but more than the physical challenge was the mental challenge. The hardest part was that you tend to compare yourself to how you were before and where you're at right now. There's a dateline. You're not as flexible. It takes longer to improve. There's a lot more falling. The mental aspect of it, it was the biggest factor. It took a few years to let go from my past once I realised it's my life."
Once she worked past these obstacles, Rivera was back in her element.
Kiteboarding not only reminded Rivera why she loved the sport but also helped to change her attitude about her disability.
"A decade ago, if you asked me, I would have been hurt and maybe bitter about it, but now I just look back and it's like, 'I'm here because of that and I'm OK with that'," Rivera said. "I'm content and now I just want to charge and see how I can help others and create an example that it doesn't matter what you're missing if you have the right attitude and if you commit to your goals."
Rivera has done exactly that, helping to introduce more people to her beloved sport. 
She currently represents a sports brand as her full-time job and has also offered classes to adaptive kiteboarders since 2016. In this time, she has had more than 50 students, including wounded veterans and people who have mental and physical disabilities.
Across the Atlantic to the Mediterranean
In late May Rivera found out that she was one of the athletes selected to go to the first ever Para kiteboarding clinic. Her reaction was a mixture of excitement and jitters.
"I never thought that I would see it starting to be developed so it's quite exciting to see that the sport that I've been with for so long, it has the opportunity to become more internationally recognised and become something bigger," Rivera said.
"It makes me a little nervous, but definitely I cannot not like it," she added. "I'll take up the challenge."
The Para kiteboarding clinic in Campione del Garda is the first official Para Sailing Development Program (PDP) that World Sailing has organised for this sports discipline. 
World Sailing selected the 11 participants by sending invitations to national federations and then reviewing the candidates' skill level and availability. As a result, seven countries are taking part, but the governing body hopes to expand this number significantly in the future.
"For this discipline it is a first-time event and we want to draft some guidelines and then, as soon as we are finished here, we will do the tailoring for other regions," said Massimo Dighe, Para World Sailing Manager at World Sailing.
"We plan to do PDPs on a regional basis so we can have all the regions there without asking everyone to fly far." 
World Sailing plans to hold more Para kiteboarding events in the future as part of the organisation's broader effort to grow the sport and make it more inclusive.
The plan is to hold regional and national events, and later boost the sport to a bigger stage, possibly the Paralympic Games.
"There is more excitement, more young people involved," Dighe said of Para kiteboarding's appeal. "We had this opportunity to do this kind of event with the IKA (International Kiteboarding Association) tour so for us it's been a great opportunity. We can be very inclusive in having Para kiting as a competition."