Team bond and common playlist lead German football prodigy Kuester to Euro title
The recipe for the German team's European title: trust, ambition to win, and a shared playlist
30 Jul 2022
Imagen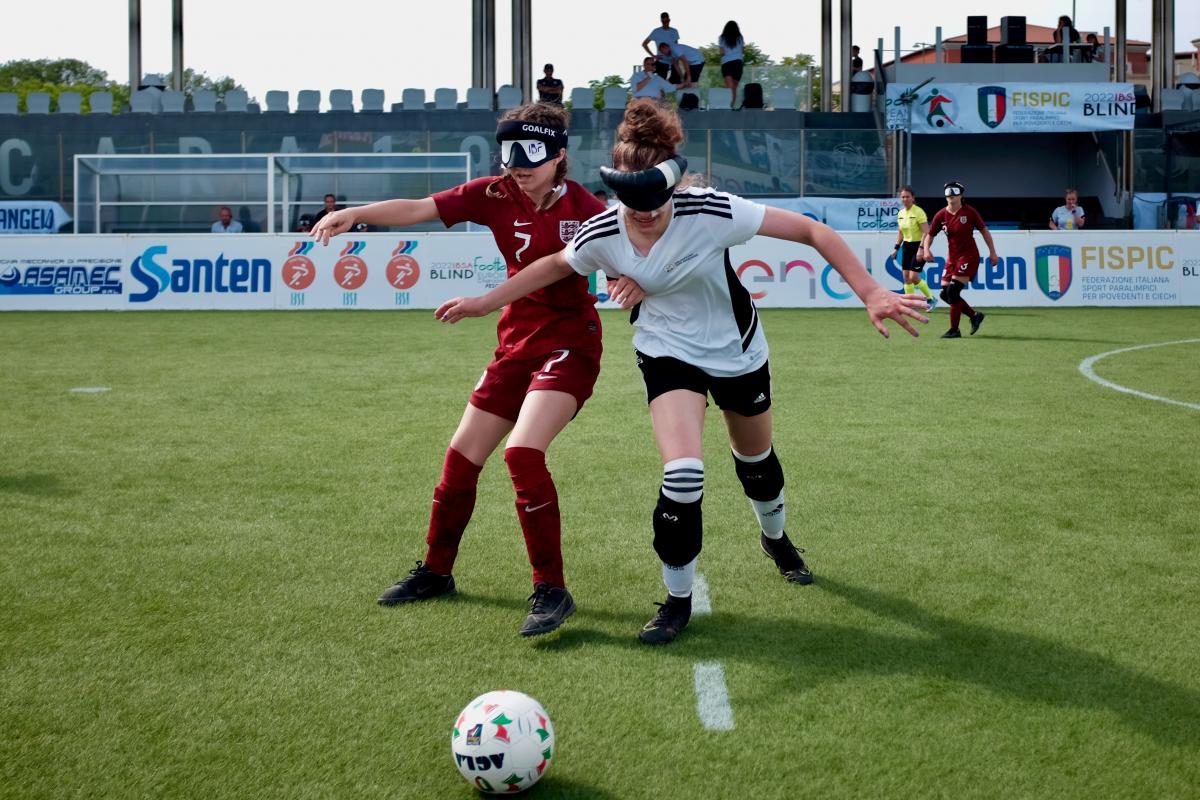 ⒸMichael Hain
By Lena Smirnova | For PARA SPORT
Sixteen-year-old Thoya Kuester is on the football pitch at the 2022 European Championships, a blindfold covering her eyes. 
Nimble and quick-thinking, she passes and dribbles her way to the opponent's net. In goes one goal, two, three...
In total, the teenage prodigy will score all of Germany's eight goals at the tournament, culminating in their 4-0 victory over England in the final.
With each goal there is a ripple of applause and congratulatory messages from her teammates, unseen from behind the blindfold but always nearby for support.
A TEAM EFFORT
While there are multiple relationships in any sport, there is something unique about the bonds on a blind football team where the players rely on senses other than their sight to communicate on the pitch.
Kuester first experienced the sport as a child when she went to a test session at FC St. Pauli in Hamburg, Germany. The team dynamic of blind football immediately won her over.
"I started playing blind football at nine years old and was very well received in the already existing team," Kuester said. "(What) I like the most about a team sport, (is) the common play and exchange with blind and visually impaired people, to try new things together and to develop further as a team. 
"Everyone on the team has their own strengths and weaknesses as well as I do and that's why we all complement and learn from each other. This would not be possible in individual sports."
Since blind football is currently only recognised as a Paralympic sport for men, all-women teams are uncommon, and Kuester mostly trains with male footballers or on mixed teams.
This has changed in the lead-up to the first ever IBSA Blind Football Women's European Championships, which were held in Pescara, Italy in June 2022. Now Kuester trains as part of a mixed team twice a week, but also once a week with a women's team.
"For the first five years, I only trained with men and played against them," she said. "Since the beginning of this year I have had the opportunity to train in a women's team. 
"I think you can't compare a mix team and an all-women team because the communication and the mood are, in a positive sense, on and next to the pitch very different. However, when it comes to ambition, there is no difference."
PERFECT HARMONY
Half of the players on the German women's team only started training at the beginning of 2022. Aside from learning the sport's technique, they also needed to bond as teammates in order to communicate well during competition.
"We train together, talk a lot about blind football, but also privately and get to know each other better and better," Kuester said. 
"I admire their ambition, motivation and fun with the European Championships project. Before Pescara we had three training camps all over Germany and so it is admirable how quickly we became a solid team." 
In Pescara, ahead of the final match, the players blasted tunes from the team playlist on the bus and in the locker room.
A few hours later those same 10 players would be crowned blind football's first women's European champions. Kuester emerged as the ultimate breakout star, scoring all of Germany's goals in the tournament.
"For me it was a great feeling to score each of the eight goals of my team in a European Championships, that's something very special for me," the young athlete said. "Until then, I have never managed to score goals in such a big event and now all eight goals from me. This is a great success for me and my team and makes me very happy."
And as Kuester celebrated this personal milestone, the teammates around her also shared in her joy.
"We were happy as a team and thanked each other," Kuester said. "Without my team, I couldn't have scored the goals."