Five tips to get started in Para snowboard from passion-driven champion Luchini
Italy's Jacopo Luchini, who won two gold medals at the 2023 FIS Para Snowboard World Championships, says that success in the winter sport begins by loving and respecting the mountains and the snow
13 Apr 2023
Imagen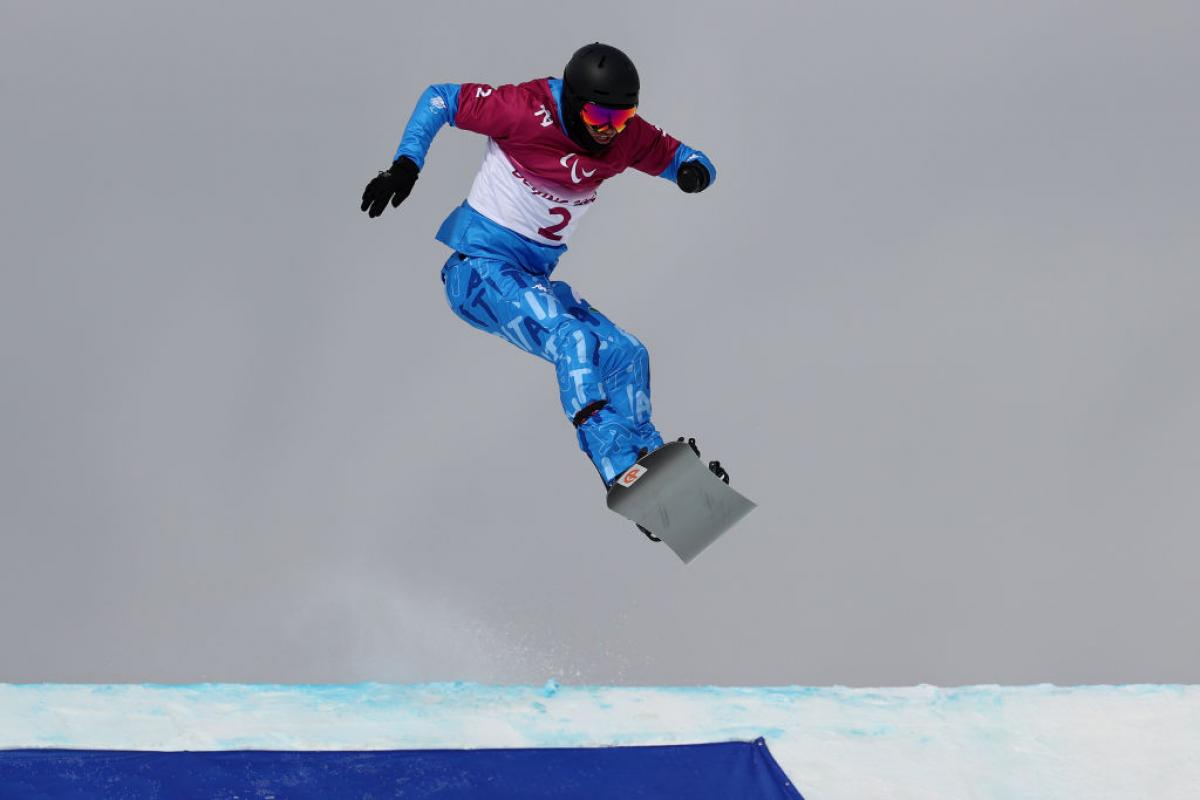 ⒸRyan Pierse/Getty Images
By PARA SPORT
Jacopo Luchini, who won two events at the 2023 FIS Para Snowboard World Championships, is on a big mission. He wants to show the world the joy of snowboarding and inspire more people to take up the sport.
The Italian rider won the men's snowboard cross SB-UL race and the snowboard cross team event at the World Championships held in March 2023 in La Molina, Spain. 
Luchini has also competed at the PyeongChang 2018 and Beijing 2022 Paralympic Winter Games. With three years remaining until the home Games in Milano Cortina, Luchini is hoping to accomplish much more than podium results. 
"When I started snowboarding, it was just for the passion. I fell in love with the sport," Luchini said. "I want young guys with disabilities to know that Para snowboarding exists. This is my main goal at Milano Cortina.
"We want to show how fast we can go on the board and how big we can jump, and how we can make a pass and how we can ride," he added.
While Para snowboard is exciting to watch, it is not an easy sport to take up. But whether it is to compete at an elite level or to enjoy as a hobby, Luchini says the sport can bring a lot of joy to life.
"It's dangerous and you can even break your bones every time, it's not easy. But I expect that after Milano Cortina, something will change. More people would want to try snowboarding, and try and compete in Para snowboarding," he said. "To compete (in Para snowboard), it's good to start early."
So what are you waiting for? Check out Luchini's five tips on how to get started in Para snowboard and get ready to head to the mountains.
1. Love and respect nature
It is important that you love and respect all aspects of nature, especially the mountains and the snow. We are getting less and less snow on this planet. If you want to snowboard, you have to help make sure it doesn't disappear permanently.
2. Be patient
Snowboarding is a difficult sport and you will fall many times. But if you are patient, it will be even better when you get back up.
3. Be passionate
You will need to have a lot of passion. Passion is everything. Without it you can never become a good snowboarder.
Being a snowboarder means being a rider. Being a rider means loving all board sports, also because you cannot snowboard all year long. You will need to train in other sports such as skateboarding and surfing.
4. Get used to seeing things from a different angle
It is important to get used to seeing things from a different perspective. Most sports have one basic element in common with everyday life - the frontal stance. But snowboarding and a few other sports use a different stance from your everyday life so you will have to be good at changing your point of view and start to be confident being in a lateral snowboard stance.
5. Be determined and don't rush
You will have to be determined and not be in a hurry to learn. Snowboarding is a time-consuming sport and it can be frustrating, especially in the beginning, because you will be sitting on the ground more than in action.
But don't be discouraged. Be determined because this sport will give you back unforgettable moments.