Three years until Milano Cortina: Italian athletes preparing for 'biggest show ever'
Italy is famous for its food and culture, but during the Milano Cortina 2026 Paralympic Winter Games, the country will also shine thanks to its passion for Para sport, says Para ice hockey player Andrea Macri. We asked four Paralympians what they are looking forward to in three years and why you should also get excited
06 Mar 2023
Imagen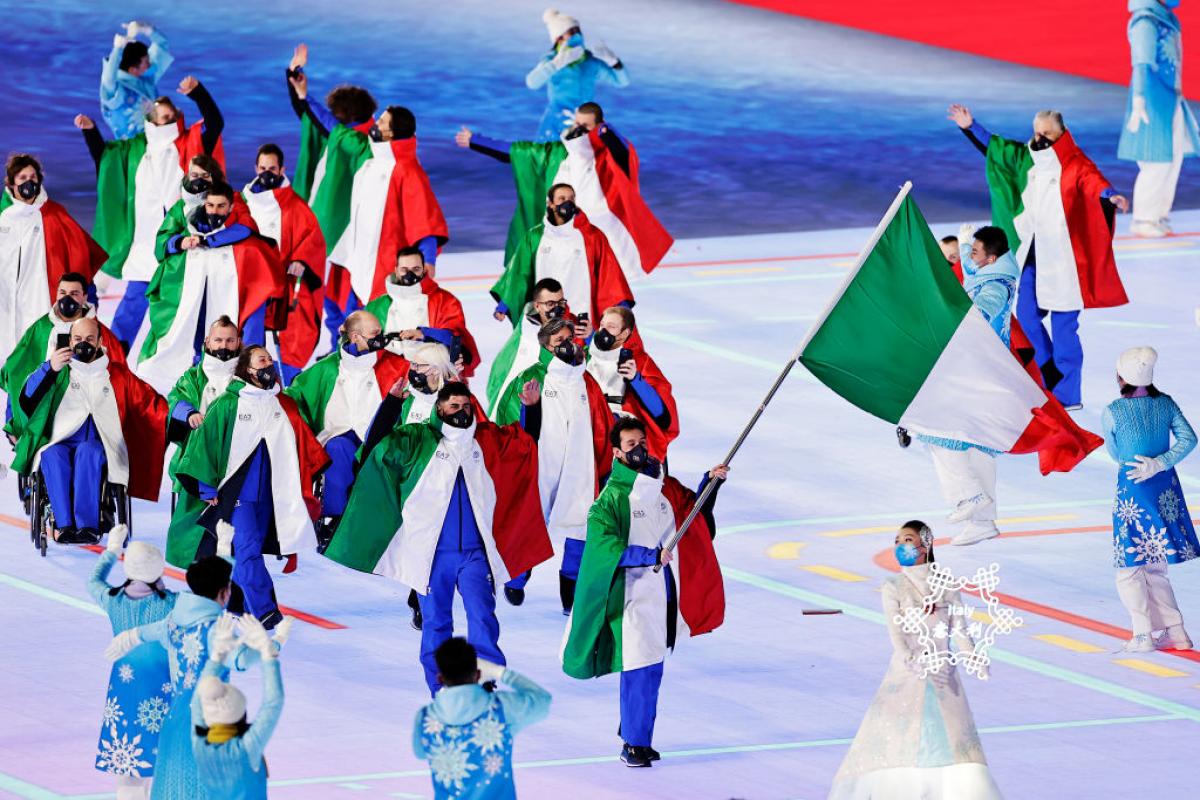 ⒸWang He/Getty Images for International Paralympic Committee
By IPC
With three years to go until the Milano Cortina 2026 Paralympic Winter Games, Para athletes from Italy are preparing to put on a real show and hoping that the Games will help create a lasting change in the host country.
The next edition of the Paralympic Winter Games will be held between 6 and 15 March 2026 and feature six sports – Para alpine skiing, Para biathlon, Para cross-country skiing, Para ice hockey, Para snowboarding, wheelchair curling.
Italy last hosted the Paralympic Games 17 years ago, in Torino. For most Italian Para athletes, it will be their first time experiencing what it is like to have the support of the home crowd at the world's third biggest sporting event.
"Competing in a Paralympic Games at home is the most that an athlete can dream about," said Para cross-country skier Giuseppe Romele, who won a bronze medal in the men's middle distance sitting race at Beijing 2022. "Fans will see and have an incredible and unforgettable experience."
Home crowd and more visibility
A year since winning two gold and two silver medals at Beijing 2022, Para alpine skier Giacomo Bertagnolli has his mind set on achieving an even bigger dream. 
"My dream is to win in my country. I was already the winner in Beijing and PyeongChang (2018), but winning in Italy has been a dream I haven't achieved yet. It gives me more motivation," the four-time Paralympic champion said.
After the Games in China and the Republic of Korea, Bertagnolli is hoping to have more familiar faces in the crowd. His father, who travelled to PyeongChang 2018, has been the only family member who has seen him compete at a Paralympic Games.
The financial challenges of travelling abroad, and the COVID-19 pandemic during Beijing 2022, made it challenging for his supporters to see him on the Paralympic podium in person. But that will change at Milano Cortina 2026, and he also hopes the Games will deliver something extra.
"We have the opportunity to race and compete in our country. It means more visibility, more people coming to watch us. Milano Cortina can be something new for us," said Bertagnolli, who was Italy's flagbearer at the Opening Ceremony of Beijing 2022.
 "If the level of athletes can grow a little bit more, it will be very interesting for everyone to watch and to understand what the Paralympics are and what Para alpine skiing and other sports are. Paralympic Games in Italy can give a super boost to all of this."
But the athlete is not waiting three years to start creating change. When he is not on the slopes or hitting the gym, Bertagnolli plans to create video clips on social media to introduce Para sports and the Paralympic Games to more people at home.
"From now on, it's important to make my sport known for the majority of the people," Bertagnolli explained. "I'm trying to get people's interest higher and to be excited about the Milano Cortina Paralympic Games."
Experience Italian excellence
Andrea Macri, the captain of the Italian Para ice hockey team, said fans can look forward to everything that Italy has to offer, including its culture and food – but more than that, exciting sporting moments from passionate athletes.
"The fans will have the opportunity to experience Italian excellence," said the four-time Paralympian, who also works for the Milano Cortina 2026 Organising Committee.
"We're famous for our food, for our culture, and for our magical and historical places. But during the Games, people will discover our passion for sport and the determination of Italian athletes to reach their final goal."
With three years left until the Opening Ceremony, Macri sees the Games as a special opportunity to showcase the "beauty and the power of our winter sports", as he took up Para ice hockey "thanks to the legacy of Torino 2006".
"I'm looking forward to what these Games can leave after 2026. I hope that the legacy of this event will leave an incredible trail of changes in Italian territories about the Paralympic world," Macri said, adding that he wants to see more people take up Para sports as a result of the Games.
In the meantime, the veteran player has a message to fellow athletes from Italy and around the world.
"Be ready for the best Paralympic Games ever," Macri said. "Train hard and enjoy the road you will face till the Games. We need to share our passion with the next generation of athletes, showing them what sport means for us and how much it is important in our lives."
A hero for kids
For Para snowboarding star Jacopo Luchini, the Milano Cortina 2026 Games will be a chance to win his first Paralympic medal, but also a big stage for him to become a "hero" and inspire people, especially children, to take up the sport.
"My goal at Milano Cortina is not only about medals. Of course, taking a medal in my country will be amazing and I want it so much because I already missed medals at two Paralympics," said Luchini, who competed at PyeongChang 2018 and Beijing 2022. 
"Milano Cortina will have to be my Paralympics and my goal. But I also want to share the sport with as many people as possible and (inspire) people who want to start snowboarding."
The athlete added that having the Games at home is a "big opportunity" to show what the "Paralympics are and can do", and explain many aspects of Para sports, such as classification and of the types of impairments that athletes can have.
But Luchini's biggest goal is to share the joy of Para snowboarding, given that the number of athletes in his sport is "still not enough". 
"I hope after Milano Cortina, many guys, boys, girls and ladies will want to try snowboarding. It's not just about Para snowboarding or about people with disabilities, but snowboarding as a sport," Luchini said.
"It will be amazing if I can be a hero for someone, a hero for a lot of kids, teenagers who want to compete and arrive at the Olympics or Paralympics."