Vision and hearing-impaired archer strikes bullseye against all odds
Great Britain's Richard John Nicholl and his coaches making history in improbable scenario 
23 Sep 2022
Imagen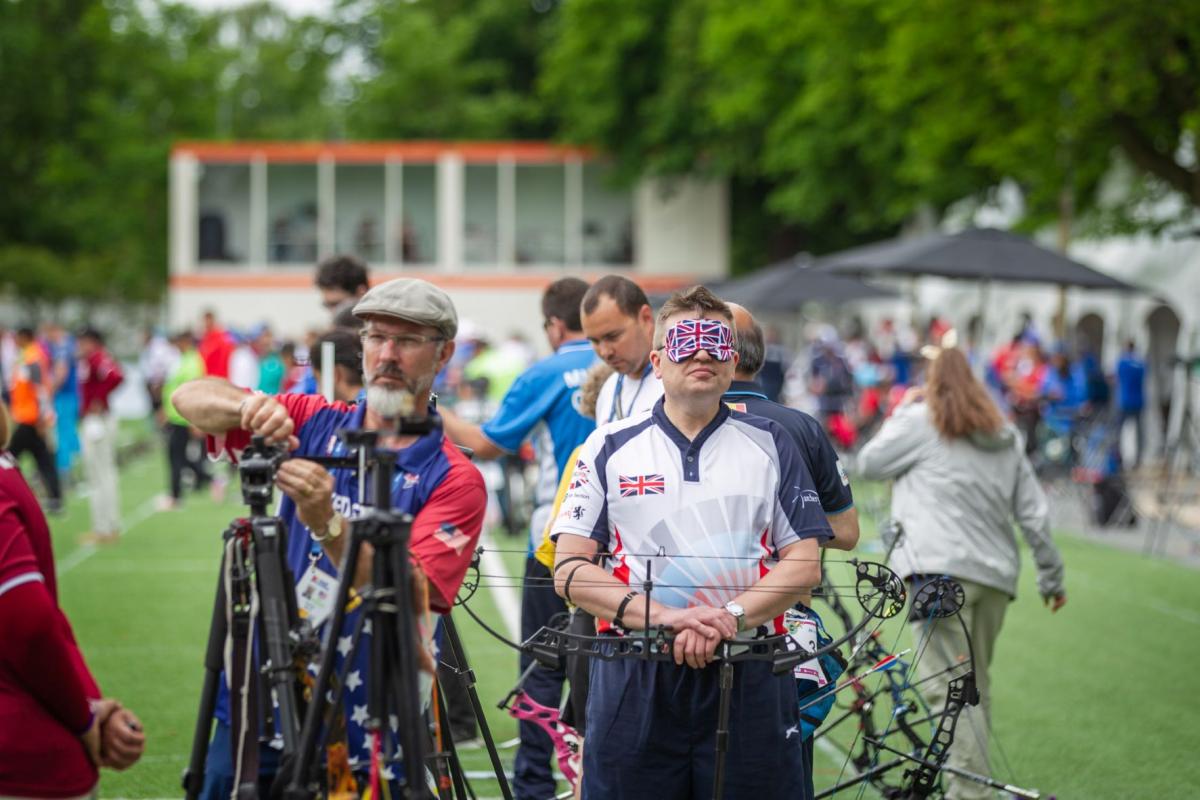 ⒸWorld Archery
By Lena Smirnova | For PARA SPORT
Richard John Nicholl does not look like a typical archer. First of all, he cannot see. Secondly, he cannot hear.
But none of these factors posed a challenge great enough when Nicholl set out to accomplish his goal of competing in the sport at the top international level.
"From the first arrow I liked the idea of archery. I liked the elements of it. I know it's a challenge, something that I should not be able to do, but I never thought because I was deaf and blind that would be an issue for me. I took it as a challenge," Nicholl said through his coach using sign language. 
"There are not many deaf and blind archers out there in the world. Certainly, I am the only one competing that I know of." 
While there is a vision impaired class in Para archery, there are no special provisions made for athletes who have hearing impairments. 
In 2019 Nicholl became the first archer who is both vision and hearing impaired to compete at a world championships. What makes his journey even more remarkable is that he only discovered archery after he lost his sight. 
A feel for archery
Born with Usher syndrome, Nicholl was unable to hear from birth and started to lose his sight at the age of 18. He lost his sight fully by the time he turned 30.
He first tried archery 10 years ago at a disability camp hosted by an archery club in Northern Ireland. It was there that Nicholl met the father and son coaching duo, Chris and Marc MacFadyen, who would become central figures in his future sporting career.
"He's never seen a bow before. He's never seen an arrow before. He didn't know what archery was," recalled Marc MacFadyen, the archer's coach and spotter. "We had to build that mental picture for him, feeling the bow and feeling the arrows. First session with his bow, we were sitting there for three hours just mapping it out and trying to create that picture."
Nicholl missed the target on his first try, but that did not discourage him from continuing with the sport. On the contrary, he was even more eager to improve. 
"From that first day, he loved it. He doesn't see it as a challenge being deaf and blind. It is just another thing to overcome. When he found archery, he thought, 'I like this, I'm going to do this, and I can do well at it'," MacFadyen said.
"I work with loads of different ranges of abilities and when John first came in, I thought, 'Deaf and blind, and this man wants to do archery?' I thought, 'Fantastic! If he's enthusiastic about it, I want to be there'."
Nicholl and his coaches communicate through British Sign Language spelled out on the athlete's palm. At the beginning, they hired an interpreter, but since Nicholl is self-funded, the MacFadyens took the initiative to learn sign language to make it easier for their student to afford the sport.
A world first
The sign language skills came in handy when MacFadyen led Nicholl out onto the range at his first World Archery Para Championships, held in 's-Hertogenbosch, the Netherlands in June 2019. 
"I tried my best to build a bigger picture. From the get-go, when he came in, he asked how many targets there were, how many people are here," MacFadyen said. "He's imagining it and we absolutely blew him away when we told him there are 52 countries taking part. He just couldn't believe it. He was in awe of it. It was amazing for him to even be at this sort of event."
Nicholl was at archery training every day until dusk as he prepared for his world championship debut. In addition to shooting arrows, he also did endurance sports to build strength.
"He's a pretty physically fit guy," MacFadyen said. "He works out, he swims, he does tandem cycling and then he saw archery and decided, 'That's another sport I'm going to do'. You don't really think a deaf, blind person will do cycling. You don't expect him to do swimming, let alone archery, but that's his attitude about it. Archery is what he wanted to do so he did.
"He's got so much enthusiasm. It makes me happy to coach him."
As with other archers in the vision impaired class, Nicholl relies on his spotters to relay information about the competition and where his own arrows are landing. But in his case, this information is given to him through touch rather than words.
"I'll touch him on his back in relation to the target so if it's going high and right, I'll tap him on his back high and right, and I'll swipe him down each side if he had a miss," MacFadyen said. "If he had a goal, he gets a nice tap on the shoulder, and it gives him a bit of a buzz."
That tap on the shoulder is what Nicholl strives for at every competition. 
"Excited," Nicholl said about how he feels when he succeeds in hitting the centre of the target. "That's what you want for every arrow. I will always try to improve and improve until I win gold…or until I win the lottery."
Nicholl has shown improvement in his archery over the years. He competed at the European Para Archery Championships in Pilsen, Czech Republic in 2018 and MacFadyen estimated that he shot "10 times better" a year later at his worlds debut.
The British archer reached his personal best result in s'-Hertogenbosch when he scored 305 points to finish sixth in the vision impaired 1 competition.
"I want to encourage anybody, of any ability, to get out there, get to the club and shoot some arrows. There are always coaches out there who want to help," Nicholl said. "Every club has a coach who always likes a challenge, so don't be afraid to get out there."