'Once they saw us everybody stood still': Para cycling making waves in Namibia
With 10 bikes, a motivated squad and a first race completed, Namibian Para cycling is hitting the roads hard
13 Jul 2022
Imagen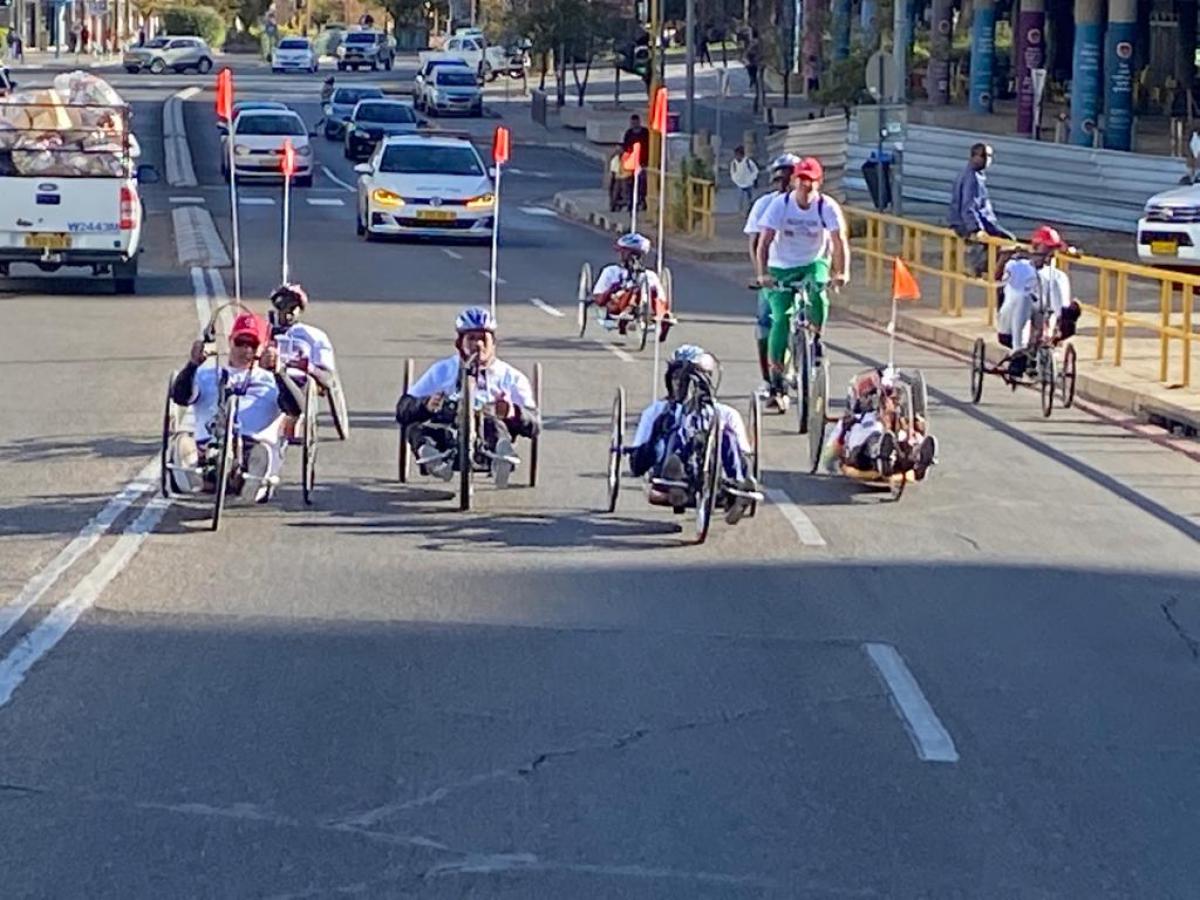 ⒸMitch Dewaldt
By AMP Media I For PARA SPORT
As soon as Mitch Dewaldt saw the public's reaction in Windhoek, to the sight of eight handcycle racers flashing through the streets of the Namibian capital, he knew all the hours of dedication were worthwhile. 
"Once they saw us everybody stood still. For that moment the focus was on us as we passed them," said Dewaldt, a 36-year-old Namibian who is intent on starting a Para cycling revolution in the south-west African nation. 
He has started this effort at a flying pace. With the support of the Namibia National Paralympic Committee (NNPC), Dewaldt gathered four new handcycles provided by a USA Embassy initiative, rounded up others shipped to Namibia back in 2017, via charitable organisation Inclusive Cycling International, and found six other willing athletes ready to take on the challenge of the nation's first ever official handcycling race. 
"I thought it would be best to have an awareness race through the centre of town. We had police escorts, so it really brought a lot of attention," Dewaldt said of the early June competition. "The timeframe was very short for everything. We didn't have a lot of time to train everybody, so the race was around 3km."  
It was more than enough to achieve exactly what Dewaldt had been hoping for. 
"It was really good to see," he said. "Usually when people see us they look at our wheelchairs and there is some sense of pity in their eyes. 
"But what I saw on that day was not pity, people were wowed. They felt inspired. It was very different from the usual experience when people see me in my wheelchair." 
Behind the wheels
Dewaldt, who suffered a T12 spinal cord injury in a motor vehicle accident in 2009, has long been convinced of the need to provide sporting opportunities for those with a disability in Namibia. He now knows he was right. 
"It meant a lot to the guys. It got them really invested in the project. Some of the guys followed us from Windhoek to the north, which is 900km, just to be with the guys again. They took hospital buses or ambulances to travel to the north, putting requests to the ministry to get a place on those buses," Dewaldt said. 
He was one of the seven competing in the first race – won joyously by Roodly Gowasee – and is now training every day alongside them. The athletes were chosen after Dewaldt took bikes to sports clubs around Windhoek and the north of Namibia to gauge interest. 
It's safe to say the bikes piqued peoples' passion.
"Since the bikes have come there is not a day they are not on those bikes," Dewaldt said. "They are doing this all without any payment. They come from their houses, come to the sports ground, take the bikes out, service them, train and then go home. 
"It's very motivational. This is their main focus. They don't have jobs." 
Dewaldt does work himself, as a rehabilitation coach for the Motor Vehicle Accident Fund of Namibia, but he spends most of his spare seconds either out on the bikes or seeking funding for competitions he and his fellow riders would like to take part in. He would also love to see more bikes imported to Namibia. 
 
"We don't really have a lot of community-based rehabilitation projects happening. Sport not only provides a healthy lifestyle, it gives people something to look forward to," he said. 
The road ahead
The hope is that hand cyclists can take part in both a half-marathon and marathon event called the Outeniqua Marathon in Georgetown, South Africa, later this year and in Namibia's famous Desert Dash, a 400km race winding through the desert each year in December. 
"A lot of these people are at home, they never go out, they don't know of anything else. Now these cycles are available to them," Dewaldt said. "Once they are on their bike it's like the impairment goes away."
The Namibia National Paralympic Committee say Dewaldt has their "full support" and they are helping him in his varied fund-raising efforts. 
"Once people start to see how motivational it is to ride these bikes, and we can get more bikes in," Dewaldt said, "we will grow."