Ghana's blind cycling pioneer Assor spreads joy of life on two wheels 
'On World Bike Day, my message is that anyone can ride a bike. I hope we can inspire people'
03 Jun 2022
Imagen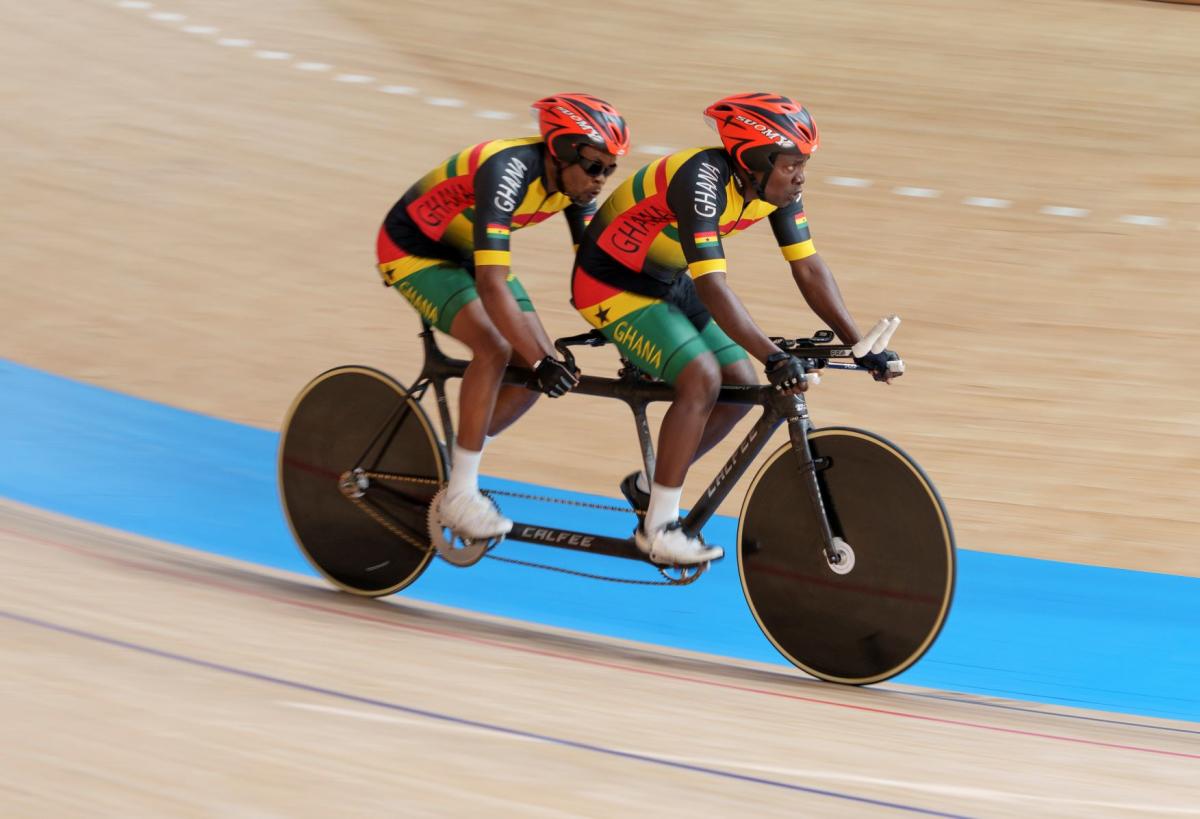 ⒸThomas Lovelock/OIS
By AMP Media I For The IPC
On World Bicycle Day, 3 June, there can be few better ambassadors for the pleasure of riding than Frederick Assor. The Ghanaian Paralympian was born fully sighted but went blind aged 14. After a long period of adapting – learning Braille and attending university – it was getting back in the saddle that would eventually transform his life.
"Being on a bike again was a joyful experience," he said. "I was a sportsman when I was sighted. Football, volleyball, athletics. Cycling gave me back my sporting talent. 
"What I love most about being on a bike is speed. I love it after you ride up a mountain and then can go down the other side. I love descending. It makes me frightened but it always makes me happy too. It makes me pedal more." 
With a little help from my friends
Assor's talents were obvious to all who saw him perform on the track at the Tokyo 2020 Paralympic Games. He cycled strongly and made a huge impression back home, despite numerous challenges.
"I made it to Japan but my bike didn't," Assor said. "Luckily, the Japan Paralympic team gave us a bicycle. I had to learn to adjust to it, which was difficult for me and Rudolf (Mensah, his pilot). But I was pleased with my performance.
"I was happy that in one event (men's individual pursuit B) I was able to beat German and British riders because they are giant countries of Para sport, with very high-quality equipment. That was a joyful moment.
"And when I got back from Japan, people were very happy to see me on TV, riding in the name of Ghana. Radio and TV stations were chasing me. And lots of people in Accra, where I live, said that they'd seen me ride around on the tandem but they didn't realise I was blind. This got a message out and made people happy and interested."
Trailblazing for Africa
Some people's attitudes towards disability still need to change in Ghana, according to Assor.
"People think that if you're blind, that's the end of it when it comes to sport," he said. "You need a guide just to walk at first, so they think how can you run on a track, how can you play blind football? And if you tell them you are a cyclist, they say, 'Is this a joke?' They don't know how it can happen."
The first ever African Para Games, which are being held in Accra in 2023, should help spread the word.
"I am really looking forward to it," Assor said. "I hope tandem cycling is a part of it because it will mean more visually impaired Africans take up cycling. We have a lot of people interested after Tokyo but it is hard to increase the team because the equipment is so expensive. We have one track bike and a road bike from the 1970s."
Such challenges have not stopped Assor's fierce ambition to become a trailblazer for Africa.
"I would love to win a cycling medal at the next Commonwealth Games in Birmingham, or at Paris 2024 (Paralympics) – for Ghana and for Africa," he said. "It would be our first one and it would make me really proud. I can prove to Africa that we can do this. 
"Rudolf and I started together in 2011 and we know each other so well on the bike. We communicate with our voices and body language. We can ride 150km on the road in Ghana, with lots of cars, but I feel very comfortable.
"On World Bike Day, my message is that we are showing anyone can ride a bike. We would love it if more people and more governments get interested. I hope we can inspire people."