Wheelchair tennis star Montjane serves up stellar career after difficult start 
"Never easy coming from this side of the world": Montjane talks about her rocky road to the top of the wheelchair tennis world and becoming a beacon for South Africans
11 May 2022
Imagen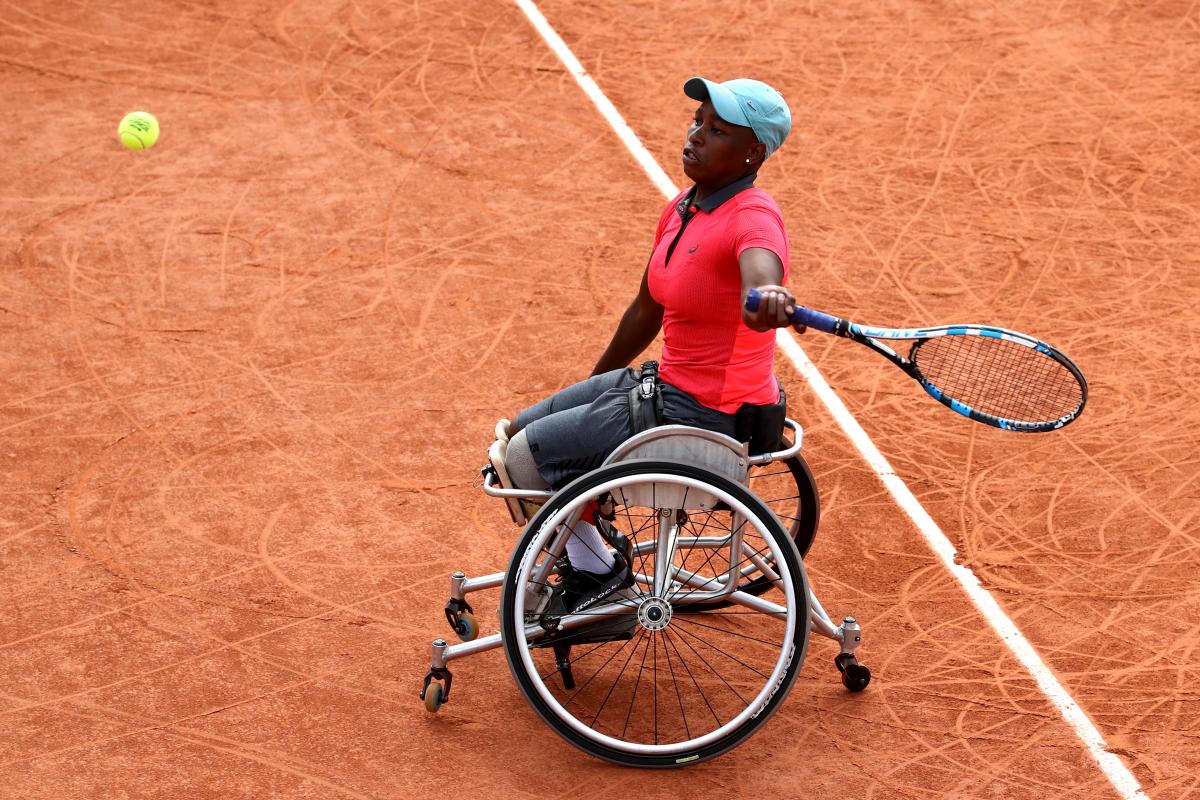 ⒸGetty Images
By Mary Barber | For PARA SPORT
Kgothatso Montjane was the first black South African woman to compete in wheelchair tennis at Wimbledon and is currently ranked fourth in the world. 
The internationally successful athlete has won many accolades in her career, but her life could have turned out much different, as she revealed to Para Sport.
Montjane picked up a racket for the first time at a relatively late age of 19 after she was forced to play wheelchair tennis in her last year at school. She knew nothing about the sport and admitted that she wanted to quit: "I didn't enjoy it at all". 
Later at university, she discovered that as a student with a disability her options to take part in sport were severely limited. Wheelchair tennis was the only one available to her, so she decided to "make peace with it" and, with perseverance and dedication, is now one of the best players in the world. 
Montjane holds 29 singles titles, including the Swiss Open and Belgian Open, where she was also successful in doubles, winning in 2015 with Great Britain's Grand Slam winner, Jordanne Whiley. 
Last year she made it to the Wimbledon final where she was beaten by world No. 1, the Netherlands' Diede De Groot. The left-hander was also runner-up in the doubles final with Great Britain's Masters world champion Lucy Shuker. 
South Africa's Disabled Woman of the Year will next compete at the French Open in Paris in June, where she has been a two-time semi-finalist. She reached the same level at the Australia and US Opens. 
The 35-year-old was born in Limpopo with a congenital disorder of her hands and foot, with the other amputated at age 12. Looking back on her career, Montjane recalled her transformation from novice to champion and the proudest moment on that journey.
PARA SPORT: Why did you start playing wheelchair tennis?

Kgothatso Montjane:  I was 19 years old and was recruited into tennis because I was already an active learner in sport at the special school that I was attending. It was 2005 and it was my last year of high school.
Did you enjoy the sport in those early days?

KM: I didn't enjoy it at all because I was forced to play and I didn't even know what it was, I had never seen it before anywhere. Honestly, I didn't like wheelchair tennis in the beginning.
How soon after you picked up a racquet did you start to train? 

KM: I didn't train much (in the beginning). I was hoping, because I was in my last year of high school, that I would get rid of tennis the next year when I went to university. But the following year when I wanted to join any sport at university, wheelchair tennis was the only active sport for people with disabilities, so I just sort of made peace with it and joined the group. We started training in tennis during the week, for two hours. At the moment, I train for three and a half hours five days a week at the High Performance Centre at the University of Pretoria.
When did you start to compete?

KM: I was 19, and in the same year I started, I had an opportunity to compete in my first-ever tennis tournament in Pretoria (which she won). It felt really cool considering I won a big trophy and prize money.
After your first win, did you progress quickly? 

KM: I initially competed mostly here at home, and it felt great because I thought I was the real deal by beating everyone locally. But in 2006 I had an opportunity to go to Europe to play and it didn't go well because everyone was really good. After that I just competed locally until I travelled to Europe again in 2010 where I won my first international tournament in Belgium (the Belgian Open).
You have since won many tournaments and in 2018 became the first black South African woman to play wheelchair tennis at a Grand Slam at Wimbledon. Why do you think you have been so successful in the sport?

KM: I think the courage to keep persevering through the challenges, is what has really kept me going and made me who I am today. I never had it easy coming from this side of the world and trying to make it in a sport like tennis.
Did you have a sporting idol in wheelchair tennis? You are now a hero to many, particularly in South Africa. How does that feel?

KM: I didn't have an idol (in the beginning) because I had never seen the sport, but I grew to have one after I started reading more about it. I admired Esther Vergeer a lot because she was great (the retired Dutch Paralympic wheelchair tennis champion has won a total of 48 Grand Slam tournaments in singles and doubles). I'm just grateful to be a beacon of hope to those South Africans who look up to me.
Would you encourage other people to get into wheelchair tennis?

KM: I would definitely encourage people to get into wheelchair tennis because it is good for our well-being. I enjoy it because it has never-ending challenges, which keeps my mind sharp. Among the benefits that I have experienced are it has helped me to stay active and be independent. It also grants me an opportunity to travel the world and learn more about culture, inclusion, and diversity. But mostly it has granted me beautiful friends from around the world. It has really shaped my social life.
What is your proudest moment in wheelchair tennis?

KM: Reaching the singles and doubles finals at Wimbledon 2021.
What are your future plans in the sport?

KM: My long-term ambition in wheelchair tennis is to keep it going here in Africa. I would like to be more involved with the development side of things, to help grow the sport on the continent.