Kgothatso Montjane aiming to make history
"With tennis, everything is possible," says the South African wheelchair tennis player ahead of Rio 2016.
08 Sep 2016
Imagen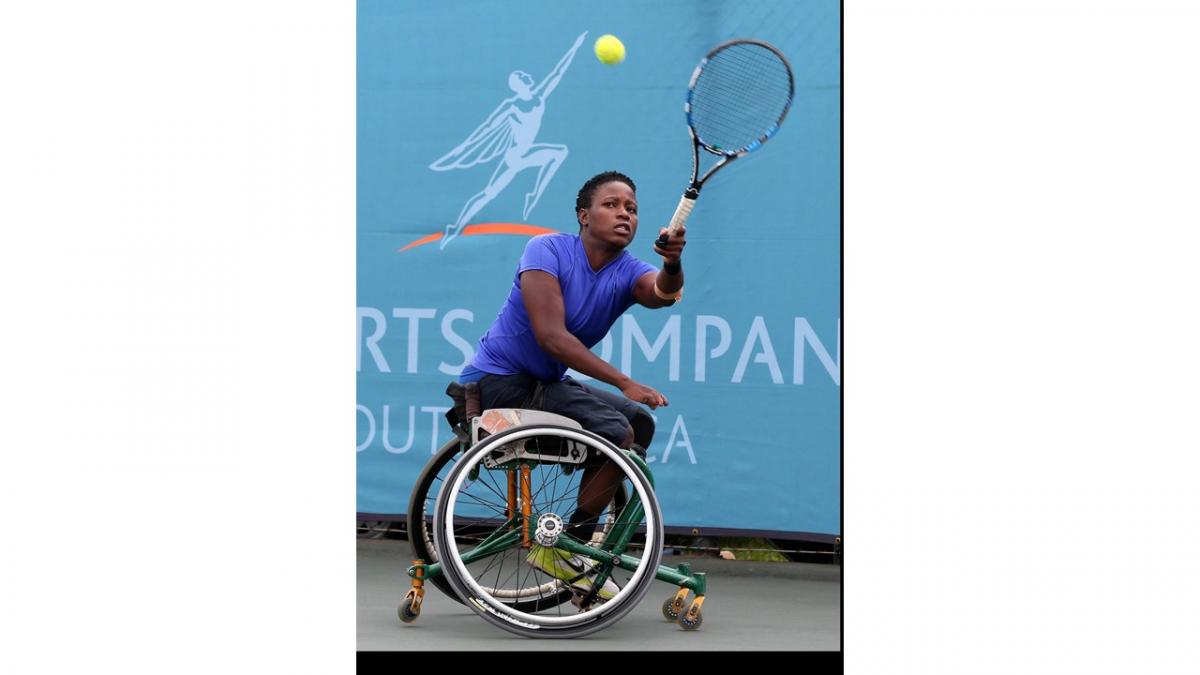 ⒸWheelchair Tennis South Africa
By Kyle Rinaudo | For the IPC
South Africa's Kgothatso Montjane will attempt to achieve what no African has done before – win a medal in wheelchair tennis.
Rio 2016 will be Montjane's third Paralympics, after securing a wild card position to Beijing 2008 and qualifying on merit to London 2012.
In 2013, after years of success and more dedicated training, Montjane became the first African woman to participate in a wheelchair tennis Grand Slam event. Looking back at her career's positive trajectory, Montjane – ranked No. 9 in the women's singles – is feeling optimistic about this year's Games.
"Tennis is a strange sport, and I truly believe that with tennis everything is possible," Montjane said.
"It doesn't matter where you rank in the world. Everyone stands a good chance to finish on that podium, so it doesn't matter where you are, it doesn't matter how many tournaments you have won up until Rio so far, that doesn't determine you as a medal competitor.
"I feel like I stand a good chance to finish on the podium. I just need to believe it, and do it when I get to Rio. I'm very hungry for it and I want it so bad. All I want to do in the Rio Paralympics is just to compete to my level best."
From uninterested to unstoppable
For a competitor now familiar on the world stage, it IS surprising to hear that when Montjane first tried her sport, she was not convinced.
Kgothatso, who also goes by "KG", had always had a love of sports. In 2005, her senior year of high school, her teacher implored her to try wheelchair tennis. "I didn't find the sport interesting because I had never tried it, but then in 2005…I went to a camp and tried it out," Montjane said.
She trained with teams at her university in the following years, but still was not fully invested.
Then, just a few years later, Montjane secured a wild card position at the 2008 Beijing Paralympics. That experience finally lit the spark.
"In 2008, I didn't even know what the Paralympics were," she said. "But do you know what? After I came back from Beijing, that's when I told myself: 'I want to play like the other players that I saw.'"
After graduation from university in 2010, and still keeping the Beijing experience fresh in her mind, the driven 22-year-old from Limpopo province immediately set out to train more.
In 2011, she entered the wheelchair tennis circuit full-time, setting a big goal: to qualify for the London 2012 tournament on merit. But after earning her spot, her Paralympic experience was not what she expected.
"In London, I was on top of my game, but I was disappointing. Because of the injuries, I couldn't perform to my level best," she said.
Montjane suffered an injury during her very first warm up match in London.
"But even though it wasn't a good experience in London, it's been quite an interesting journey – from not loving the sport, to being more interested in loving the sport, and now wanting it more."
And in 2016?
"This time, I'm very much healthy and I'm in a good state of mind, and competing is going to be my first priority."
A growing sport for Africa
South Africa is the only African nation to send wheelchair tennis athletes to this year's Paralympic Games. Montjane said that is because sports leaders in her country see the value of her sport.
"Wheelchair tennis is the fastest growing sport in the country, and that is possible because the sponsors have been promoting wheelchair tennis not only for competitive reasons, but also for social reasons. That's why we have so many players. We have a lot of young players who are coming up," she said.
Montjane said her country's investment in wheelchair tennis has made it easier for people with impairments to be active.
"I just appreciate the support we have at the moment, because the little that we have, it really pushes us hard, and motivates us to keep doing well and represent our continent with pride, despite all of our struggles."
Already a successful trailblazer for her country and continent, Montjane is looking forward to her new chance in Brazil.
"I'm expecting a vibrant Rio, so I'm looking forward to a great atmosphere.
"I'm going into these Games as an underdog, I don't even know if I'll be ranked. But you know what? This is what I've been waiting for. I didn't get my chance in London, so I really want this so bad."
Wheelchair tennis action will be held 9-16 September at the Olympic Tennis Centre.