Athletes can change Russian society at Sochi 2014
20 Mar 2013
Imagen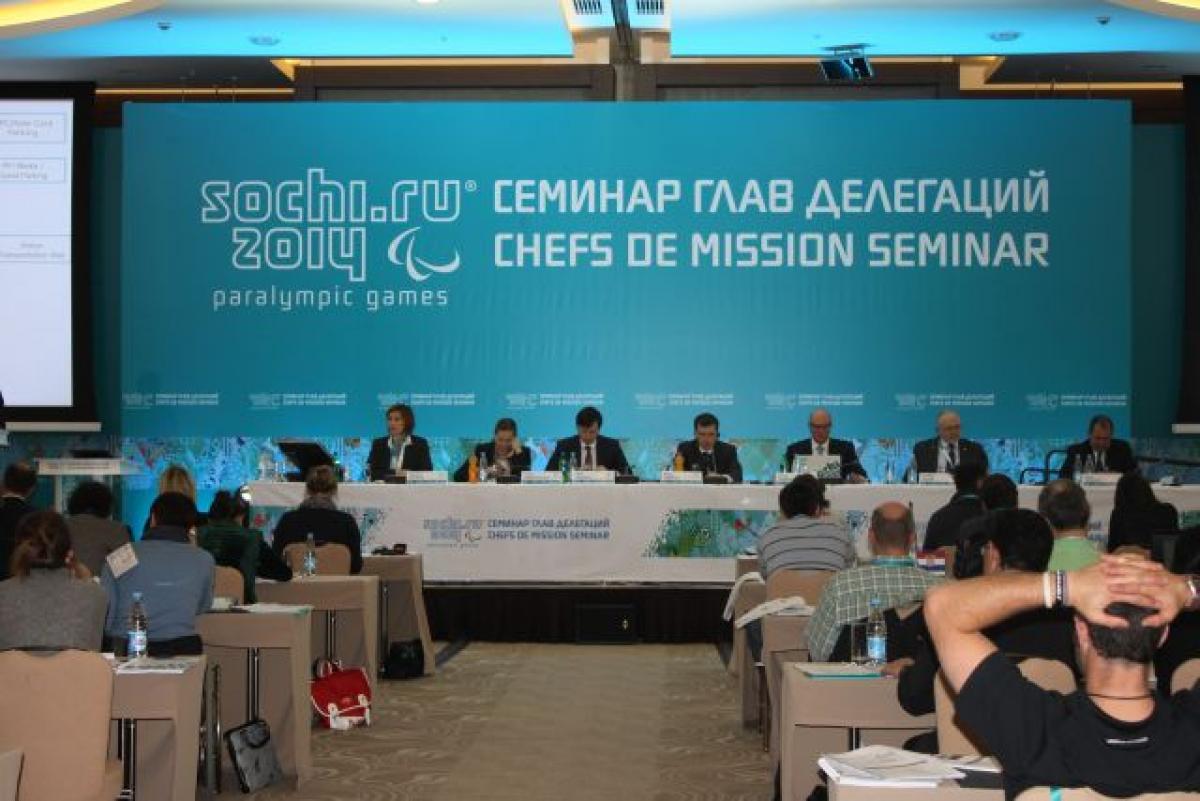 "Athletes are at the heart of the Paralympic Movement and they are critical to the success of the Games. They are getting better and stronger by the day and I am confident that those who will follow these Games around the world will be inspired and excited by their performances."
International Paralympic Committee (IPC) President Sir Philip Craven believes the performances of athletes at the Sochi 2014 Paralympic Winter Games can change Russian society forever, sentiments he says are echoed by the Russian Government.
Speaking at the Opening Plenary of the Sochi 2014 Chefs de Mission seminar, Sir Philip told the audience of 34 National Paralympic Committees that the biggest legacy next year's Games could leave was attitudinal.
Sir Philip said: "Through their inspirational and exciting performances, athletes have the perfect platform here to change Russia's view of people with an impairment and make for a more integrated society.
"Ten days ago I was in Red Square celebrating 'One Year to Go'. Prime Minster Medvedev made it very clear to me that the Paralympic Games will be a major vehicle for cultural change in Russia.
"Very few events can lead to such seismic shifts in attitudes like this however the Paralympic Games have a track record for doing so.
"Athletes are at the heart of the Paralympic Movement and they are critical to the success of the Games. They are getting better and stronger by the day and I am confident that those who will follow these Games around the world will be inspired and excited by their performances."
Next year's Paralympic Winter Games are set to be the biggest yet. A record 700 athletes from 45 countries are expected to contest 72 medal events in five sports – alpine skiing, Nordic skiing, ice sledge hockey and wheelchair curling. Para-snowboard will make its Games debut as part of the alpine programme.
According to Sir Philip next year's Games should not just be about getting more people taking part but building on previous successes.
"Due to the difference in size and scale of the summer and winter Games, it would be wrong for me to ask Sochi to replicate what London produced last year when they hosted the best ever summer Games," explained Sir Philip.
"Instead Dimitry Chernyshenko and his team, as well as the Russian Paralympic Committee, need to build on the success of the Vancouver Games.
"To achieve this I am sure they will use Vancouver as a benchmark and take some of the key learning points from London – such as spirit, passion for sport and spectator experience – to ensure the Games here are hugely successful," he said.
Prior to the start of the Opening Plenary, Sir Philip joined Chefs de Mission on a tour of the coastal cluster which includes venues for Wheelchair Curling and Ice Sledge Hockey as well as the Paralympic Village.
"I was pretty much blown away by the venues and my excitement for next year's Games has now grown ten-fold," stated Sir Philip.
"The jewel in the crown for me was the 7,000 seat Shayba Arena which will stage 20 Ice Sledge Hockey matches.
"If I was an ice sledge hockey player I'd want to take to the ice straight away and get playing."
Concluding the first day of the Chefs de Mission seminar Sir Philip, on behalf of the Paralympic Movement, formally invited nations from around the world to compete in Sochi next year.
The Sochi 2014 Paralympic Winter Games will take place between 7-16 March 2014.
Related Images