April Holmes: My Secret Service Job
USA's champion sprinter April Holmes has always wanted to work for the Secret Service, and she shares how an athletic career has fulfilled that dream.
12 May 2012
Imagen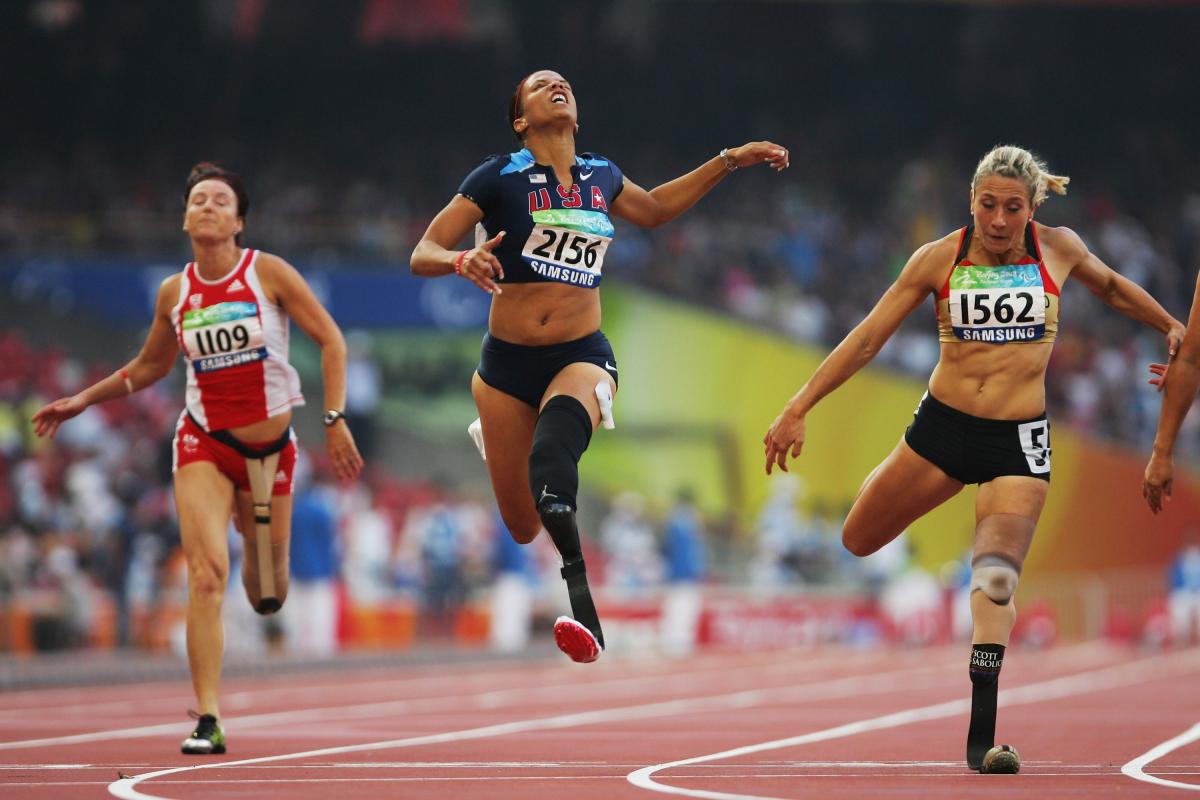 ⒸGetty Images
By April Holmes
"The only thing is that in London my service won't be a secret, the entire world will be watching."
Ever since I can remember, I wanted to work for the Secret Service.
I figured they had the sharpest suits, and most dignified postures, accented by their cool earpieces.
Most of their normal duties went unnoticed in my childhood, but I knew they protected the President of the United States and also ran alongside him.
In my superhero moments, I believed I could outrun a bullet to protect our leader while also helping to keep him in shape.
My dream or goals of working for the Secret Service didn't quite materialize the way I envisioned.
However, in sort of a role reversal, I was fortunate enough to be racing in Trafalgar Square for International Paralympic Day in London, with British Prime Minister David Cameron as our honorary race starter.
I wasn't running with him, nor was I there to protect him, but he instructed me when to run. In exactly one year, I would be back in his country working toward another dream of Paralympic gold and world records in London. He wished me luck in my races and mentioned he is more of a distance guy that runs every morning in a local park.
I returned to my new home in Orlando, Florida, eager to begin the 2012 season and achieve my goals at the upcoming Paralympic Games. I knew my journey would not be easy, but I got extra motivation when I passed under a sign every morning that read, "Where Dreams Come True" on my way to train at Disney Wide World of Sports Complex.
I keep telling myself this is my Secret Service job, and like every athlete I am here to protect my dreams.
I am here to uphold a tradition of excellence both for myself and for my country.
I am highly trained.
It is with the help of progressive technology in prosthetics that I am able to demonstrate my God-given talents along with other Olympic and Paralympic athletes around the world.
That is my motivation every day.
A few months into my training, I learned that the prime minister and his wife Samantha were coming to the U.S. I was more blown away by the invitation I received to join Mrs. Cameron and Mrs. Michelle Obama for an Olympic themed "Let's Move" event to end childhood obesity. I had long supported the Let's Move campaign and even had the pleasure of joining Mrs. Obama at Disney a few months prior in a youth filled sport demonstration program.
During the event with these two stellar women, and some other Olympic and Paralympic athletes, we laughed, shared stories, demonstrated sports, and more importantly encouraged the kids to keep moving.
The culmination of my visit to Washington, D.C. was an invitation to attend the state dinner at the White House.
The affair was earth moving for me. It was one of those moments or events that aren't on your bucket list, but you put it at the top, just so you can scratch it off and one day tell your kids.
When I saw President Obama and Prime Minister Cameron, I shared my story of the botched starting gun on Trafalgar Square. He promised if given another opportunity he would do a great job.
As I walked around in my beautiful melon colored gown, I couldn't help but to keep smiling. I looked around constantly trying to pick out the Secret Service agents in the crowd. I wanted to dress, stand, and talk like they did. I was eager to learn their behaviors, so when it's my time to protect my dreams, uphold a tradition of excellence, be highly trained and use my progressive technology, I will be ready.
The only thing is that in London my service won't be a secret, the entire world will be watching.
I will wear my USA uniform like it is the sharpest suit on the planet. I hope to be congratulated with the 2012 Olympic and Paralympic teams on the lawn of the White House by President and Mrs. Obama for my duties, our duties, of service to the United States of America, the fans in London, and a benchmark for people all around the world.
Related Images