Esther Vergeer: Test Event on Paralympic courts
Dutch Wheelchair Tennis phenomenon, Esther Vergeer, is headed to London to test out the Paralympic Venue, Eton Mannor.
03 May 2012
Imagen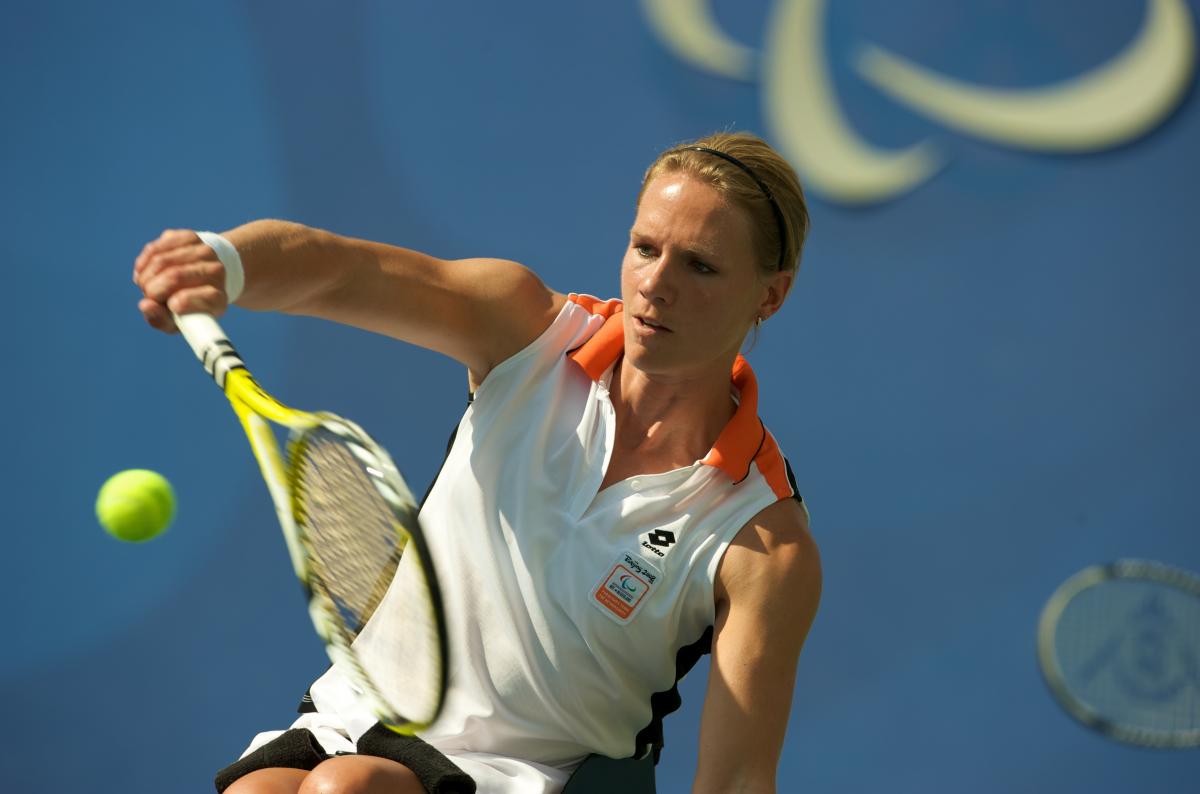 ⒸLieven Coudenys
By Esther Vergeer
"I want to be approachable for everyone, always helping people and immediately say "yes" when someone asks me something."
Disabled sport is evolving, which is simply beautiful to see, from the field as an athlete, but also on the outside, for example, as a member of Team ParaStars, individual athletes on their way to the Paralympic Games with their new way of generating attention.
This development has led to the fact that since 1 May I am being supported - on the business side - by Sport Promotion; a sports management agency in The Netherlands. I wanted to do everything myself, but it was too much and it was at the expense of Wheelchair Tennis. And finally, I want to win my fourth gold medal in this sport.
I have to get used to a situation without phone calls and requests. I want to be approachable for everyone, always helping people and immediately say "yes" when someone asks me something. That is your strength. But I recently had to divide that power across multiple commitments and I wanted to do everything with the same passion as always. But I realized that that was no longer feasible, especially with the Paralympics approaching. So I know I've made a good choice working together with Sport Promotion handing over my activities.
Especially leading up to the Paralympics, if I even have moments of rest, I would really like to enjoy it. Sports Promotion helps me by dosing, filtering and communicating, and it is also one of the soundboards that I can use.
How important the Paralympics are for me is shown in the car trip that I will be making today - with wheelchair tennis player Robin Ammerlaan - to London, where a test event is organized. The venue for Wheelchair Tennis, which has been especially built for the Paralympic Games, is part of the test events.
In terms of status and earning points for the world ranking, you cannot compare it with a Grand Slam. There will be few world-class players present, because they are playing elsewhere.
But as for the Games in Sydney, Athens and Beijing, I would already like to see where what is and how the court feels, how the wind can blow in the stadium for example, so I can imagine and visualize how it will be around there soon.
The three thousand tickets for the wheelchair test event were sold out within four hours, so it will feel a bit like the atmosphere in September.
Regarding the track inspection and rebound, it is nice that I get to play in my new chair. It will make me feel at my ease.
Incidentally, next week during the Support Fair my new wheelchair, designed by Quickie / Welzorg, will be shown for the first time in the Netherlands.
Esther writes a column every three weeks, together with Eddy Veerman, editor at De Telegraaf.
Related Images