Gareth A Davies: A personal view of London 2012
The Daily Telegraph's sports reporter Gareth A Davies takes time to reflect on what the London 2012 Games meant to the Paralympic Movement.
22 Jan 2013
Imagen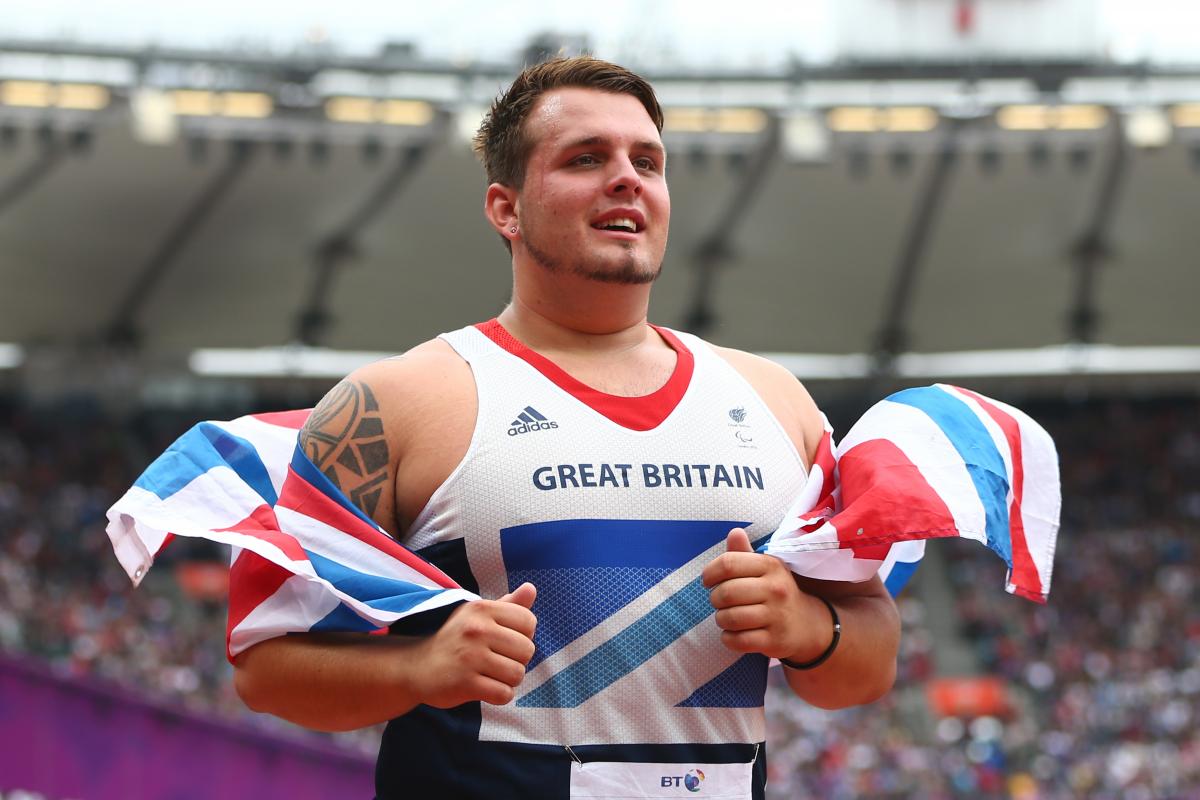 ⒸGetty Images
We need to continue to champion the Paralympic Movement. To stand up for it. I think that's what it's meant to me for so long. Standing up for a Movement which needs a strong, consistent voice in the media.
These are my personal thoughts on the London 2012 Paralympic Games.
Professionally, they were an extreme experience, highly rewarding and the culmination of nearly 20 years of what could feel, at times, like screaming into an abyss.
The London 2012 Paralympic Games were the greatest ever, of that there is no doubt.
I wrote in The Paralympian magazine just before the London 2012 Games that I hoped the British media would embrace the Games, and the spirit of Paralympism.
They did. Like never before. It created a watershed, and we are all now searching for a concerted way of keeping Paralympic sport moving forward, keeping it newsworthy and maintaining its wave of inspiration.
Filling the stands
The debates created in London have left a legacy, novel thoughts about people with impairments in both sport, and in wider society.
A platform has been built.
What struck me over the course of the 11 days, more importantly perhaps than the media, was that it was the British public who came out in their millions to break records.
Within 48 hours of the Games being underway, the British people appeared to understand, to "get it."
That was so gratifying.
There was an understanding that these were sportsmen and women at the forefront of their own physicality, that they loved the attention, and they wanted to entertain.
That was typified for me on the opening morning of the athletics.
A packed gallery of spectators in the Olympic Stadium in front of the home straight on the track stood in unison to applaud Aled Davies when he received his bronze medal for the shot put event, to the oh-so-familiar strains of Edward Elgar's "Nimrod." Davies lifted his head in amazement at the outburst, and slowly turned 360 degrees to take in the stadium.
As he turned, the spectators stood in a wave of applause until the entire audience was standing.
I looked along the ranks of journalists. There were plenty of tears.
Tears of joy.
Even today, people still tell me that they enjoyed the Paralympic Games more than the Olympic Games.
That in itself is thrilling.
It was reinforcement that the mores of the Paralympic Movement were being understood.
'Prepare to be amazed'
IPC President Sir Philip Craven's prophetic words to all before the Games – "prepare to be amazed" – came true over and over again. There was amazement from people witnessing inspirational people striving to be the very best they could.
There were vast improvements. Paralympic sport truly became sports entertainment for the first time.
Hard-hitting news stories were dealt with decisively by Craig Spence, IPC Communications and Media Director.
And there were serious issues with Oscar Pistorius, and the blades issue.
That, of course, could rumble on.
Spence and his team were indefatigable during the Games, effortlessly dealing with complex issues and requests.
It was a great leap forward.
Many issues come up during a Games, notably around classification, and they were dealt with seamlessly as part of the action. I'd praise, too, the London 2012 organisers, for listening to those who knew.
They opened the Olympic Park to families, to pensioners, and the sporting festival flourished. They gauged the price of tickets well, and they were forensic in their detailing of the Athletes' Village.
It was noted time and again by athletes from home and abroad.
Channel 4 raised the bar, too, with its coverage as the host broadcaster. They enjoyed unparalleled viewing figures, and even took a plunge into the deep end with a late night show taking a lighter, comedic look at each day.
Bold, but it worked.
Issues remain with the lack of broadcasting in the USA, and it remains a mystery as to why.
Athletes outside the superpower countries in para-sports, such as some African countries, and places like Haiti, spoke of the need for understanding, investment and a pathway to the Games. There is still great development to be undertaken in those areas of the world.
There is still the need, I'd add, for more journalists to cover the Games. Having been at the Olympic Games, it was self-evident that the media centre was at 10 per cent, with most journalists multi-tasking out in venues at the Paralympic Games.
Media coverage
On a personal level, covering the Games was easier than I had expected. It was long and seamless, and as I heard tired staff and journalists talking about it "only being a few more days," I determined to savour every minute.
My days began early, with a 5:30 alarm call. An early media stint on Channel 4's breakfast show – with Rick Edwards and Kelly Cates, who were a fine combo and did a great job of making their show fun and informative – followed by a few hours in the media room, discussions with the Telegraph editors' desk, and afternoon stints on BBC News and the BBC World News channels.
From The Telegraph perspective, we had a brilliant team of around 15 journalists and writers whose work was outstanding. Whereas at previous Games I'd been about covering everything, it was a case of co-ordinating for London. It worked very well, and we missed little.
I just made sure I concentrated on the wave B coverage, the second phase of our coverage. So it was a Sir Philip Craven interview or making sure Dave Weir's columns were lined up, ensuring we did not miss major international stories and interviews. Then running from two to three venues a day. The working day ended, generally, at around 1 a.m.
Not many media outlets could explain what was happening. Not many people could explain why everyone was so taken with it. People were just absolutely blown away by extraordinary human beings. But those who had seen it before knew that spectators are often transformed when they see live Paralympic sport.
Moving forward
The wave of depression after the Games was something I have never experienced. But I had a huge lift a couple of months later.
In November, I went to an IOC Press Commission meeting in Sochi, Russia, and Gilbert Felli, executive director of the Olympic Games, expressed his view that the curve went up and up at the Olympic Games, and there can be no greater compliment to London 2012, the IPC, the athletes and the spectators that his view was that the curve of the summer continued upwards through the Paralympic Games. No greater compliment, indeed.
Paralympians had a loud and powerful voice in the media as a result of London. That huge wave of coverage, of course, has tailed off, but in the New Year's Honours list, there were notable awards for many of Britain's Paralympians.
A CBE for David Weir, and a Damehood for Sarah Storey topped the list.
We need to continue to champion the Paralympic Movement. To stand up for it. I think that's what it's meant to me for so long. Standing up for a Movement which needs a strong, consistent voice in the media.
These are people who have a story to tell and that was so obvious that the public wanted to enjoy them, they wanted to enjoy their success.
Everything I'd hoped for was there in London. I can remember one day, being up in Lund Point on the 22nd floor overlooking the Park, reporting for the BBC World News channel.
Below, you could hear the roar every time Eleanor Simmonds turned for another lap against her American opponent Victoria Arlen in the 400m in the Aquatics Centre. It was the sound the Coliseum in Rome would have reverberated to with gladiatorial battles.
It was mind-boggling.
All around you, the park was lit up. The stadium was full.
Full for morning sessions, full for evening sessions. Full when it wasn't finals.
We've not seen that before.
I had debates and run-ins with other journalists, and one very prominent British Olympic legend, who works within the media. There were sideways takes at the Games.
The debates being mulled over in the media were discussions several of us had had 12, even 16 years earlier. I just knew that I would be able to talk about the Paralympic Games like no one else, because there wasn't anyone else with that much experience.
Let me explain that.
Should you tell the back story? Yes.
My modus operandi has always been to tell the back story. It's part of the story. It's part of the person you know. The journey through life to get to the Games often explains the extraordinary person in front of you.
Nor does it need to be politically correct in the way you saw it or describe it in the way people will try to tell you. People came to me before the Games and were wondering how to describe it.
And I would just say to them, describe it as you see it. You find out about people's humanity at the Paralympic Games – writers, spectators, the lot.
You find about their humanity, or perhaps how they see people who look different on the outside. I'm convinced of it.
What's that saying about never judging a book by its cover?
The Blade Runner saga, and the length of blades, was amazing. The emergence of Jonnie Peacock was fantastic. The stories are stories of legends and they are legion.
Full circle
I started with the media take on the Paralympic Games. I'll end with it, too. Friends in the media, with whom I'd had long-running battles about the value of it, had been won over. Several remarked that it was the best event they had ever covered and some of them, in cycling, athletics, para-equestrian events, remarked that it was the greatest event they had ever covered.
Mike Costello, BBC athletics and boxing correspondent, said: "I hate to say this chum, but you were so right, you know. I'm converted."
My colleague Marcus Armytage perhaps summed it up best: I'd suggested long before the Games that Marcus, our racing correspondent – who incidentally won the Grand National on Mr. Frisk in 1990 – cover the para-equestrian competition."
He couldn't get enough of it.
We spoke a few weeks after the Games and he said it was the most amazing event he had ever covered.
His sign off, in his final piece?
"I enjoyed it so much, I'll swim to Rio, and cover it for free."
Encore. There is much still to do, but these Games were a watershed for the Movement.
Gareth A Davies is a sports journalist for The Daily Telegraph in London and has been Paralympics Correspondent since 1995. You can follow him on Twitter at @GarethADaviesDT.
Related Images