Josh Pauls: Who will go to Sochi for sledge hockey?
The American star forward makes his picks for who will finish among the top three at the IPC Ice Sledge Hockey Qualification Tournament.
18 Sep 2013
Imagen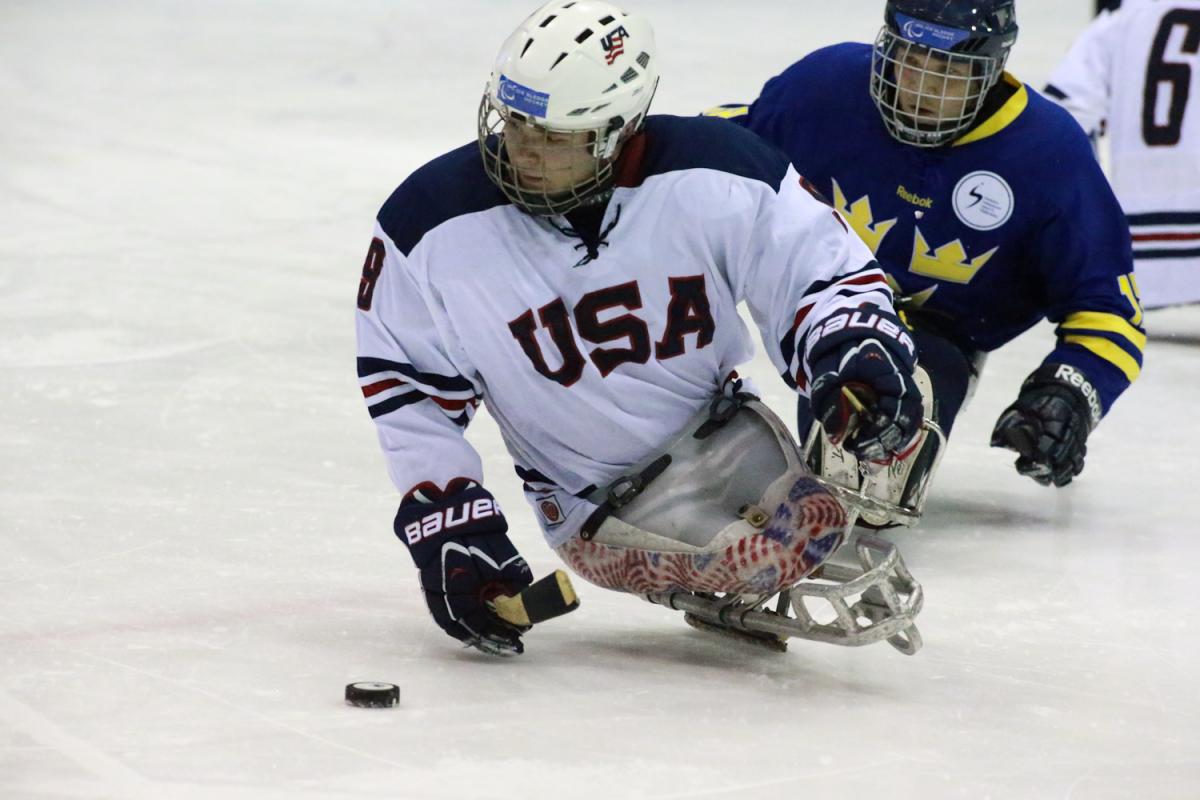 ⒸIPC
By Josh Pauls
We, the USA, as well as Canada, Russia, Czech Republic, and Norway already have our seeds set for the Games by finishing as the top five teams at last year's World Championships A-Pool in Goyang, South Korea.
With the Sochi 2014 Paralympic Winter Games approaching in March, five of the eight teams that will compete in the ice sledge hockey tournament are already set.
We, the USA, as well as Canada, Russia, Czech Republic, and Norway already have our seeds set for the Games by finishing as the top five teams at last year's World Championships A-Pool in Goyang, South Korea.
The bottom three from that tournament (Italy, South Korea, and Sweden) will take on the top three finishers from the World Championships B-Pool (Germany, Japan, and Great Britain) at the IPC Ice Sledge Hockey Qualification Tournament in Torino, Italy form 20-26 October.
These six teams will convene to battle for the final three spots at Sochi 2014. I'd like to share with you what I know about each of the teams competing, and then offer my predictions of who makes it to Sochi.
Italy
They are a team that has consistently been in the A-Pool since I started in 2009. I've only played against them once my first year, but from what I've watched they are a solid team.
Norway edged Italy at Worlds to claim the last qualification spot there, so I expect Italy will come looking to claim a final spot in their home country. They have a very evenly skilled team are solid defensively. My grandfather was born in Italy, which may make me a little biased, but I will be watching closely, hoping they reach the medal stand a claim a spot.
South Korea
These guys are a very good team that were coming off a Worlds silver medal from 2012. They had some bad luck in their home country in Goyang, but they are a very skilled team that will be looking to prove that last year was a fluke.
From solid goaltending to a fast forechecks, they are a quick team that will look to capitalise on fast breaks by their best player, Seung-Hwan Jung. His speed makes him a formidable player and other teams will key in on him, but that will only open up opportunities for his skilled teammates.
Their defensive corps has some offensive talent so look for some point shots to make their way into the net for them. We have played them extensively the past few years and playing against some of the best in the world will only be to their benefit.
Sweden
I have only played them once, which was at Worlds last year, but they are a good team led by their goaltending.
Don't quote me on this, but I think they have the oldest goaltending duo in ice sledge hockey right now, but they are solid and hold them in games.
They have a young team, and I am expecting Per Kasperi to have a big tournament. He may be one of their younger players but he already has a ton of experience in big competition.
Sweden have a long history of making it to the Paralympics, and I am sure that will be on their minds as they enter the tournament.
Germany
I actually scored my first goal against this team, but that was five years ago and they are at the top of the B-Pool looking to make the step up. After edging Japan for the B-Pool title, they are sure to want to get back into the Paralympics after last appearing in 2006 with a fourth-place finish.
Japan
After taking silver at Vancouver 2010, the Japanese team has slid down into the B-Pool, but has a chance to get back to the Paralympics. Satoru Sudo is a veteran defenseman with a cannon of a shot, and he is sure to lead his team in their attempt
to qualify for Sochi.
Great Britain
This is a team that I will admit I don't know much about. They last appeared at the Paralympics for ice sledge hockey in 2006 but are returning a few players that were on that team. They beat Estonia to get into this tournament and will be looking to build off that and get to Sochi.
Final word
So, as far as predictions go, I think that Italy and South Korea are locks to make it to Sochi.
They have solid teams that have regularly played against A-Pool competition which will help them. They are both strong teams. South Korea's seventh-place finish was a fluke and Italy has a strong team that will excel at home.
My last pick to make it to Sochi is Germany. I think they edge out the other three teams to gain the last seed. They have slowly put themselves back on the map and are ready for a trip back to the A pool.