Stuart Lieberman: 2013 Paralympic Predictions
With the new year underway, the IPC's Stuart Lieberman makes 10 predictions for the upcoming year in Paralympic sport.
09 Jan 2013
Imagen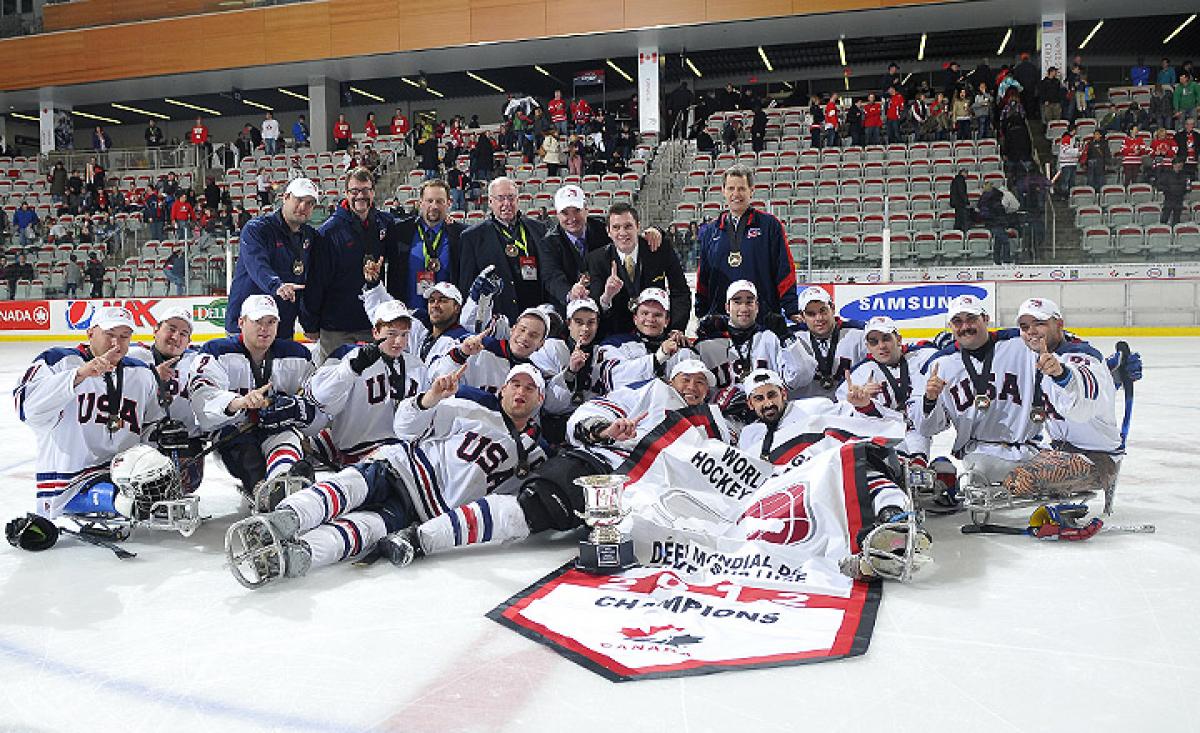 ⒸAndy Devlin / Hockey Canada
By IPC
I think we can agree 2012 will be an extremely tough year for the Paralympic Movement to follow up on, thanks to the London Games.
With the New Year's celebrations over and everybody getting back into the swing of things, it's time to make some Paralympic predictions for the upcoming year.
I think we can agree 2012 will be an extremely tough year for the Paralympic Movement to follow up on, thanks to the London Games. But with the two largest summer sports (athletics and swimming) hosting World Championship events this year and all the winter sports taking centre stage prior to the Sochi 2014 Paralympic Winter Games, there certainly won't be any lulls.
So without further ado, here are my 10 predictions for 2013. Note that I avoided making the obvious "13 picks for '13," because, yes, I am superstitious about numbers.
1. France's Assia El Hannouni will become the face of Lyon 2013.
At 31, Hannouni is still one of the world's best female visually impaired sprinters. After a double-gold performance at London 2012 she pushed her Paralympic Games career medal count to 10. Look out this year, because the IPC Athletics World Championships are coming to her country in July, and there's no doubt she can be the event's poster girl. She's quick. She's personable. And she's charismatic.
2. Australian swimming sensation Jacqueline Freney will prove London 2012 was no fluke.
Freney topped the individual medal tally at London 2012 with eight golds, yet she did not receive as much media coverage as some of the other high-performing swimmers. That will change this year when Freney has another dominating performance at the Swimming World Championships in August, for which she started preparations just a couple short weeks after the Games.
3. USA's ice sledge hockey team will win their third straight World Championship title.
The Americans should be the favourites to win gold at April's 2013 IPC Ice Sledge Hockey A Pool World Championships in Korea, and with top veterans Taylor Chace, Alexi Salamone and Steve Cash returning, they should actually be even better than last year. I'm also going to be bold here and say Russia will medal at their first A Pool World Championships.
4. Slovakian visually impaired alpine skiers will wow crowds and own the podium.
When reading about this year's top Paralympic alpine skiers to watch, there's something about the Slovakians that intrigues me. I can't quite put my finger on it just yet, but they have the potential to dominate the slopes, and their athletes' resumes speak to that. In particular, Miroslav Haraus, Jakub Krako and Henrieta Farkasova. Krako and Farkasova each won three golds and a silver at the Vancouver 2010 Games, and should be favoured to win plenty of races this season, potentially even the IPC Alpine Skiing World Championships in February.
5. The British table tennis team will continue to steal the spotlight and build a worldwide fan base thanks to their top skills and comic relief.
Seriously, have you met Will Bayley or David Wetherill? Put together Bayley's inspirational silver-medal performance and Wetherill's wonder shot at London 2012, and that alone showcases the British table tennis squad's talent. The duo, along with teammates Ross Wilson and Aaron McKibbin, are genuinely hilarious guys as well and will become key faces propelling the Movement further into the mainstream in Great Britain. If it were up to me, they'd have their own talk show on Channel 4 by the end of the year.
6. The Jeremy Campbell-Dan Greaves discus rivalry will finally receive the hype it deserves.
The heated discus F54 competition at London 2012 was overshadowed by the 100m T44 race, as both were held the same night. Campbell has now won the last two Paralympic golds in the event, but Greaves is still the defending world champion. The rivalry will take centre stage at July's 2013 IPC Athletics World Championships in France, and honestly, it's anyone's gold to win.
7. The women's wheelchair basketball field will become wide open.
In years past, there have always been one or two teams that were clearly the world's best in women's wheelchair basketball. But now, it's anyone's game. Germany should be favoured to win this summer's European Championships in Frankfurt, but some players from their London 2012 gold-medal squad could opt to retire before then, leaving the door open for teams like the Netherlands and Great Britain to creep in. Australia, Canada and the USA all have the potential to dominate the game as well.
8. Wheelchair tennis will see a changing of the guard.
With Esther Vergeer nearing the end of her career, there's a chance she could retire in the upcoming year. Either way, look for a whole bunch of contenders to step up their game on the women's side to fill Vergeer's void, including fellow Dutch players Aniek van Koot and Jiske Griffioen. On the men's side, Japan's Shingo Kunieda and France's Stephane Houdet will be challenged by young up-and-comers like Argentina's Gustavo Fernandez and Great Britain's Gordon Reid.
9. For a small Paralympic sport, archery will become a fan favourite.
Some of the most iconic Paralympic figures from last year come from archery, and they will certainly carry over their followings to November 2013, when the World Archery Para Championships are held in Thailand. Despite the retirement of Italy's Oscar de Pellegrini, Great Britain's Danielle Brown and USA's Matt Stutzman are sure to make plenty of headlines, as well as several other aspiring archers with inspirational stories.
10. The Paralympic Movement will get a new unofficial anthem for 2013.
This is more of a wish than a prediction, but just go with it. Last year, I think we can agree Coldplay's "Paradise" became the song of the Paralympic Games, while Rihanna's "We Found Love" and Public Enemy's "Harder Than You Think" also stole the spotlight. In 2013, I'm secretly hoping a famous vocalist will put together an inspiring rap in the lead up to Sochi 2014. One can dream, right?
Stuart Lieberman is the IPC's Editorial and Social Media Co-ordinator. You can follow him on Twitter at @StuLieberman.
Related Images