At 53, Jennette Jansen's 'engine' running good as new in road cycling gold
The Dutchwoman's final push to win ahead of the younger Annika Zeyen stems from years of experience   
01 Sep 2021
Imagen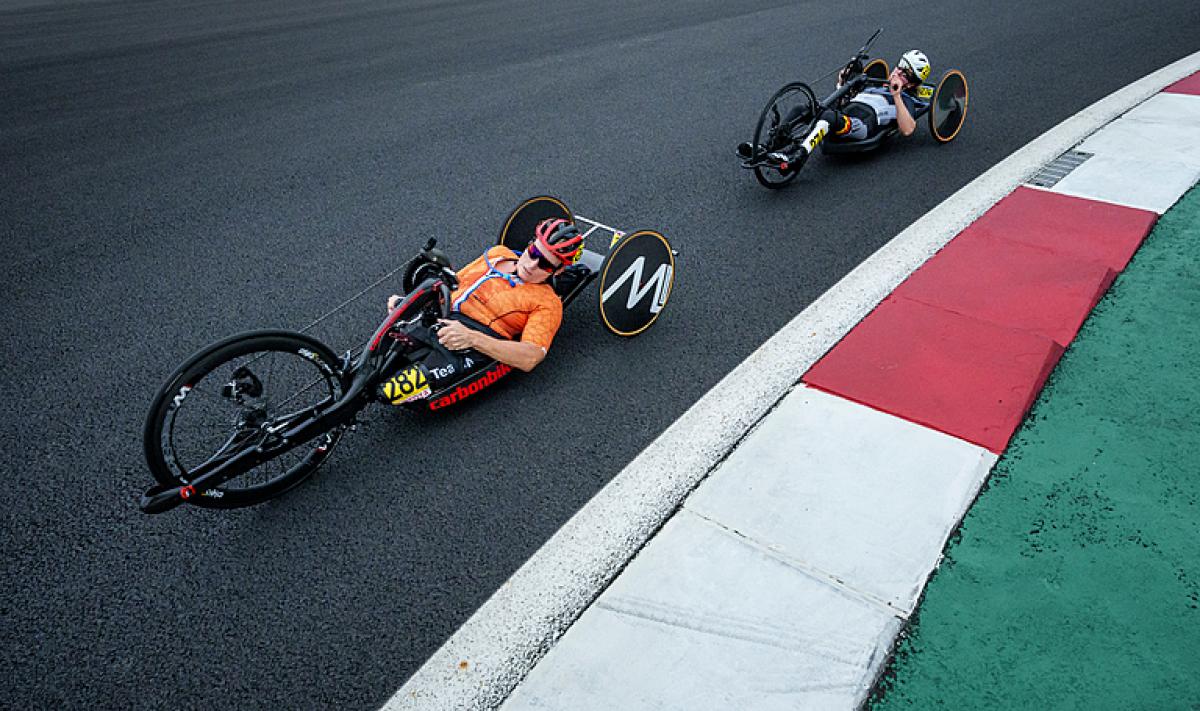 ⒸOIS
By Ros Dumlao | For the IPC
It seemed like Jennette Jansen was competing against a younger version of herself during the cycling road race on Wednesday (1 September) at the Tokyo 2020 Paralympic Games. 
Throughout the 26.4km course, the 53-year-old Dutchwoman was sharing the lead with Germany's 36-year-old Annika Zeyen, an athlete who just like herself, competed in wheelchair basketball and athletics before switching to Para cycling. 
It was in the final kilometre when Jansen revved up her "engine," one that the seven-time Paralympian said she has been building and proved key in her victory in the women's H1-4 category at the Fuji Speedway International. 
"It is a mind game as well, and you have to build a big engine," Jansen said. "When you are older your engine is bigger and bigger, your muscles, your heart, your endurance.
"You have more capacity in your body, because you have all the years of practice and training. When you are young, most people don't have so much capacity.
"So they can only do short-term work, and the longer the race, they are not so good any more. That's what they call the engine."
Jansen's Paralympic career dates back to Seoul 1988, when she won three gold medals in athletics — and this was the last time she won Paralympic gold. She competed in wheelchair basketball over three Games (1996, 2000, 2004), her last one being when Zeyen made her Paralympic debut with the Germany national team. 
Jansen did not compete at London 2012 and returned in 2016, taking road cycling bronze. It was only at a World Cup in 2019 when she noticed Zeyen – a Paralympic champion in wheelchair basketball – on a handbike. 
"I was thinking 'Huh? I think I played against her,'" Jansen recalled. "Our lives are a little bit equal, but in a different order. But when she started (in cycling), I thought this is going to be a tough girl. If you change the sport, you know what you have to do for your sport. And you know it's not easy and there are going to be high points and low points, and I think that is the experience we both have."

For Jansen, the high point was 33 years in the making, and felt sweeter after taking bronze in Tuesday's time trial H4-5.
"I could enjoy a little bit (my bronze medal) it but I was still hungry for the gold and this was the race I was waiting for. It was a very nice battle," said the H4 athlete.
After breaking away in the final climb, Jansen gave herself some breathing room with the finish line in sight. Zeyen tried to make the chase, but there was too much to make up as the veteran finished ahead by six seconds.
"In the last climb there were three of us all together, so I started to put my effort, we all three did, and Annika was next to me, and I thought I'm going to have to do more because otherwise it will be the end sprint and Annika can sprint pretty well," Jansen said. "She surprised other girls more times, so I put it more power, they came a little bit closer – the gap was a little bit closer. And then I put more power and then I was loose."
For Zeyen, being able to keep up with an athlete in a higher class makes her runner-up finish feel like a win. 
"For me the silver medal really feels like a gold medal," said Zeyen, and H3 athlete. "In this combined class, finishing with the silver is just amazing and Jennette Jansen was the clear favourite. She deserved to win, she did great. She's very strong."
When asked if she finds motivation from Jansen to keep competing into her 50s, Zeyen laughed: "My focus was solely on Tokyo so we'll have to see what happens next. As of now I'm not planning to have a (cycling) career until I'm 53."