After rowing world champs, Sochi may beckon for Masters
Oksana Masters and team mate Rob Jones compete in the 2013 World Rowing Championships this week as Masters eyes a nordic skiing debut at Sochi 2014.
26 Aug 2013
Imagen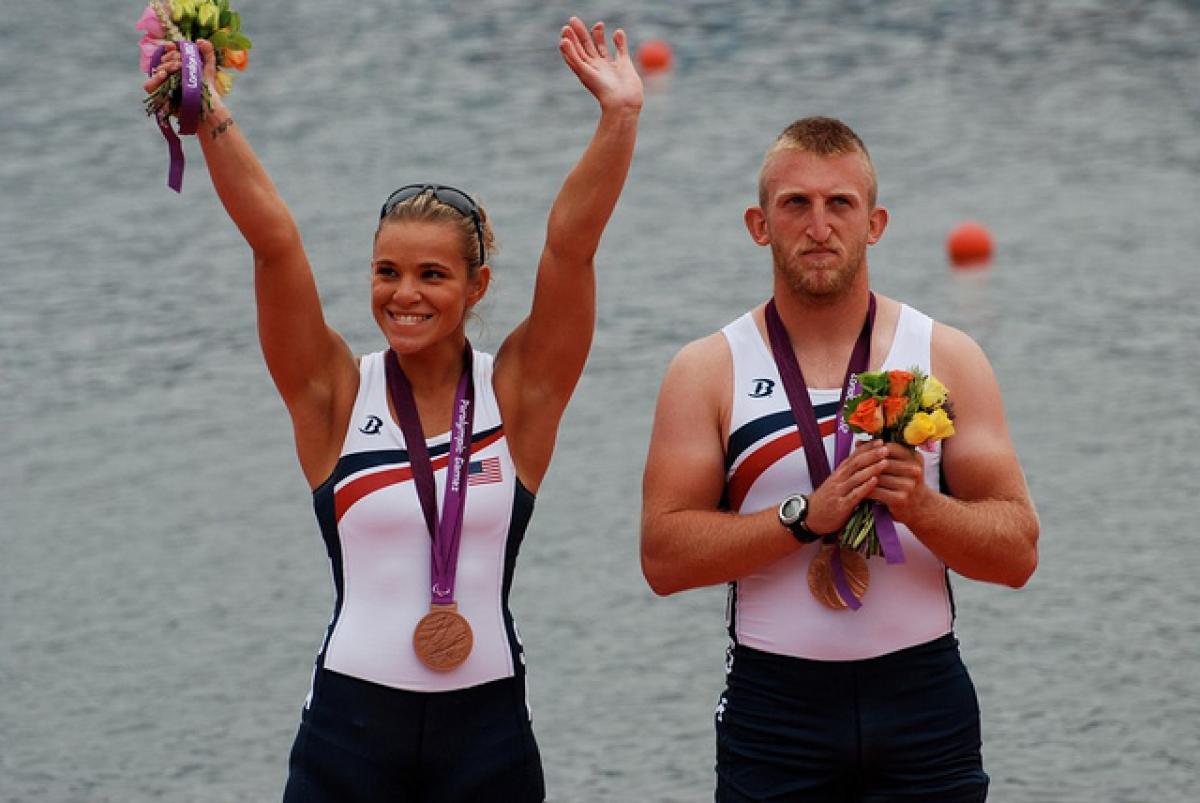 ⒸUS Rowing
By Justin A. Rice | For the IPC
"Never give up because you never know how close you really are."
Plenty of harsh obstacles have been lodged in Oksana Masters' path, including trees.
The 24-year-old Ukrainian native was exposed to radiation from the infamous explosion at the Chernobyl nuclear power plant while she was in utero in 1986. She was born with birth deformities that caused her to have her legs amputated as a child and was adopted by an American from an orphanage in Ukraine aged seven.
Now, Masters - who along with her teammate, Rob Jones, won the USA's first-ever Paralympic medal in the TaMix2x boat classification in the London 2012 Paralympics - has a new goal in her crosshairs: a Winter Paralympic Games medal in nordic skiing at Sochi 2014.
"One thing I have learned about skiing is that you can't be afraid to fall and crash hard," Masters said. "That's where I've learned the most, from my mistakes. And trust me, once you run into a tree once you quickly will learn how NOT to again."
But before she can learn to dodge those pesky trees, Masters will row in the 2013 World Rowing Championships from 25 August to 1 September in Chungiu, South Korea.
The race comes on the heels of another bronze medal performance for Masters and Jones (otherwise known as Team Bad Company) at the 2013 World Rowing Cup. They finished third at Eton Dorney on 22 June with a time of 4:39.12.
Masters said they were pleased with the result at the World Cup considering that they did not have their best race.
"Between the conditions of the wind and losing my oar and getting tied up in the buoys, which really killed boat speed," Masters wrote, "it was still good to be on the podium with a medal even though it wasn't the colour we had in our sights."
She didn't mind the colour of her medal at the 2012 Paralympics, which she finds hard to believe was a year ago.
"2012 has been an amazing year and, at times, it still a feels like it was just yesterday," she said. "I can't believe that the one-year mark since the games has already approached so fast."
Masters' story has been well documented by the media, most notably being featured in the American magazine Sports Illustrated in August 2012 and posing semi-nude for ESPN The Magazine's annual body issue in the same year. Master's 2012 Paralympic victory with Jones came only two years after Jones was injured by an IED while serving with the US Marine Corps in Afghanistan. Both his legs were amputated above the knee.
The year culminated with Masters winning the USA Rowing Female Athlete of the Year, making her the first adaptive rower to win the award.
"I've got to say that it is pretty crazy with the media attention," she said. "It's very nice to see the support but the best thing is that hopefully it is bringing awareness to the para side of rowing for future athletes."
She also says that the "roller coaster ride" of the last year has had its highs and lows.
"There were ups and downs but no matter what, you have to hang on and enjoy the thrill of it all," she said.
"The lowlights were of course having to be away from my friends and family but the highlight was the experience of the Paralympics and standing on the podium seeing our flag (not quit in the right position) but seeing it up there was one of the highlights of my life."
Masters said they did not feel a lot of pressure to make it to the podium in London because they were considered underdogs.
"I knew that the time Rob and I have put into our training that we were ready as we were ever going to be at that time," she said. "Of course secretly (like everyone hopes for) I wanted to win gold. But the competition was pretty stiff and knowing we were going up against the best of the best crews, some [of which] have been rowing much longer than Rob and I, it did put some pressure but I felt very confident in our training and my rowing partner. And the excitement and anxiousness to know where we stood as a crew against the others out-weighed the pressure.
"To stand on the podium was an unreal feeling honestly, my leg inside my legs was shaking. It was something I have dreamed of since 2007. That was one of my dreams too in life and I honestly couldn't have had any better partner nor would I want a different partner to stand alongside on the podium although I wish it was more in the middle of the podium with gold around our necks. I hope that experience is just the start of many more to come."
Masters knows that all eyes will be on their boat in Rio. And while she has become accustomed to media attention, she knows the expectations for them to win gold will be high.
"It would feel amazing to get back on the podium representing our country," she said. "As my rowing partner Rob Jones perfectly put it, it's going to take 'hard work done inelegantly in concert with discipline on and off the water.'
"To win gold would feel pretty amazing. It would just solidify the fact of 'you can dream it, you can achieve it' and by achieving it I mean with hard, dedicated, smart and honest work that might take months and years.
"Never give up because you never know how close you really are."
That attitude is exactly why her goal of becoming a nordic skier will always be within her grasp.
"To make the team for the winter Games is going to take a lot of different kinds of training and a new kind of focus," she said. "It is going to be a challenge for sure but I am so excited for this new transition as an athlete."