All That's Left is Paralympic Gold for USA's McFadden
03 Aug 2011
Imagen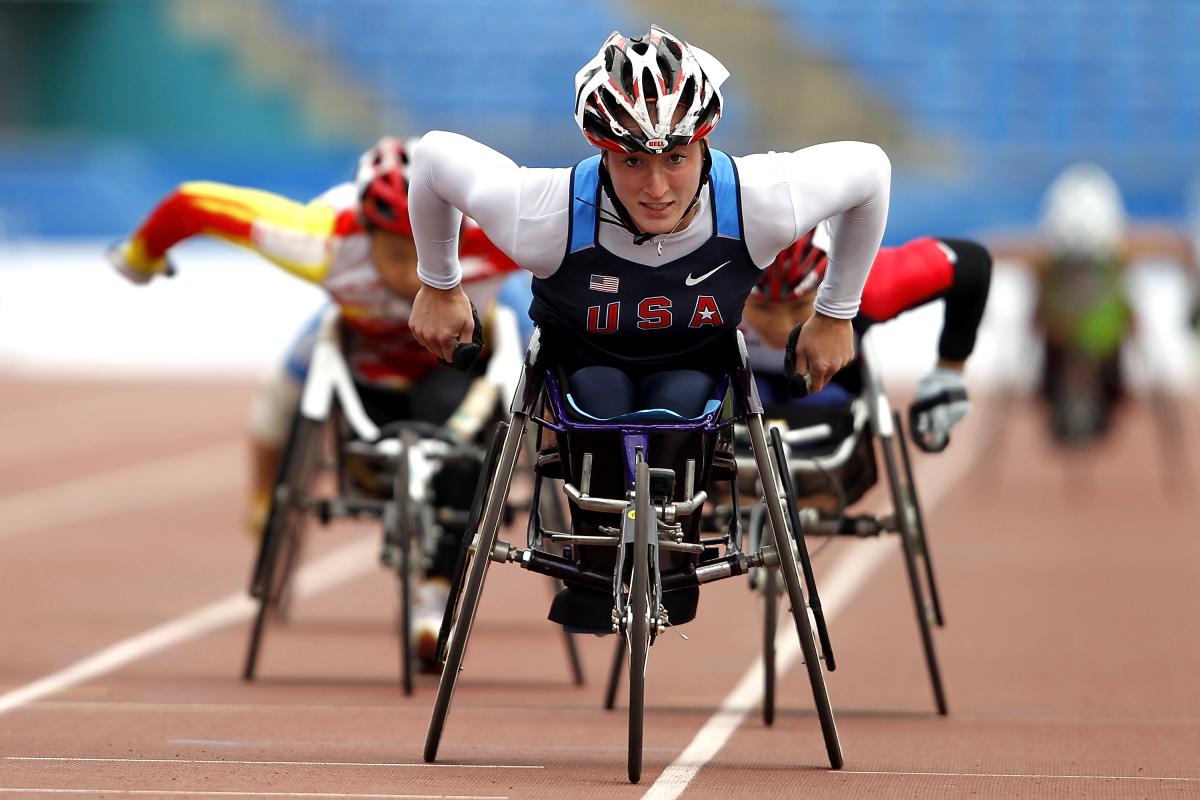 ⒸGetty Images
"It was a miracle that I even lived, and I think that's one of the reasons that even makes me so strong."
Editor's note: This is Part 3 of an eight-part series featuring some of the top competitors in Athletics as we approach the one-year mark to the London 2012 Paralympic Games.
Tatyana McFadden came from nearly nothing and has achieved almost everything.
Almost everything.
Take a closer look into the life of a wheelchair racer who is training for her third Paralympic Games next summer in London.
McFadden was born in St. Petersburg, Russia, with a condition known as spina bifida. She had an undeveloped spinal cord, resulting in a hole in her spine and paralyzation below the waist.
But the doctors waited 21 days to operate on her.
Somehow, she survived.
"It was a miracle that I even lived, and I think that's one of the reasons that even makes me so strong," McFadden said.
But the surgery didn't cure everything.
As an unwanted child, McFadden was then sent to an orphanage, where, without a wheelchair, she was left to walk using her hands for the next six years.
Finally, in 1994 Debbie McFadden, who was working as the commissioner of disabilities for the USA's health department, adopted her, changing her life forever.
McFadden became involved in Paralympic Sport to help regain her health, and the rest was history.
Now, at age 22, the University of Illinois student has Paralympic medals, world records and world titles on the track, and has been featured on McDonald's cups.
All that's left is a Paralympic gold medal.
Her combined four silvers and one bronze from the 2004 Athens Games and 2008 Beijing Games look great, but McFadden insists bigger things await her.
"I'm working. I'm working very hard," a patient McFadden said regarding gold. "It takes time. I was very young coming into competition in 2004. Athens was my first international competition. I was 15 years old and won a silver and bronze."
This summer, McFadden was nominated for an ESPY award for the USA's top female athlete with a physical disability after winning four golds and a bronze at the 2011 International Paralympic Committee (IPC) World Championships in Christchurch, New Zealand, in January.
"I was very satisfied with the results in Christchurch. The meet went well for me – very, very well for me," McFadden said. "I'm honoured to have the title 'The fastest (female wheelchair racer) in the world' because I took all the events in Christchurch."
At the London 2012 Paralympic Games, McFadden is planning to compete in the 100m, 400m, 800m and 1,500m T54 races, and is pondering entering the Marathon as well.
The Clarksville, Maryland, native insists she wants to go five-for-five in London. That's quite the ultimate goal, but, honestly, when has anything stopped McFadden before?
"The best of the best come out for Worlds and the best of the best come out for the Paralympics," McFadden said. "I know what I want to achieve, and I know how I want to be successful. It's going to be hard. It's not going to be easy. I love the challenge, and I think that's what makes it so exciting and keeps me on my toes."
The Marathon is still relatively new to McFadden's plate. She did not start practicing for the event until her coach, Adam Bleakney, insisted she race in the Chicago Marathon a couple of years ago.
"I remember looking at Adam and saying, 'You're crazy. I can't run a marathon, I'm a sprinter,'" McFadden said.
He told her all the Illini athletes do it together as a group every year.
"You've got to be kidding me," McFadden responded.
He suggested looking at it as if it were 487 different 100m races combined.
"I was like, alright Adam. That's a good way of looking at it I guess," McFadden said.
When she is not training, McFadden, who is working toward a degree in human development, speaks out on behalf of adoption and shares her story with audiences around the globe.
She is adamant on reflecting on her past in order to convey that anybody can live a normal life, no matter what situation he or she comes from.
After finishing fourth in the London Marathon in April, McFadden immediately ventured to St. Petersburg to donate all of her winnings to her former orphanage.
"A lot of those kids, unfortunately, won't make it out," McFadden said. "I think it's important to make a difference to give money so they can get toys or food or someone to come in and check up on them like doctors and psychologists."
Some of those kids, though, have made it out.
And one of them has become a student-athlete in one of the top collegiate wheelchair athletics programmes in the USA and has taken the Paralympic world by storm.
Now, she's just waiting to strike gold.