Andrea Nelson's whirlwind journey - conquering skies to taming the waters
05 Apr 2020
Imagen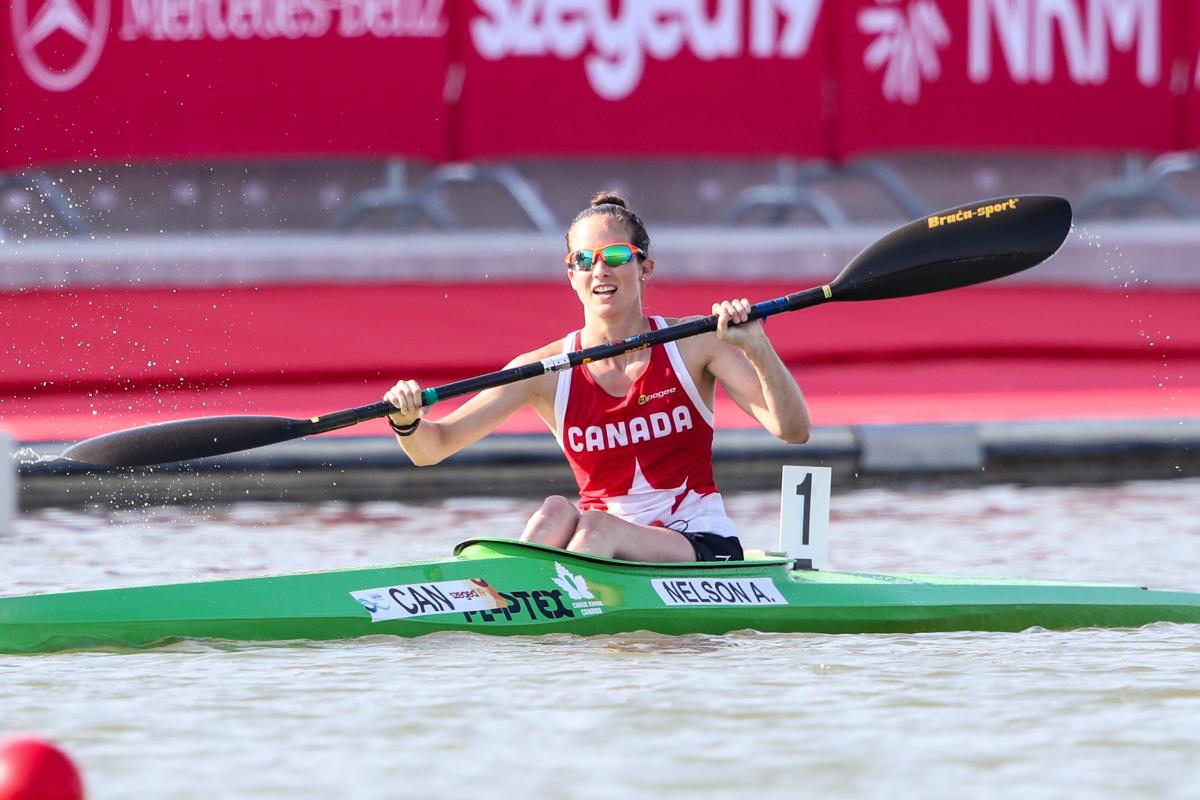 ⒸBence Vekassy (ICF)
By Teddy Katz | For the IPC
Andrea Nelson can hardly believe how quickly her Paralympic career has taken off as a kayaker. Two and a half years ago, she did not really know much about the Paralympics.
Then, the avid outdoorswoman was involved in an accident.
Nelson was a semi-professional skydiver who had done many jumps over the years.  But she got distracted during a high speed landing.  She broke her spine and became paralysed.
During rehab in hospital, a therapist suggested she try hand cycling, sledge hockey and other Para sports. Shortly after, the Canadian Paralympic Committee held a Paralympian search in Toronto.
Nelson met coaches from different sports looking to see what sport would best match her abilities.
"Three months after my injury I went to the Paralympian search.  I knew that [sport] was something I needed to get right back into for my own happiness."
She met an official who helps run the canoe and kayak association in her province and was impressed by his pitch and the timing.
"He was like 'come out and try kayaking'.  He was trying to build a Para programme to get more people involved," Nelson said.
Nelson was teamed with three other athletes who had never kayaked before and within the first year, they competed all over Canada and internationally.
"It was just kind of a high speed programme of getting us up and going and learning how to compete pretty fast with the goal of being potentially at Tokyo 2020."
Nelson proved to be a quick study and is one of the sport's emerging talents.  In 2019, she won a silver and bronze medal at the Pan Am Championships in Brazil.  She also finished fifth at the World Championships which earned Canada a quota spot for Tokyo 2020.
While Nelson is thankful, she was able to find kayaking because of the Paralympian search in Canada. She would like to see athletes in other nations around the world have the same kind of opportunity.
"I think it's very important.  I mean some people find out about sport very early on but there's other people for who it takes years to get introduced to sport [if at all]."
In her case, Nelson said it helped that the coach at the search encouraged her to try kayaking.
"Sometimes it's nice to have someone say, 'hey I think you'd be really good at this – come out and try it'.  They're recruiting you and sometimes people need that push."
One thing Nelson has not needed the push to do again is skydiving even though it's the activity that left her in a wheelchair.
"About a year after my injury I got back into the sport and I'm loving it."
She now needs some assistance putting on the equipment and getting into the plane, but it is pretty much the same for Nelson once she is in the sky.
"It's definitely a mixture of adrenalin and this extreme feeling when you're jumping out of an airplane.  But at the same time, especially when you've done it so many times it's also very peaceful.  You can't really be thinking of anything else in life.  You have to be in that moment."
She said some people are surprised she is back skydiving.
"Fascinating is a good word for it.  I think some people think it's a bit crazy.  For me it wasn't really a question of whether I was going to go again or not – It was something I knew I had to go back and conquer."
Similar to how Nelson is now conquering the water in her new sport kayaking. And she is trying to help raise awareness about Para sport at the same time.
"I would love for the public to be just as into the Paralympics and the athletes and the results of the sports as they are the Olympics."  She added, "I don't think a lot of people realise just the modifications people do in the Paralympics like using their teeth for an archery bow just things that are super difficult and that most people would not be able to do.