Katherinne Wollermann dreams for a more equal world
Chilean Paralympian advocates for people with disabilities and fights for gender equality in her country
20 Mar 2020
Imagen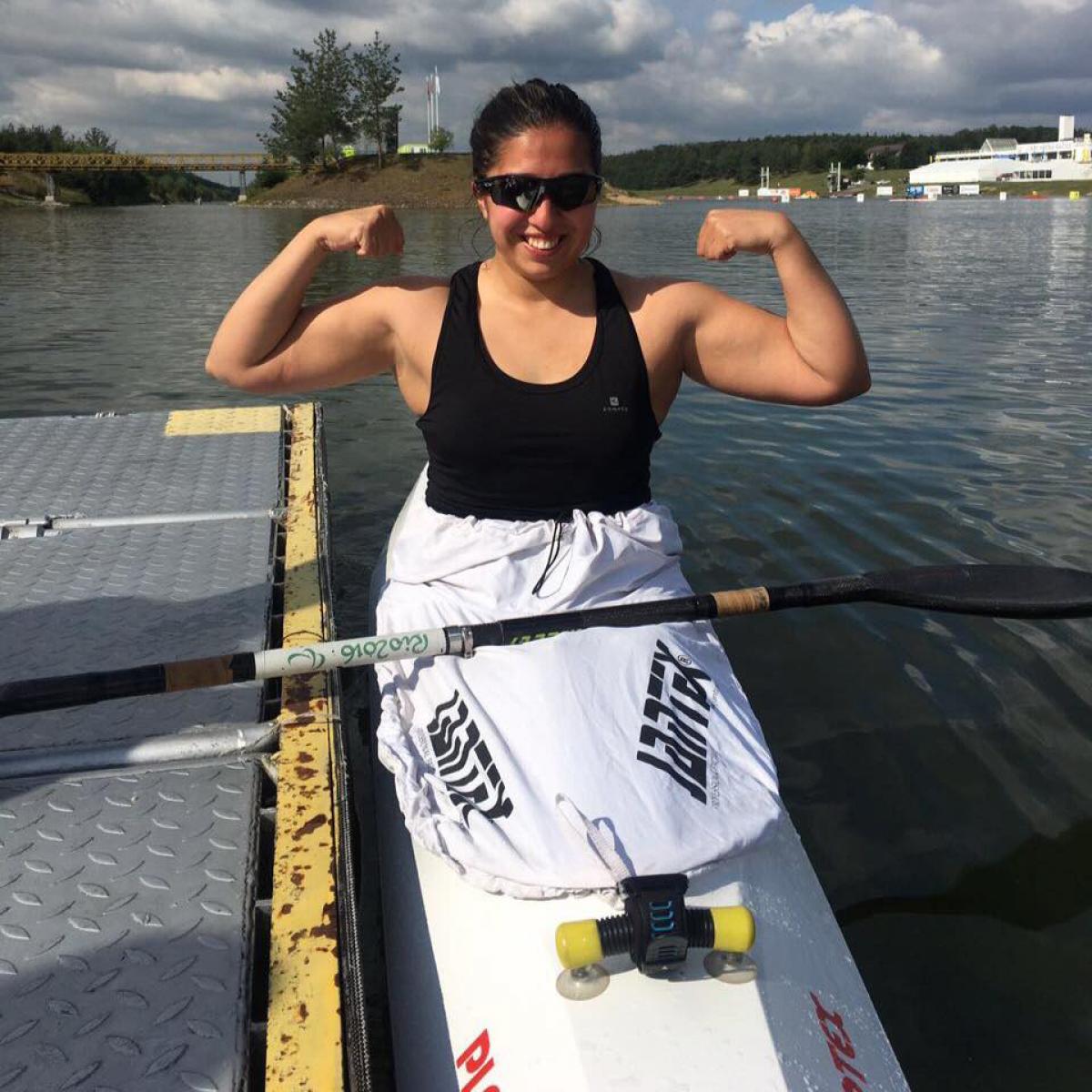 ⒸKatherinne Wollermann
By Santiago Menichelli for the IPC
"I say that if the world was made of water there would be no disability because we would all be in a boat. I have friends with visual, hearing, and cognitive disabilities, and they all row. We all do the same thing.
"I was an able-bodied person full of dreams," recalled Katherinne Wollermann.
Wollermann was only 19 when she was hospitalised in 2012 for possible tuberculosis. Months later, the real diagnosis came: transverse myelitis, an inflammation of the spinal cord that interrupts the nerve connections with the rest of the body. As a consequence, she lost her ability to walk.
It took three months for the young Chilean to step out of her home, post diagnosis. Her mother should be credited for all her efforts to ensure Wollermann found reasons to move on. She was the one who introduced her daugther to Para sports.
Wollermann practiced para athletics, wheelchair tennis, table tennis, wheelchair basketball, swimming, among other sports. She enjoyed all but did not develop a passion for any until she took up canoe.
"I had never experienced it. It was really difficult. The first time I practiced it was a challenge. Actually, canoeing was always a challenge; first it was keeping myself in the boat, then it was rowing and to keep rowing. It was a constant challenge and that's what I liked," revealed Wollermann.
After few months, Wollermann reached a top level and managed to make it to the 2013 South American Championships.
"I was told 'let's go,' I went, I won, and that's where it all started," she said. The objective was none other than to reach the finish line, but she went for more. Months later, she participated in her first World Championships in Duisburg, Germany, finishing sixth in the 200m K1.
"For me, everything was a discovery," she said. "Canoeing gave me back the freedom I didn't have, on the ground. Thanks to canoeing I found my legs."
In her Instagram account description (@wollermann), she wrote a rhetorical question: "Legs? I can row."
FIRST PARALYMPIC EXPERIENCE
In May 2015, Duisburg hosted the Para Canoe World Cup, a qualifier for the following year's Paralympic Games. "My coach Ariel Rubilar told me, 'Don't be anxious, Kati, it doesn't matter if we don't make it,'" he said. "And I said, 'No, I'm gonna go, I'm gonna qualify and I'm gonna be there. And I did it!" Wollermann ended fourth and booked ticket to Rio 2016.
In her first Paralympic experience, Wollermann made a supreme effort to get on the podium, but 512 thousandths of a second separated her from the bronze. "I gave it my all, it gave me a spasm, I tried to control myself, I got off balance with a side wind, I gave it my all," revealed the 27-year-old recalling the dramatic race. "That fourth place in Rio 2016 is painful."
LIVING LIFE TO THE FULLEST
"She lives each day as if it were her last. She enjoys every moment of her life," described her mother Margot. Wollermann too agreed: "There is no need to talk about the past, the future is far away and the present is now. You have to live each day as if it were your last. My illness is a bit strange and in competitions sometimes things happen that you don't expect. So you always have to be positive and that's contagious. Everything is contagious. Obviously I have bad moments, but I try to change my state because I am the master of my own life."
Outside the water, on her wheelchair, she also lives with intensity. In addition to the demands of canoeing, she studies occupational therapy.

"The University of the Americas is very supportive of me. I try to be the best possible academically speaking."
FIGHT FOR EQUALITY
Wollermann believes in equality. She assures that in the water there is no disability and he finds freedom through Para canoe. But she goes further and fights for gender equality. She believes that "women are greatly disadvantaged even today, not only at the disability level but also at the able-bodied level."
She has given talks in different spaces about gender equality and the inclusion of people with disabilities in the workplace. "I open a door for all those girls and women (with disabilities) who may not do anything because maybe their parents or family deprives them. Or maybe they do nothing because they are simply not given the opportunities. I think there are so many issues and taboos or prejudices that need to be brought out."
Thanks to her efforts, she has also received an award from the National Service for Women and Gender Equality, an official body belonging to the Chilean Government that implements policies and programmes aimed at equal rights between men and women.
A BIG CHALLENGE
Wollermann is a five-time Pan American champion. After her promising debut at the Rio 2016 Paralympic Games, she established herself internationally and began to show her ability to fight for medals.
In 2017, she won bronze at the World Championships in Račice, Czech Republic, and repeated the feat two years later in Szeged, Hungary.
When asked about the pressure of maintaining her level, she replied: "I have never felt any pressure because I do what I like and I develop myself in that.
"I'm looking to push the limits to prove to myself that I can do it and reach goals, and in turn get others to join what I'm doing."