Anton Zappelli tees up for Tokyo 2020 glory
'I'm right into the precision of shooting and I like that the most. It's a mental game. Once you master the process, then it's all in your mind and golf is the same'
03 Nov 2020
Imagen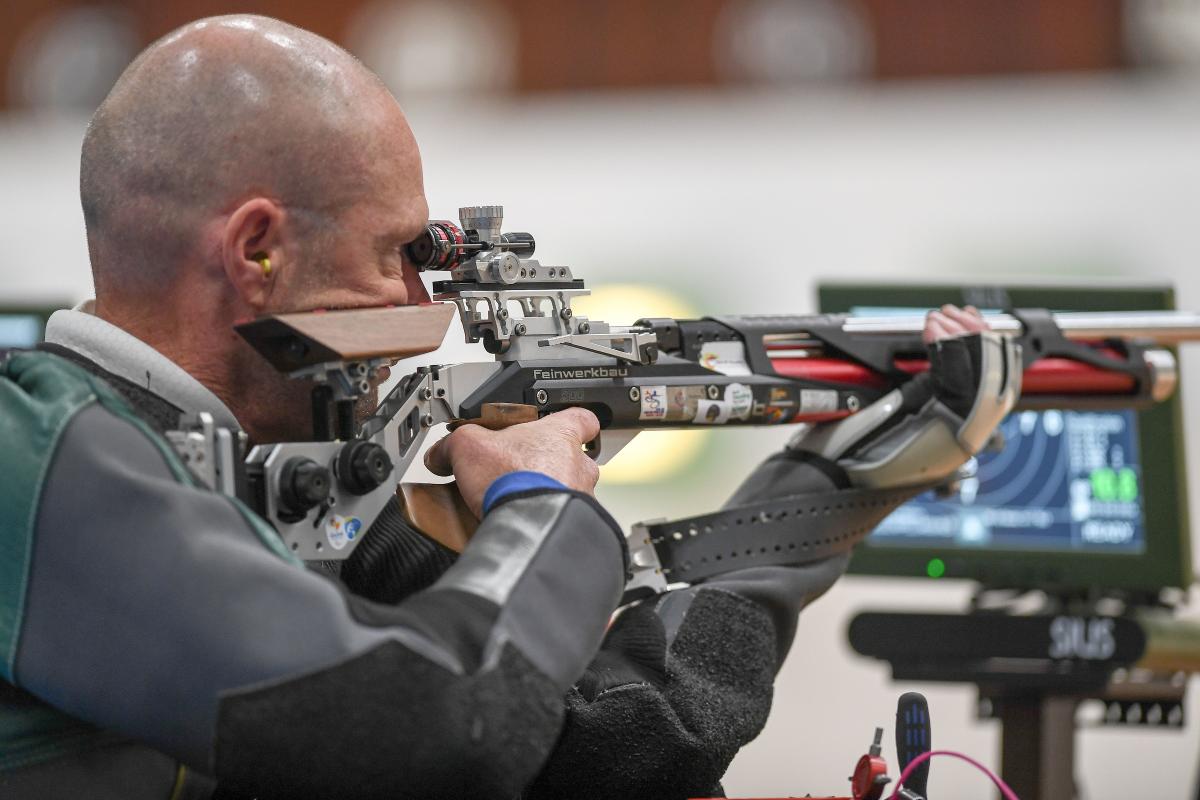 ⒸParalympics Australia
By Paralympics Australia
When Anton Zappelli was a rising teenage golfer playing in Graham Marsh Junior Golf Foundation events in Western Australia off a handicap of three, he never dreamt that one day the mental focus to succeed in golf would help take him to the Paralympic Games as one of the world's best Para rifle athletes. 
Like golf, shooting is a sport which requires a single-minded focus where outside distractions need to be disregarded and personal thoughts need to be firmly controlled. Let your mind wander and a score in the tens easily becomes an eight or a nine, just like a simple par can turn into an ugly bogey or worse. 
"There are a lot of similarities," explained Zappelli. "I'm right into the precision of shooting and I like that the most. It's a mental game. Once you master the process, then it's all in your mind and golf is the same. 
"You can hit the ball a mile but when it comes down to the pressure and controlling your mind, if you're not there with that you may as well not be playing," he said. 
"With shooting its very similar. I'd say it's a 99 per cent mind game at the top level once everything is sorted with your equipment and your skill levels are up there. Then it all comes down to what's between your ears." 
Zappelli's path to hopefully attend his second Paralympic Games in Tokyo next year has been part of a long and colourful adventure which has seen him travel around Australia and across the world. 
It is a journey which has also seen him ride life's steep rollercoaster of emotion. 
Sport and recovery
His life changed forever in 1989 when, aged 17, his back was broken in a car accident 75 kilometres north west of Kalgoorlie in central Western Australia. His girlfriend at the time, who did not hold a driver's license, lost control of the car on a corrugated road, hit a one metre high windrow and the car flipped end to end. 
"My fracture is known as a common seat belt fracture. The seatbelt saved me from going through the windscreen, but actually broke my back at the same time," he said. 
A long rehabilitation period in Perth was required and he admits it was very difficult come to terms with the loss of dreams and hopes.  
"Prior to that, my life was on track. As a young fella, I was pretty determined and had a lot of goals set and I was working towards those goals and life was set out in front of me. I knew exactly where I was going and then, all of a sudden, it's all gone," he said. 
Zappelli returned to Kalgoorlie but was soon back in Perth because there were limited opportunities for a wheelchair user in the goldfields. 
Back in Perth, it was sport and a chance meeting with Paralympic wheelchair racer, Louise Sauvage, which turned his life around. 
"Sport was a big part of my recovery," said Zappelli. "It was probably the thing which pulled me together. 
"I really wanted to play tennis and I went down to wheelchair sports and met with Louise and she goes, nah, nah you don't want to play tennis. We've got a track chair here and it will fit you so come down and train with us, and it went from there. Within weeks, I was training 4-5 times a week and got right into road racing," he said. 
Soon after, Zappelli was travelling to the USA and Canada with the Australian wheelchair racing team and competed in the famous Peachtree Road Race in Atlanta in 1993 where Australia dominated with Sauvage and Paul Wiggins winning the men's and women's wheelchair races. 
"Paul was the first guy ever to break the 20-minute mark for the 10km. I came in 22nd," he recalled. 
The 1996 Atlanta Paralympic Games beckoned and Zappelli was earmarked to make the team. 
But he met an aspiring young singer by the name of Donna Simpson. She and her younger sister Vicki and Josh Cunningham formed the Award winning folk rock band, The Waifs. 
In the months leading into the Atlanta Paralympics, Zappelli burnt a leg in a bath and was unable to get into his track chair. 
The Waifs were heading north on tour and they invited Zappelli to join them while he spent 3-4 weeks recovering from his injury. 
"I flew into Broome to meet up and didn't come back. I didn't see a winter for four years," said Zappelli who became the band's roadie stringing and tuning guitars. 
"I upset a lot of people in the sporting world back then, but I had a great time; 4-5 years travelling Australia in a wheelchair with some great people was something I wouldn't change," he said. 
The band briefly dispersed after they moved to Melbourne to break into the Australian music scene and Zappelli and Simpson returned to Perth. The band then later decided to reform, but Zappelli opted to stay in Perth. 
In 2009, some of Zappelli's mates were talking about riding Quadbikes across Australia.  
"I was asked to join them. After a few meetings, the plan had become bigger than Ben Hur. We decided to make a documentary where we would visit our crash sites as we traversed the country. Fellow rider Jim Cairns, also the assistant producer, sneakily talked my then fiancé Kate into having our wedding at Uluru," said Zappelli. 
"It (the documentary) was basically to show that anything is possible if you set your mind to it and get out there and make it happen," said Zappelli. 
Visiting his crash site was difficult for Zappelli. "It was not a nice place for me," he said. 
Remarkably, 21 years after his accident, the number plate of his ex-girlfriend's parents four-door work ute was still located at the site. 
With his road racing career now behind him, Zappelli was looking for a new sporting challenge and was invited to the rifle range in 2011. 
Getting hooked on to shooting
Growing up in Kalgoorlie, Zappelli shot Air Rifle at the local PCYC Club and was instantly attracted to the sport. 
"I was always looking for a sport similar to golf – an individual sport," he said. 
By 2014, Zappelli made his international shooting debut travelling to World Cup and World Championship events in England and Germany and, a year later, claimed his first international medal, a silver, in Croatia and also claimed a quota for the 2016 Rio Paralympic Games. 
The Rio Paralympics was a challenging experience for Zappelli as he was unwell on the flight to the Games and battled equipment issues throughout with his rifle. He finished 18th in the Mixed 10m Air Rifle prone SH1 and 36th in the Mixed 50m Air Rifle prone SH1. 
He bounced back with bronze medals in 2017 at the World Shooting Para Sport (WSPS) event in the UAE and Croatia and was named co-winner of Shooting Australia's Para Shooter of the Year with Chris Pitt. 
His great form continued last year with a silver medal at the WSPS Event in Hannover before another silver, just 0.3 points off the gold medal, in the WSPS World Championship in Sydney. 
These performances saw him named the 2019 Para Shooter of the Year and the prestigious Ashley Adams Perpetual Athlete of the Year. 
With travel support from the West Australian Institute of Sport (WAIS), Zappelli is looking forward to borders reopening so he can commence his preparation for the Tokyo Paralympics.