From bronze, to silver and now going for gold: Jonathan Ntutu
'You have to put in your work and not expect someone to come and babysit you'
06 Jul 2021
Imagen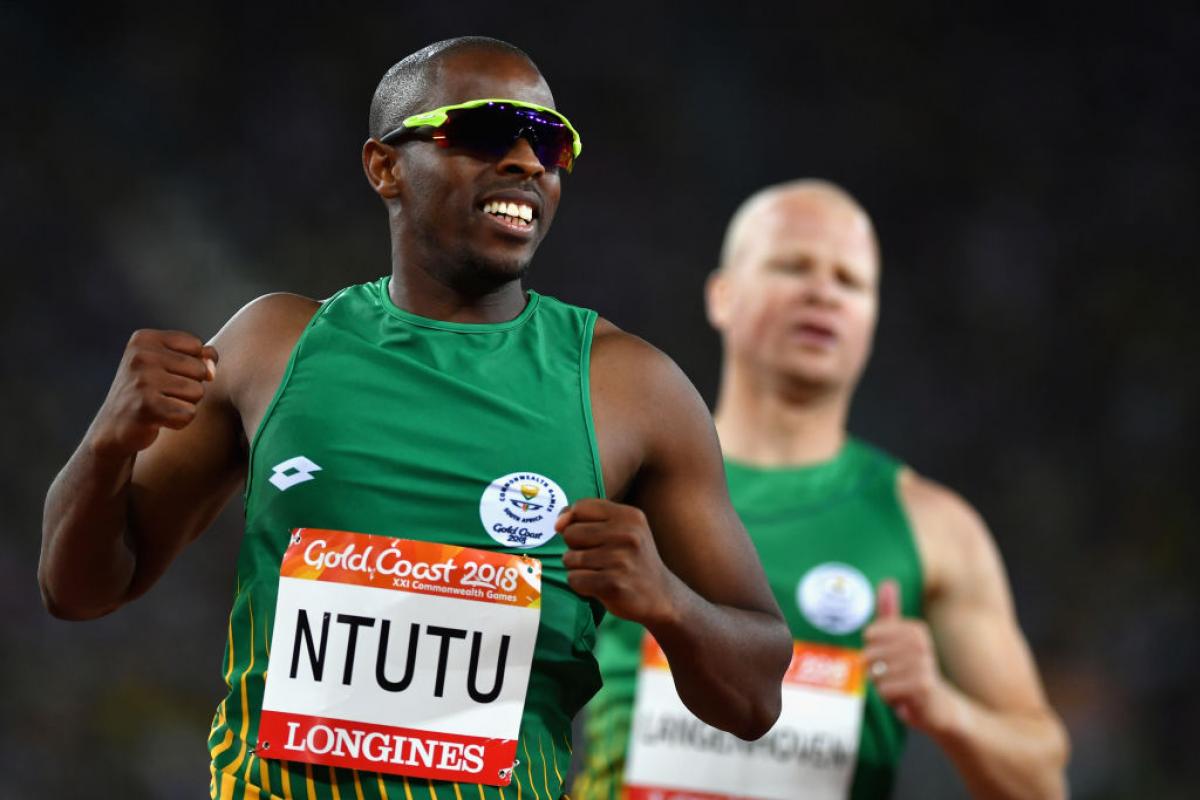 ⒸDan Mullan/Getty Images
By Eric Tamanda Banda | For the IPC
Ndodomzi Jonathan Ntutu is South Africa's fastest ever Para athlete and true to his name 'Ndodomzi' which translates to 'man of the house' in Xhosa, one of the country's official languages.
He has indeed become a household name.
Ntutu shot into limelight as the fastest South African Paralympian in men's 100m T12 by clocking 10.80 seconds during the heats of the 2018 Commonwealth Games.
Growing up in the township of Gugulethu, Ntutu's first love was cricket, a sport he had hoped to pursue as a career. Unfortunately, due to his deteriorating vision, Ntutu dreams ended abruptly.
Ntutu, who aspired to play alongside former South African cricketer all-rounder Jacques Kallis, then tried to pursue blind cricket. But that too came to a halt, as he became discouraged when one of his friends suffered a serious injury.
However, he was inspired to pursue Para athletics after a pupil at Athlone School for the Blind in Cape Town qualified for the South Africa Paralympic team ahead of the 2000 Games in Sydney.
"You have to put in your work and not expect someone to come and baby sit you," says Ntutu passionately about work ethics and hard work that he attributes his success to, adding that talent alone is not enough to produce a superstar.
AIMING FOR GOLD AT TOKYO
After his bronze and silver at London 2012 and Rio 2016, respectively, the 35-year-old is looking to go one step further at Tokyo 2020.
"Gold is what I'm going for, nothing less. At London 2012, I won my first medal which was a bronze. At Rio 2016, I brought home a silver. I can only progress up and the next stop is for gold, then my set is complete."
Ntutu understands that this will not be a walk in the park but with focus and hardwork he is confident in achieving his goal.
"I took a couple of months break during the COVID-19 lockdown to recuperate and recover from prior nagging injuries. I'm currently back at working out, training and increasing workload steadily so that I can peak at the right time."
As he pursues the gold, he aims to repeat his 2018 achievements of being named South Africa's Sportsman of the Year with a Disability and recording the fastest time run by a South African Paralympian.
GIVING IT BACK TO THE PARALYMPIC MOVEMENT

Ntutu spends his time mentoring upcoming athletes and youth from his community as he acknowledges that people need to come together in the fight against drugs that has destroyed families in South Africa. He also believes that Paralympic sport is not getting its due recognition and wants to help grow the brand for the Paralympic organisation in his country.
"Along with a few friends, I'm hoping to grow a youth mentoring programme once I hang my spikes while also raising the profile of Paralympic sport in South Africa," says Ntutu, an aviation enthusiast who often spends time catching up about airplanes.
For Ntutu, family is the nucleus of his life and attributes all his success to them.
"Family is very important and mine has been there for me throughout my journey, they even form part of my fanbase. I wish more people would come and support athletics' competitions for athletes with disabilities just like they do for cricket in South Africa," says Ntutu who hopes his children can live out his dream of becoming a cricketer.