Abdulrahman Abdulqadir leads Qatar's hope at Tokyo 2020
'It is always good to go into a major event like the Games with confidence'
28 Jun 2021
Imagen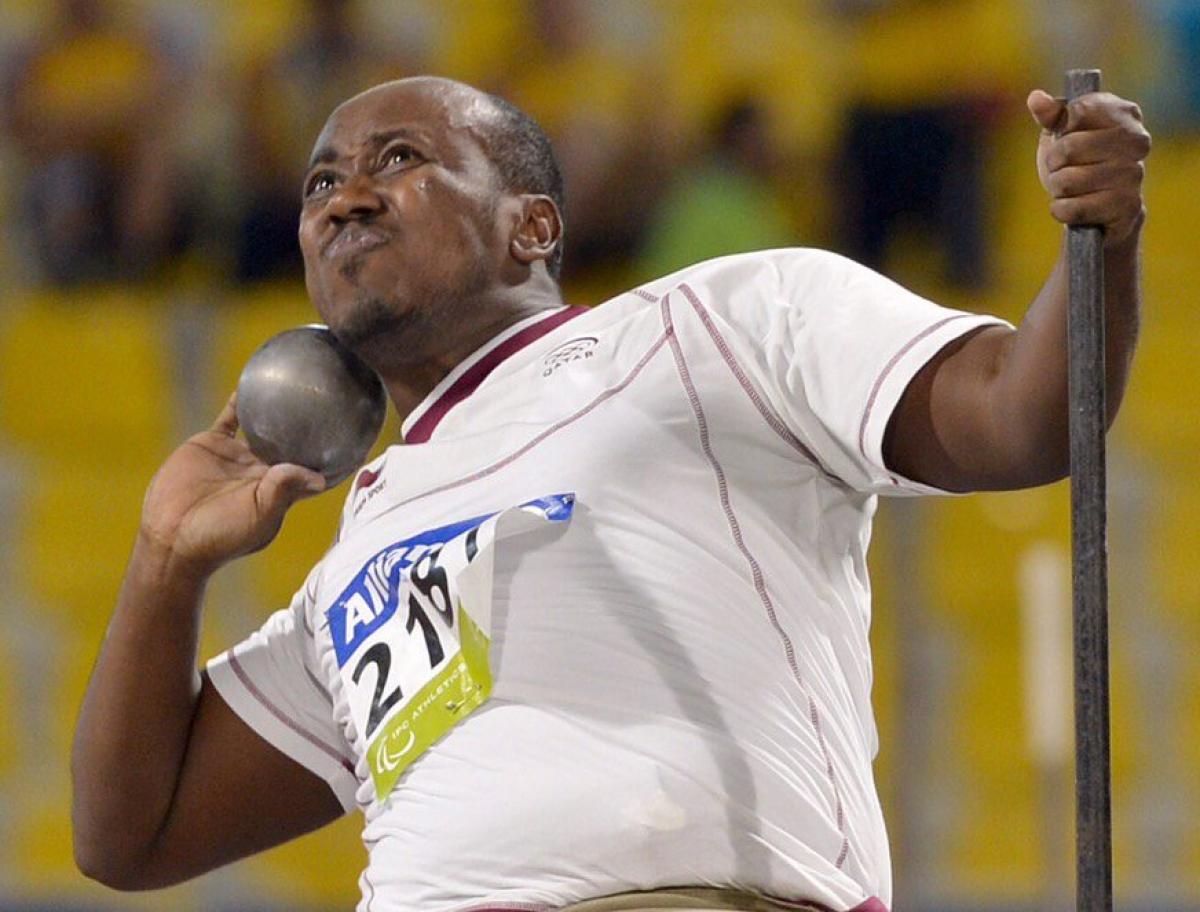 ⒸQATAR NPC
By Armstrong Vas | For the IPC
Qatar's Abdulrahman Abdulqadir is not keen on dwelling much about the unprecedented times the world is facing and believes that these too shall pass; the best way to do it is to focus on the task at hand. Currently his sole aim is to make the most at the Tokyo 2020 Games.
"A lot of time has gone staying indoors, waiting for this pandemic to end. I am aiming to get the gold at the Tokyo Games. I do not know what will happen, but I am confident and hopeful of winning the gold medal," said Abdulqadir, who picked the Tokyo Games quota for Qatar at the 2019 World Championships in Dubai following a fourth-place finish with a throw of 11.23m in the men's shot put F34.
"My preparations for this year's Games in the Japanese city are very much on track and I want to improve on my showing from Brazil. I'm determined to do that," added Abdulqadir, who has already represented Qatar in two Paralympic Games and has a silver from Rio 2016.
SUCCESS AHEAD OF TOKYO
Abdulqadir's preparations got a huge boost earlier this year when he clinched gold at the Jesolo 2021 Grand Prix - Italian Open Championships. His throw was identical to that of the World Championships (11.23m) but was enough to fetch him the gold this time round.
Abdulqadir believes that his recent achievements were a huge shot in his arm ahead of the Games as it was an assurance that he was very much in the mix.
"To know that I could finish on the podium was simply exceptional. I don't want to get complacent but want to keep working hard knowing that I'm in the best of shape. It is always good to go into a major event like the Games with confidence," says Abdulqadir, who is spending most of his time at the Qatar Paralympic Committee (QPC) training centre in Doha for his final preparations.
Abdulqadir, who also claimed gold at the 2014 Incheon Asian Para Games and at the 2017 World Para Athletics Championships in London, said like all athletes around the world he has been facing difficulty in setting his practice schedule.

"Training schedule has been different earlier. I used to train two times in a day. Two hours in the morning and an equal number in the evening. But now I train only once in a day. I understand all my fellow athletes around the world are also facing similar difficulties on account of coronavirus," adds the Qatari Para thrower who idolises his teammate and javelin thrower Nasser Al Sahoti.
Abdulqadir, who became the first Qatari to win a medal at the Paralympic Games following his success at Rio, feels that the Games success changed his life completely and has inspired him to achieve greater goals.
"I feel very proud to get the silver medal at Rio. It is the biggest achievement of my sporting life," said the softspoken Qatari who was adjudged Qatar's Male Para Athlete of the Year in 2018.
A year later Abdulqadir went on to win gold at the 2017 World Championships.
"The silver medal in Rio gave me confidence to get better and at the 2017 World Para Athletics Championships I got the gold medal. I want to just keep excelling," said Abdulrahman, whose sporting journey started 13 years back under coach Ahcene Bouteldja.
BEING AN INSPIRATION
Abdulqadir has been an inspiration for people with disabilities in Qatar and many youth want to follow his footsteps.
"I keep recommending all youngsters to take to the sports and not to shy away from it, sports will keep them healthy and give them confidence and everything will change thereafter," said Abdulqadir, Qatar's flag bearer at the opening ceremony of the 2012 Paralympics Games.
"Sport has been life-changing, it has touched my life in many ways… you become more confident, more disciplined in your life and in my case, it allowed me to face the world."