Canada's McGregor prepares for Worlds debut
Just three years after overcoming cancer, Canada's Tyler McGregor will make his ice sledge hockey World Championship debut at the age of 19.
25 Mar 2013
Imagen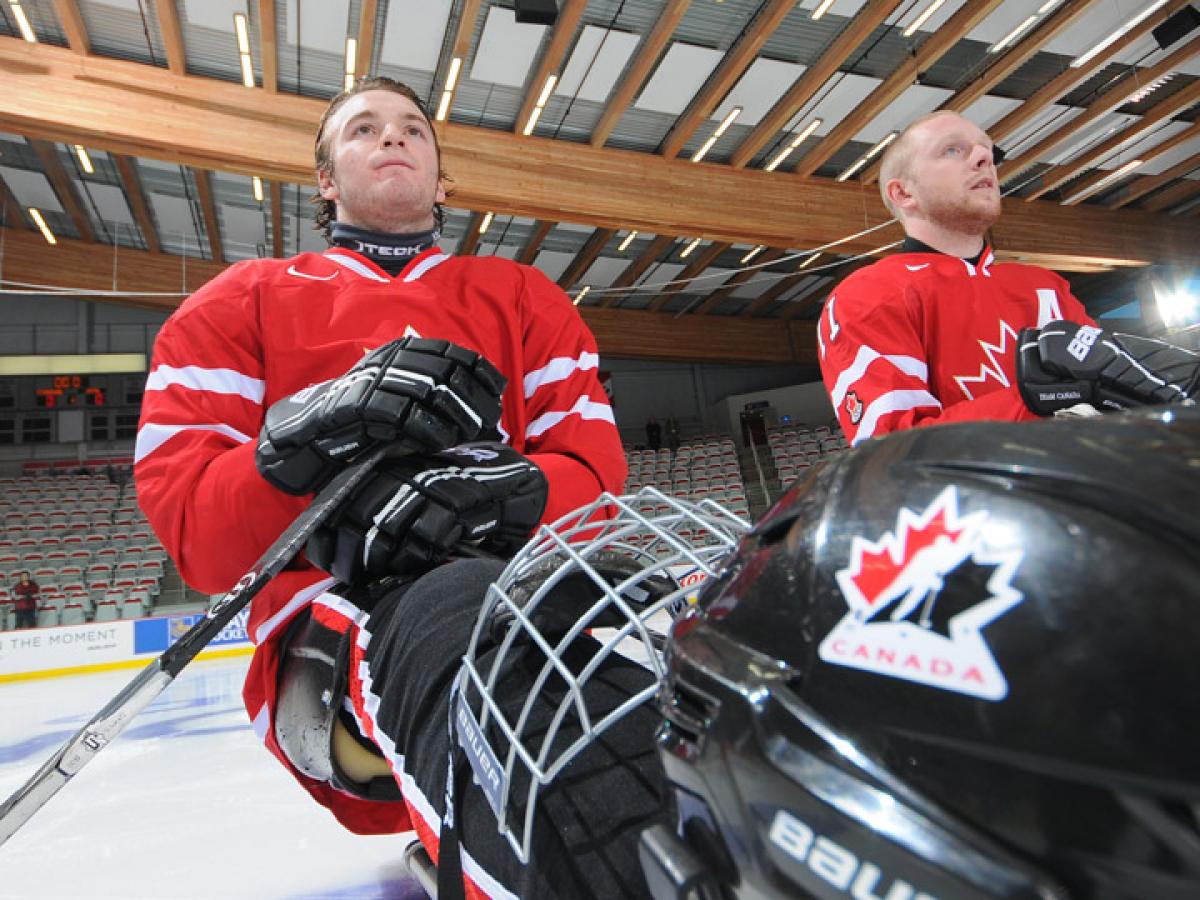 ⒸAndy Devlin/Hockey Canada
By Ryan McKenna | For the IPC
"I had that hockey background. I had that drive of the hockey player. I knew that I wanted to get back on the ice and I knew I wanted to play at that high level."
Next month will mark a dream come true for 19-year-old Tyler McGregor of Canada.
For the first time, McGregor will wear the Maple Leaf on his jersey at an ice sledge hockey World Championship event.
The 2013 IPC Ice Sledge Hockey World Championships A-Pool will take place from 12-20 April in Goyang, Korea, and the event will be one McGregor has been quite anxious about.
The top five finishers at the Championships will automatically qualify for the Sochi 2014 Paralympic Winter Games.
"It's my first World Championship, so I'm nervous but I know my role on the team and I just want to provide energy for the team right now," McGregor said.
A source of energy
Canada won bronze at last year's World Championships in Hamar, Norway, and they will start off this year's tournament in Group B, along with Korea, Italy and Russia.
As the youngest player on the team, energy is exactly what Canada will look for McGregor to provide.
McGregor graduated from high school in January and has since been training full-time in preparation for the team's first game against Italy.
Until recently, ice sledge hockey was never at the forefront of McGregor's mind. In 2010, cancer forced him to have one of his legs amputated. Even after having to endure the tough reality of never playing stand-up hockey again, McGregor was adamant that hockey would be in his future.
"After I lost my leg, I knew I wanted to get back involved with hockey so originally I started out with the standing amputee team and tried that, but I couldn't keep up," the Canadian forward said.
"Some people guided me on the road to sledge hockey and to try it out, so I went and the first time was extremely difficult. It was extremely frustrating, but I knew that it was going to be (hard) so I kept up with it and from there just fell in love with it (sledge hockey)."
The passion for the sport of hockey, including watching his favourite NHL teams, the Toronto Maple Leafs and Pittsburgh Penguins, has kept him motivated.
"I had that hockey background," McGregor said. "I had that drive of the hockey player. I knew that I wanted to get back on the ice and I knew I wanted to play at that high level."
"I always had that dream to play in the NHL or to play at an Olympic level. I just think that it was hard to adjust to the whole situation, but my mind set and what I wanted to do ... I didn't have a problem telling myself that I wanted to someday play for the national team when I started to play sledge hockey."
Looking to the veterans
McGregor just made national team debut at December's 2012 World Sledge Hockey Challenge, where he recorded two assists in his first game, an 11-0 win over Japan.
McGregor admitted, though, his body is still getting used to the game.
"I try to get on the ice three to four times a week and then in the gym for two other days," said McGregor. "On the ice, I'm trying to improve my independent skills right now and get better on my sled.
"A lot of it is muscle memory, so the more I'm on the ice the better I'm getting. It's nice to get on the ice with my other teammates, they're really helpful and are helping me with the little things."
McGregor said that Canada are looking very well-prepared heading into the Championships, especially the veteran players on the club, such as Greg Westlake and Brad Bowden.
The team leaves on 5 April for Goyang, where the Canadians hope to reach the top of the podium at a Paralympic or World Championship event for the first time since 2008.
"You can tell that a lot of the veteran guys on our team that have been around for the past five or six years and who haven't won a World Championship or a Paralympic gold are really anxious to get there," McGregor said.
"And you can just tell they want the gold back."