Cristian Ribera on a mission to make more history for Brazil at Beijing 2022
Best Brazilian athlete in Winter Paralympic history aims for a medal at the next Games
06 Mar 2021
Imagen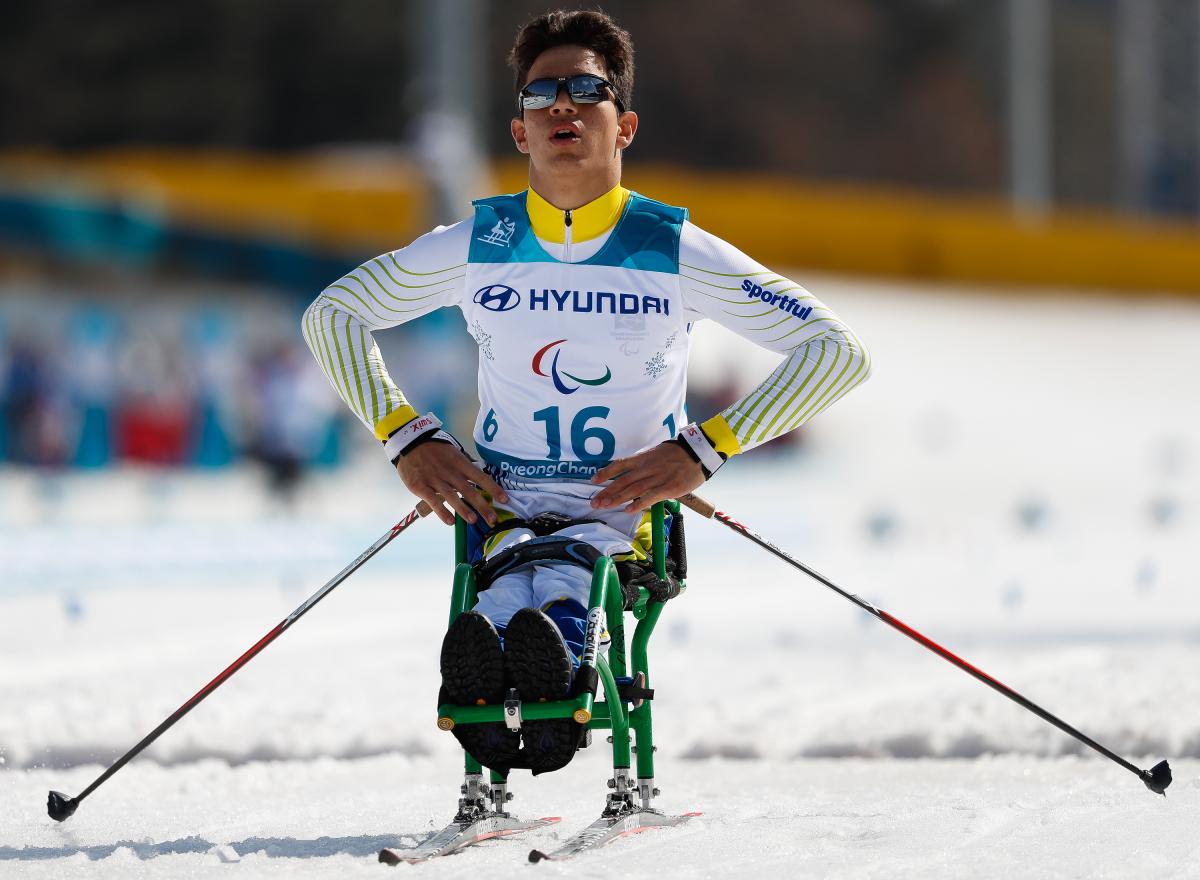 ⒸGetty Images
By Lena Smirnova | For the IPC
Para Nordic skier Cristian Ribera, Brazil's best ever Paralympic or Olympic winter athlete, had big plans for the season preceding the Beijing 2022Games.
Instead, for more than four months his training was limited to home workouts, which included lifting bags of beans and rice, while in a coronavirus lockdown.
But Ribera is no stranger to making the most of a tough situation. After all, he is a Para Nordic star from a country where it hardly snows. Now after months of exercising at home, Ribera is back on snow and pursuing the same goal he set when he first began his Para Nordic journey - to win a Paralympic medal.
"Since I started in the sport, my goal was always this and the closer I get, the more motivated I become," Ribera said. "I also know that it will be very difficult so I have to keep my feet on the ground and continue training so that one day I am a Paralympic champion."
BREAKTHROUGH FOR BRAZIL
Ribera made history for Brazil when he placed sixth in the cross-country 15km sitting race at  PyeongChang 2018. This was the best ever finish for Brazil at a Paralympic or Olympic Winter Games.  
He was 15 years old at the time and the youngest athlete in PyeongChang, where 15 was the minimum age to compete. 
Over the next years, Ribera proved that he is not a one-hit wonder. Since his historic top 10 finish in PyeongChang, Ribera went on to win Brazil's first World Cup medals in December 2018 and was second overall in the cross-country rankings last season.
"They were all very important and unforgettable because it is the dream of every athlete to represent their country well," Ribera said of his medal frenzy. "I hope that the good results will continue coming because I want much more."
Ribera was introduced to Para Nordic skiing in 2015 as part of a project put together by the Brazilian Snow Sports Federation (CBDN) with the support of the Agitos Foundation, the International Paralympic Committee's development arm. The project's aim was to have a Brazilian athlete contending for a medal at the 2030 Paralympic Winter Games, but with Ribera progressing quickly, that goal could be accomplished a lot sooner. 
Brazil made its Winter Paralympic debut at Sochi 2014, where it was represented by Para snowboarder Andre Pereira and Para cross-country skier Fernando Rocha. The only other South American nations to have competed at a Paralympic Winter Games are Argentina and Chile.
Four years later, Brazil sent two new athletes to the Games. In addition to Ribera, Aline Rocha also competed in Para cross-country skiing, becoming Brazil's first female Para athlete at a Winter Games. 
By breaking into the top 10 in the men's sitting class, Ribera has helped to put winter sports on the map in his tropical homeland.
"His attitude and results have been inspiring other people to start the sport, learn about snow sports in Brazil and pursue their dreams no matter what," said Leandro Ribela, Brazil's cross-country skiing coordinator. "He proves it is possible to be born, live and train in Brazil and still be at the top of the Para cross-country skiing world ranking. That makes people believe and respect our programme even more, opening a lot of new doors for the sport in Brazil."
DREAMS UNDER LOCKDOWN
After finishing second in the world rankings last season, Ribera looked poised to make more progress ahead of the last full season before Beijing 2022. But snow was the least of Ribera's problems in 2020 when he found himself in lockdown for months while the coronavirus pandemic swept across Brazil.
"Last year was very difficult. As soon as we arrived in Brazil in February, we learned that the coronavirus virus was already very widespread, so we were in quarantine and had to train at home until June," Ribera said. "We had to adapt the training to train at home. I used elastics, backpacks and bags of rice or beans to complete my training. It was a very difficult period."
In July, Ribera started training in Sao Carlos, about 200 km from Ribera's hometown Jundiai. A typical training day involved 15 to 25 km on his roller skis, coupled with strength training such as pull-ups with attached weights. While roller skies are common, they cannot fully replicate the feeling on snow.
"The biggest challenge are the curves because on the rollers we have to cram the sit ski a little and then choose the side of the curve," Ribera explained. "On snow it is easier because here any hip movement makes a difference."
The Brazilian athletes typically travel to Europe once a year to train on snow, but such a journey proved insurmountable in 2020c. Their first time on snow only came in January when the athletes travelled to Montana and Utah to train with the US Para Nordic team. Despite the challenges, Ribera is known for his can-do attitude.


"Cristian is always focused, determined and disciplined," said Alexandre Oliveira, who coaches Ribera in Jundiai. "He is extremely competitive, but enjoys helping his teammates to improve their technique and performance, no matter if it is at the club level or the national team level. You can see his behaviour is very genuine and he understands that sharing is part of the learning for everybody."
Ribera knows that there is more at stake in his sports career than medals. Through his racing, he is also changing how people with impairments are perceived in Brazil.
"I think that everywhere there is still a little prejudice against us with disabilities, but sport helps us a lot to overcome this and to show people that we are able to do anything," he said. "I'm very happy that my work is being recognised and it is really cool to know that there are a lot of people cheering for me."