Don't count out Tunisia in Lyon
Four Paralympic champions hope to bring more titles back to Tunisia from the IPC Athletics World Championships.
12 Jul 2013
Imagen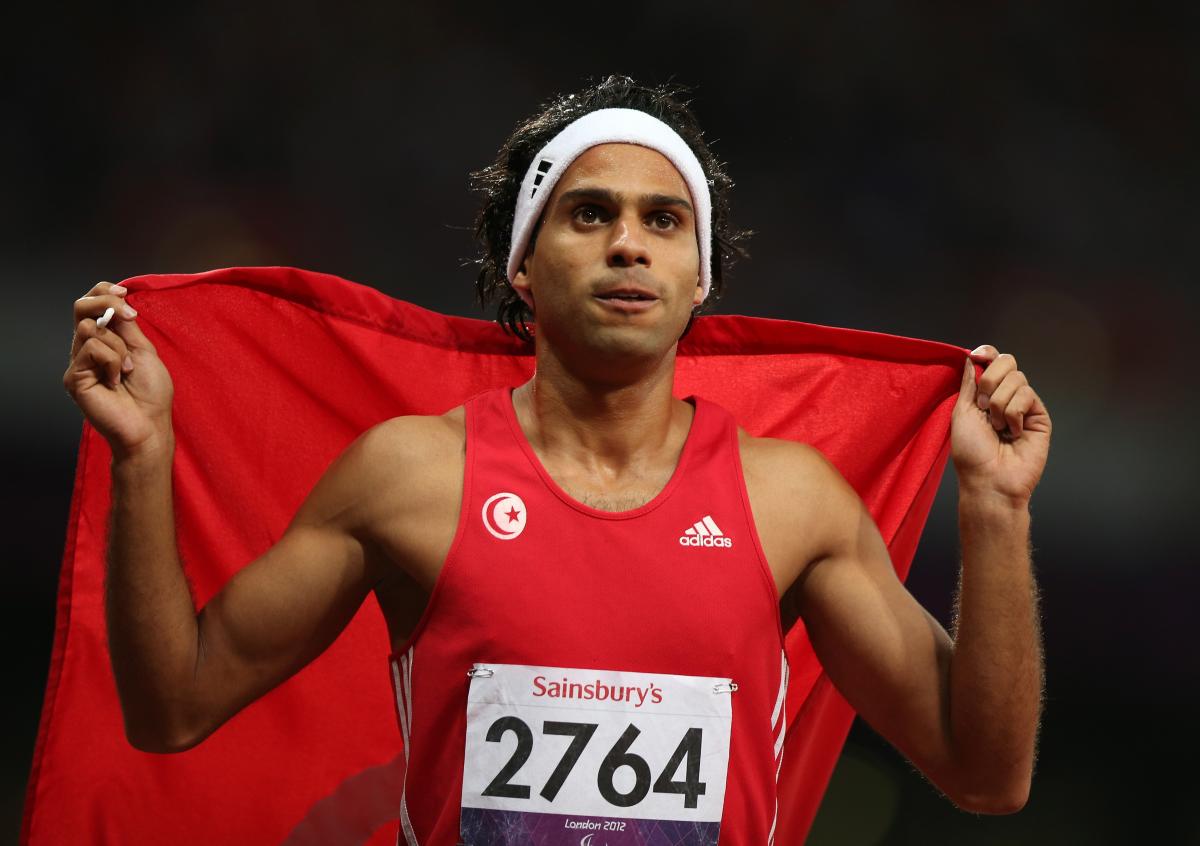 ⒸGetty Images
By IPC
"It was a surprise for the rest of the world in London, but not for me and my coach."
Mohamed Chida was once a volunteer for Tunisia's National Paralympic Committee – back in the day when he was used to being a finalist in able-bodied athletics and cycling competitions.
But in 2003, he was injured in a car accident, after which he was diagnosed with cerebral palsy.
Chida's role in NPC Tunisia quickly changed. He wanted to take up sport again after his accident and thus rejoined the organisation as an athlete in 2004.
Nine years later, the 31-year-old finds himself heading into this month's IPC Athletics World Championships with a stacked resume that includes four Paralympic golds and one world title.
"It's strange, but it was my destiny, so I'm not sad about this accident anymore," Chida told Paralympic.org of his role reversal.
Tunisia had quite the success at London 2012, finishing fifth on the athletics medals table – the highest of any African country – with nine golds and 19 overall medals.
Chida will lead a 12-strong Tunisian team into this year's World Championships, which take place from 19-28 July in Lyon, France, and said he would like to start of the next Paralympic cycle with a minimum of two world titles.
He will go up against Paralympic star Evan O'Hanlon of Australia in the 100m, 200m and 400m T38 sprints, in addition to taking part in the men's long jump F38.
Chida won both the 400m and long jump at London 2012, but O'Hanlon will now take part in the 400m for the first time, giving him a run for his money.
"Evan O'Hanlon is my toughest competitor," Chida said. "He's an excellent athlete who I respect a lot."
Other Paralympic champions from Tunisia in Lyon will include Walid Ktila in the men's T34 class, Neda Bahi in the women's T37 class and Raoua Tlili in the women's F41 class.
Ktila is still a relative newcomer to the international stage, though he seemed to find the finish line easily enough in London last summer, picking up golds in the 100m and 200m T34 sprints.
He actually trains with T54 racers and is aiming for medals in all four of his distances in Lyon.
"Rheed McCracken from Australia will be my toughest competitor, and the most mysterious one, too," he said. "We will compete against each other for the first time in Lyon, so I'm excited."
Bahi will also contest four events, and she said she'd like to confirm her spot at the top of the podium by mirroring her 400m T37 performance from the last Paralympics.
"It was a surprise for the rest of the world in London, but not for me and my coach," Bahi said. "I had been training hard the whole time from 2008 to 2012, so this success was expected."
Tlili will compete in the shot put and discus F40 events, in which she took gold and bronze, respectively, at London 2012.
All of the Tunisians said this year they have become famous not just in their home cities, but also throughout the entire country after their performances last summer.
Tunisia's 12 athletes will be among the 1,100 athletes from nearly 100 countries competing at the IPC Athletics World Championships, which will be the biggest gathering of track and field athletes since London 2012.