Eliza Ault-Connell credits family for Paralympic return
After a hiatus from competition, Australian wheelchair racer was encouraged by her children to go for another Paralympics
09 Dec 2020
Imagen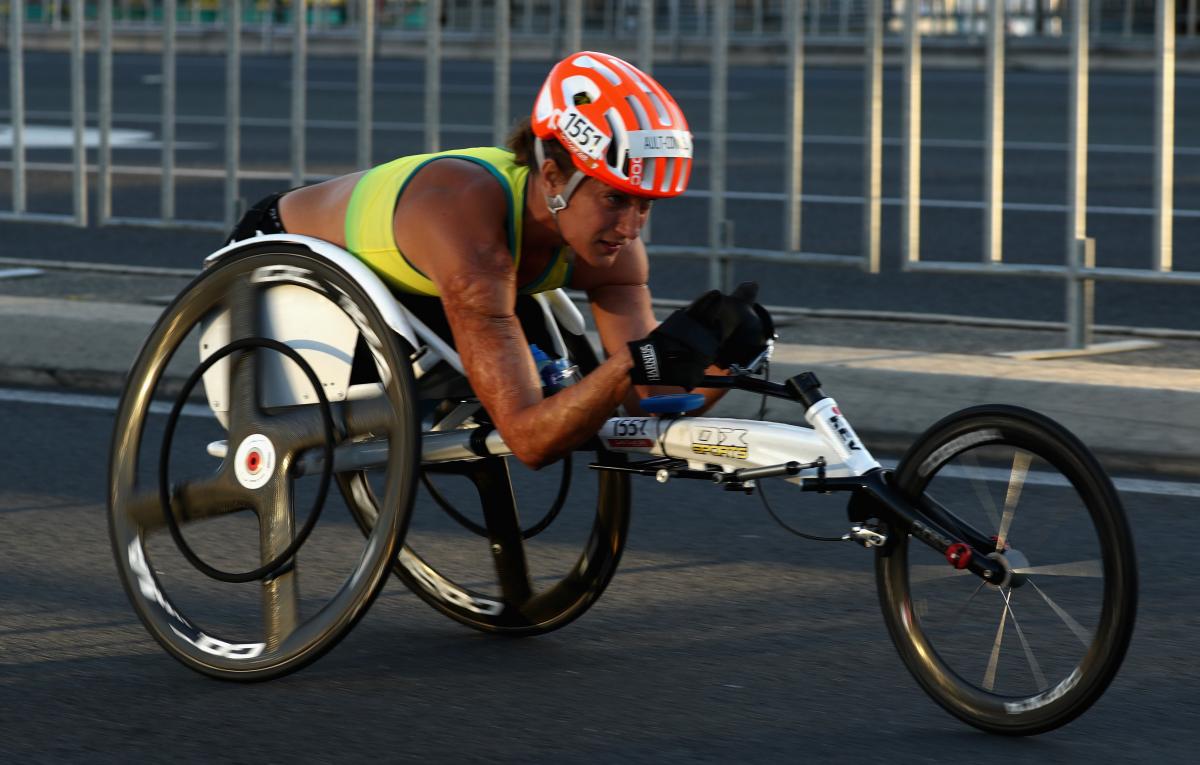 Ⓒ Robert Cianflone/Getty Images
By Sascha Ryner | For the IPC
Australian wheelchair racer Eliza Ault-Connell wears many hats. She is a Board Member of a non-profit organisation, a comeback star, a mother of three, and recently, one of the first 10 athletes selected to the national team for Tokyo 2020 next year.
"Of course, anytime you're announced, it's always a very, very exciting time," Ault-Connell said. "However, given what the world has experienced in the last six months, being announced at this point in time is really exciting and a motivating factor moving forward."
Described as a self-starter, the 39-year-old Paralympic veteran is also making her first national team selection in 16 years.
The now-famous story goes that while training for her second Games at Beijing 2008, Ault-Connell became pregnant. Having planned to make a comeback sooner, she and her husband Kieran Ault-Connell switched their focus, raising three kids, and her sporting career was put on hold.  
"I was sitting watching the Rio 2016 Games and the wheelchair racing with my children. Basically, my girls were pretty mesmerised by it all and they said, 'Mum, that's so cool. We didn't know that it was actually that exciting.'
"Then one said, 'Wow, you used to be really cool when you did that.' And that was the point where I thought, well, they obviously see this sport as something incredible and something amazing. And I was obviously very passionate about it years ago when I was doing it.
"I had maintained a healthy lifestyle, done a lot of hand cycling in my years out of wheelchair racing, and basically from that point, I went out to the garage, got out the old race chair and put my butt into it."
In the four years since, she has dominated wheelchair racing on the track and in the marathon. She won silver in the marathon at the 2018 Commonwealth Games, and claimed bronze in the 800m T54 in Dubai, UAE, last year; the latter sealed her fate as a 2020 Paralympian.
But the Aussie admits there was hard work, much preparation and support that helped her get to this point.
"When I pulled out that chair that day, the girls immediately said, 'Oh yay, Mum's going to Tokyo,' and I'm thinking 'Oh god, hold your horses.'
"Quickly we set a goal, and I say, 'we' set a goal because it was most certainly a team effort between my husband and my children and my family, and my friends, and my neighbours, and all those wonderful people that contributed to actually getting me to the Commonwealth Games."
Life now looks very different to making her comeback at the Commonwealth Games, let along four years ago watching the Paralympics on television.
"Being a 30-something-year-old veteran athlete coming back in the game, takes a lot of people asking me if I want them to pick the kids up from school, or asking if they could handle something for me," she said.
"It took me a while to say 'yes, and say that would be awesome. I'd really appreciate your help.' But when I was actually able to race the Commonwealth Games and come down to the finish and see my children in the crowd, it made everything worth while.
"It gave me that drive to say, well, if this was even possible, which 18 months beforehand seemed like the most wild and crazy dream that possibly could have dreamed up, well why not take it further?"
Pushing herself comes as naturally as pushing her chair. As recently as a few weeks ago, she and her coach Fred Periac simulated her full race schedule for the Tokyo Paralympic Games.
"And that included the actual session time," she said.
"We were pushing sometimes in the evening and sometimes in the morning, and just tried to follow it as closely as possible, to try and work out how to best execute the warm-ups, how it was all going to come off and how we wanted to play it out. It was a really important to work out where I'm at and what's going to work best in Tokyo next year."
As she 'competed' using rollers, Ault-Connell is not using her times as a benchmark, but she made sure that whatever she did in her semi-final race, she improved upon in the final.
"I was able to do that in all of my events. I took a lot of positives away from that exercise.
"There were lots of waking up times, travel times to go to marshalling. Just trying to emulate that week as much as possible, including eating times before racing, and all those things you don't really think about in your daily training environment."
As for planning the years that follow, Ault-Connell feels she has proved so much to herself, her age is not going to be a barrier for extending her career she started nearly 20 years ago.
"What has happened over the last couple of years, we've really tried to push what we thought was going to be possible," she said
"Now being nearly 40 and coming back to race, and getting towards the pointy end of things is exciting, but people are saying 'Oh, so you're going to finish up after Tokyo?'
 "I can most certainly say that at this point, short of some sort of catastrophic injury, I very much intend to still be racing the Commonwealth Games in Birmingham in 2022, and then onto Paris in 2024. Then after Paris…
"My eldest daughter is a very keen long jumper and her goal is to get to the 2028 Olympics in LA," she said. "She's dead set. 'Mum, we both have to be there. You have to do the Paralympics and I'll have to do the Olympics.' That'd be pretty darn amazing, I won't lie. It's an incentive to keep going and growing."