Haruka Hirose finds motivation from wife ahead of home Tokyo 2020 Paralympics
Japanese judoka masters art of balancing 'spirit, technique and body'
02 Aug 2020
Imagen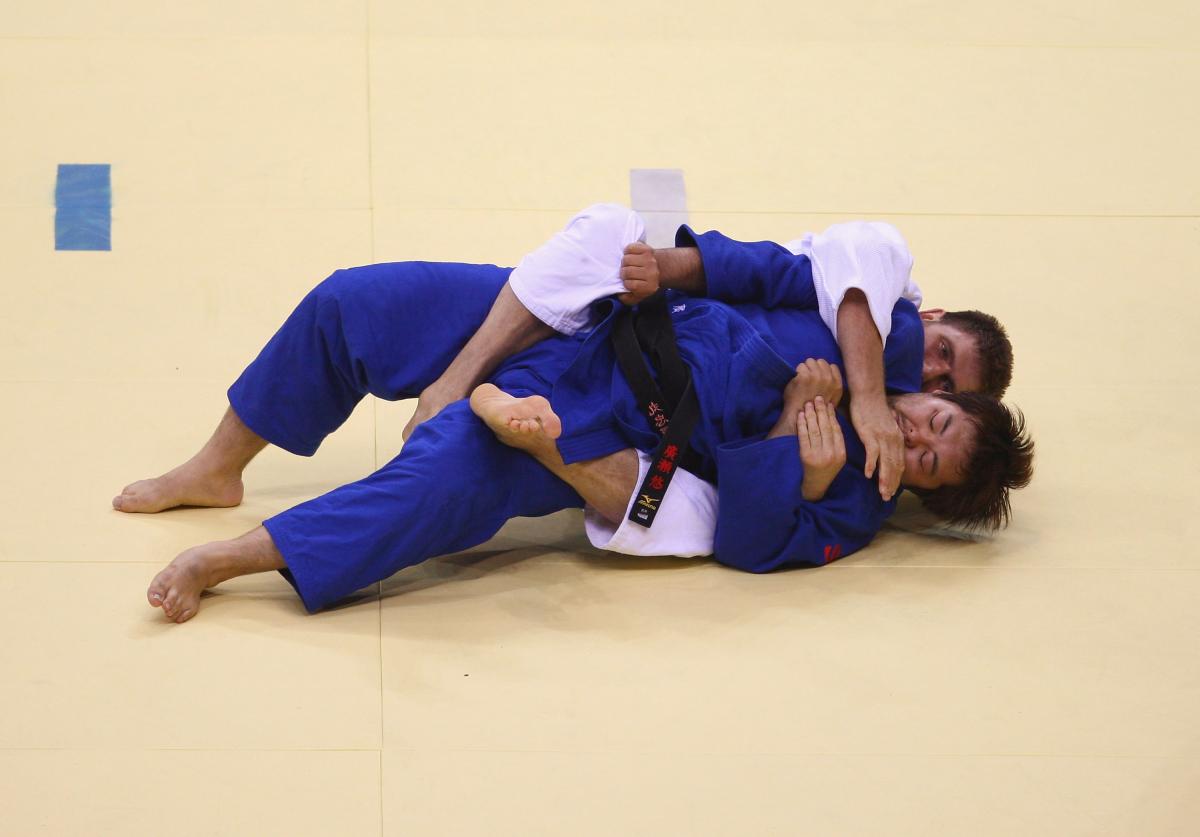 ⒸGetty Images
By IBSA
Japan's judoka Haruka Hirose is not your average judoka.
As one half of a judo partnership with his Paralympic bronze medallist wife Junko, Hirose lives and breathes the sport.
In 2021 the pair will compete in their home country - and the birthplace of judo - at the Tokyo 2020 Paralympic Games. He said their preparation involves more than hitting the mat. 
"Spirit, technique, body, luck and love," he replied when asked what it takes to win big.
"Spirit, technique and body are trained in everyday practice.  I pray for my luck and in love I work on deepening my relationships with Junko and many other important friends.  In total, it's hard work in all these aspects."
He recognised the impact that Junko has on his motivation and desire to improve his technique.
"She always tells me that my rivals are working hard and that I need to work even harder to catch up with them.  She always reminds me that we should cherish the present time as time cannot be recovered."
Hirose competes in the men's up to 90kg category, and added that the focus is very much on helping Junko to reach the top; she finished with silver at the 2018 World Championships in the women's up to 57kg.
"I believe Junko can reach gold medal and as her coach, I will make sure to do so.  Based on my past record, gold is not my goal but I would like to win as many matches as possible so my friends can enjoy more.
"We have been studying her rivals.  Also, for blind judo, power means a lot.  Therefore, we have been strengthening Junko so she can beat anyone at the match."
Hirose started judo as a hobby long before he competed for his country. Everything changed when Tokyo was selected as the hosts for 2020. He said it encouraged corporations to recognise and support Paralympians, and helped the public and employers to realise that people with disabilities should be treated equally.
"I felt judo can be my career then," he said. "Tokyo 2020 Games helped make a huge awareness shift in people's knowledge about Para sports and disability in general."
While the judo community waits to hear when the next competition will be following a series of COVID-19 related cancellations, Haruka and Junko have been keeping each other motivated.
They run and train together as well as watching animations likes Naruto and Baruto. In addition to judo their joint love of Manga brings them together.
Their coach has told them to move on from this year and think positively, treating the postponement of Tokyo 2020 as one extra year to improve.
"In order to be better at judo, there are many things we can do now.  So, we think and work.  We do whatever we should do to be better than the day before," Hirose concluded.