I still have this gift, so I am not done yet: South African star Anrune Weyers
'I came to realise that [the postponement] is not about me. It's so much more. It's people's lives'
11 Jun 2020
Imagen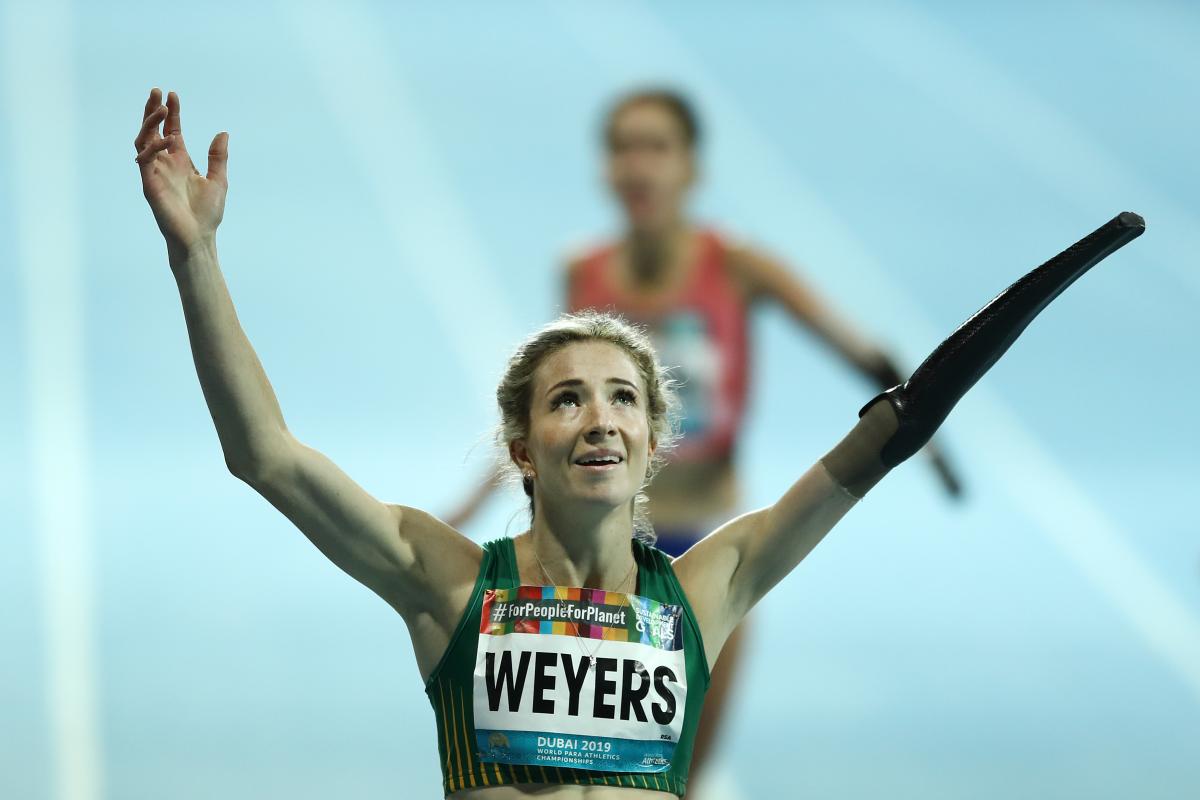 ⒸBryn Lennon/Getty Images
By Tokyo 2020
Two-time Paralympian and World Champion from South Africa Anrune Weyers is more ready than ever to take on Tokyo. She will be running armed with her faith and a special mission to raise awareness about the plight of Para athletes in her country.
After her multiple victories in the 2019 Dubai World Championships, Weyers was ready to round up her professional career at the Tokyo 2020 Paralympic Games, retire and start a family.
"It was to be my last Games. I didn't voice it to media, but praying about it and having the time [of being] at home, just made me realise that I'm still super excited to run, I still have the fire. I still have this gift so I'm not done yet."
Tokyo 2020 will be her third Paralympic Games, and even if there is one more year wait, Weyers knows in her heart that the Games will be as special.
"I came to realise that [the postponement] is not about me. It's so much more. It's people's lives. But knowing that I can be part of something that is going to be magical next year – the Olympic and Paralympic Games will be amazing," she told Tokyo 2020.
So will it be her last Games?
"We will see what life gives after the Games. I am going to take it day by day," the 27-year-old athlete said.
A Paralympian at heart

Weyers was born with a congenital defect in her left arm, and was picked on.
"I was bullied quite a lot for not having a hand. I was the 'girl-with-no-hand'. But running helped me to develop the person I was, the character that I was, and I think that was God's plan for me as a person."
Realising that running is her life's purpose, she took up athletics seriously in 2010 and in just a span of two years, the then 19-year-old athlete made her debut at the biggest sporting event of the world, the London 2012 Paralympic Games.
The young Weyers gave a stellar performance in London, coming away with a silver and a bronze. But apart from the medals, the runner will always remember London 2012 not just for being her first Games but for what it stood for.
"I couldn't believe that there are so many different disabilities. It made me excited to know that I'm privileged to be a part of that. It's actually empowering [athletes] to be the best they can be."
The Games attracted more than 4,237 athletes from 160 countries and was dubbed then as the "greatest Paralympic Games ever" - setting a benchmark for future Games.
Crisis and faith

In her second appearance at the Games, it was altogether a different experience. Weyers had two knee operations prior to Rio 2016 and had to summon all her power in the final metres of the 400m. Earlier, she was leading the pack but struggled to maintain her momentum.
Eventually, Li Lu from China zoomed past her and won the coveted gold medal.
"That race kind of broke me. It was really tough, and I could see my competitor from China and she passed me, and I couldn't move."
"But then it came back to me. All I ask God was just to race and I must celebrate this for what it is."


Weyers ended up with a silver which was still a cause for celebration but when the high from the Games waned, she found it tough to deal with the injuries.
However, with the support of her husband and the people around her, Weyers took it day-by-day and has gradually been able to make a recovery in both body and spirit. Weyers relied on her faith to get through this ordeal.
"I personally think injuries shape you as well. Because you learn more and more about yourself and you spend time with God."
Weyers, formerly Lienberg, also credits her marriage for helping her bounce back.
"When I got married it also changed me. I am the best version that I can be and I'm still excited to grow on the track and off the track with my husband on our journey that we have," she said.
With a renewed spirit, Weyers gave a showstopping performance at the Dubai World Championships where she won a historic gold for South Africa in 400m T47 plus a silver in 200m and a bronze in 100m - reaching personal bests.
And all these multiple achievements in just one World Championship.
"It is incredible to have the privilege to race the three races that I worked for, starting disability sports in 2010 and building that to 2019," Weyers recalled whilst fighting back tears.
The fact that Weyers is now only able to train a few hours a day due to restrictions in her home country, makes her all the more appreciative of her past accomplishments and fuels her burning desire to get back on the track.
And this all the more makes her excited for Tokyo.
I'm going to embrace it. I'm going to take it on. If injury comes, it's okay, look up yourself, you will end up being on path or the plan that you need to be without injury or without it.
She is also looking to chase her mother's record in the 400m T54 at Tokyo - which she has been postponing for years. She will also try to go for her first Paralympic gold.
But win or not, when she steps on the track next year, Weyers knows it's part of fulfilling her destiny.
"I really believe God gave me a gift and that's the gift of running. I feel like I am meaning to do this, it's almost like - this is what you need to do. This is your plan - that you need to run."
For South Africa and beyond

Next year, the Republic of South Africa will be sending the biggest Olympic and Paralympic delegation since Beijing 2008. And if the qualification procedures are maintained, 101 athletes are already confirmed for nine sports.
"I am happy that we are all going. Like Nelson Mandela said, sport can unite people and bring them together. I also trust that sport can bring people and help them overcome challenges."
Apart from making her country proud, Weyers believes that she must carry another mission: to raise awareness and advocate for more representation for Para athletes in the Republic of South Africa.
"I believe that people relate a lot to people overcoming challenges. I think we're actually marketable - I feel I'm marketable. But in South Africa, we've been struggling because we're not seen as marketable, which is something that I believe I have."
"I would love people to come aboard and invest and make a partnership with [athletes]. Let's help each other to get to our dream."
Weyers also wants Paralympians to be celebrated the same way as their Olympic counterparts.
"I really hope that Paralympics is seen as the same as Olympics and not just an afterthought."
We do the same, we do exactly what they do just in a different way. And I really hope that we are really equal because that's what Paralympics is - it's parallel to the Olympics.