India's Sumit Antil aims to compete in Olympics and Paralympics in Paris
"I'm confident of throwing between 75 to 80m and that should be enough to compete amongst the able-bodied athletes"
30 Aug 2021
Imagen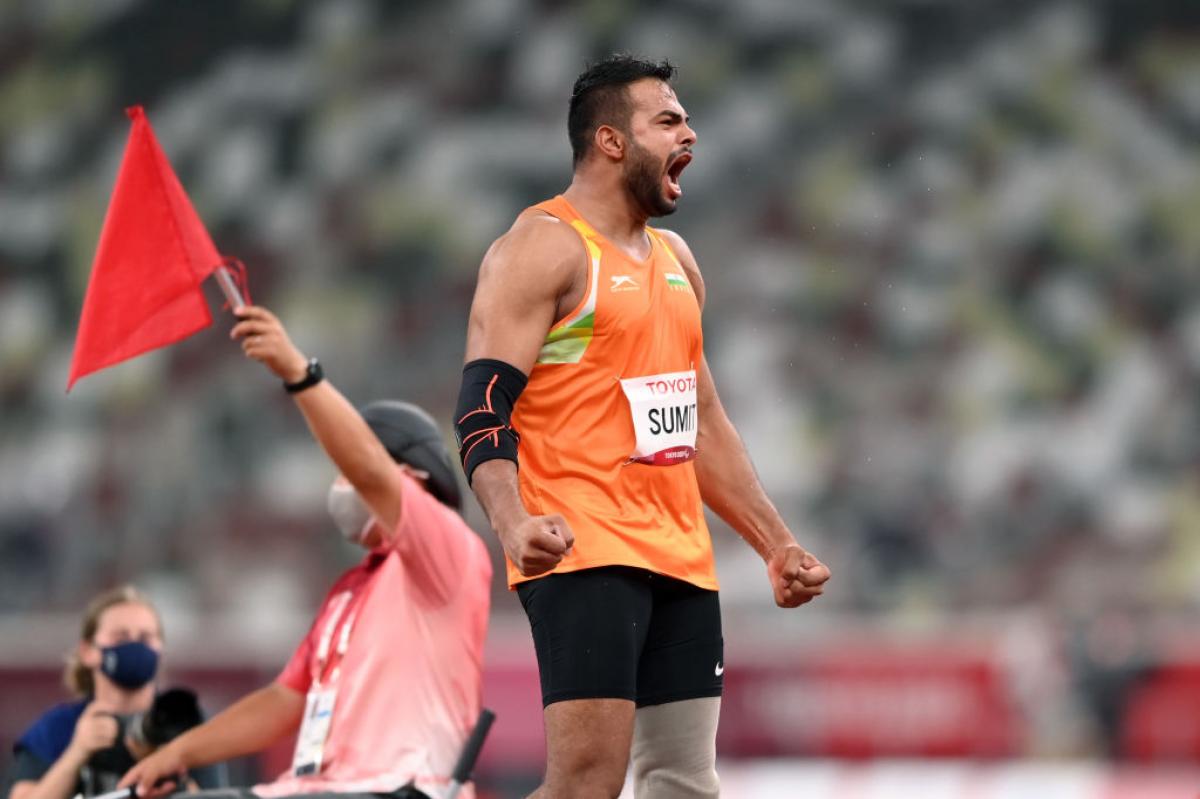 ⒸAlex Davidson / Getty Images
By ND Prashant I For the IPC
India's Sumit Antil clinched gold in the men's javelin F64 at the Tokyo 2020 Paralympics with a new World record throw of 68.55m.
The 23-year-old smashed the world record not once, not twice, but thrice during the final at the Olympic Stadium.
A jubilant Antil heralded: "Don't be surprised to see me at Paris 2024 taking part in both Olympic and Paralympics. That's my dream." 
Antil was in the zone straight away as he threw 66.95m in his first attempt to set the new World record, before bettering it with his second throw and again in his fifth attempt to set a new milestone of 68.55m.
"I'm confident of throwing between 75 to 80m and that should be enough to compete amongst the able-bodied athletes. I will be trying to do that for sure and then build my confidence," said the 23-year-old, whose compatriot Sandeep Chaudhary finished fourth in the event, with a best throw of 62.20m.
The conditions were extremely hot and humid but Antil never looked in any sort of bother. He attributed the success to the hours of training he put in ahead of the Games.
"During the pandemic, everything was shut and I took special permission from the Sports Authority of India to train.I prepared for all conditions - hot, wet and even trained late nights. The preparations was really good," said Antil, hoping that his success will land him a job soon.
"Currently, I'm unemployed and doing training full time but I hope I will get a job after this. Let's see what happens when I return to India."
SILVER FOR JHAJHARIA, BRONZE FOR GURJAR
Earlier, in the day, India's ace javelin thrower Devendra Jhajharia clinched silver and immediately longed to return home at the earliest.
"Can't ask for more as I'm winning my third medal at the Paralympic Games," said Jhajharia about his medal from the men's javelin F46. "It's a silver but I'm really happy. I can't wait to hand it over to my daughter. All I manage to do is talk to her over the phone.
"In the last seven months, I have met her once and only twice in two years. Such has been my tight training schedule and COVID-19 also made it impossible to travel. I was stuck in Gujarat and my daughter is in Jaipur and we are missing each other so much. Can't wait to meet her," said the 40-year-old, who is already India's greatest Paralympian after winning gold medals at the 2004 and 2016 Games.
Jhajharia started the event with two forgettable throws of 60m mark but made amends with his third throw of 64.35m, a personal best, reigniting hopes of a medal. However, with two back-to-back foul throws and with a 61.23m in the final, his gold medal hopes ended.

His rival and good friend from Sri Lanka Dinesh Priyantha Herath claimed his country's maiden Paralympic gold with a record throw of 67.79m, while countrymate Sundar Singh Gurjar won the bronze with his best throw of 64.01m.
"The conditions were really testing with so much heat and humidity. I'm still grasping for breath. The performance still has been good. After those ordinary first two throws, I didn't lose my concentration and want to keep my focus going. My experience helped me to get back into the contest and my third throw was good," said Jhajharia.
He was all praise for Herath, having played second fiddle to the former at the 2019 World Championships in Dubai.
"The rivalry is fierce, but he is my best friend. I'm so so proud and happy for him. When I have some niggle or something, he will apply spray and take care of me, and I do the same. We share a very strong bond," said Jhajharia, acknowledging that the success of Neeraj Chopra had triggered a lot of excitement around the sport of javelin and they were in the hot seat heading to Tokyo.
"Yes, Chopra's gold at the Olympics put the onus on us to perform and I'm happy that we got two medals. We were so excited after Chopra's win but there was no pressure as such," revealed Jhajharia.
Twenty-five-year-old Gurjar, who lost his left hand in 2015 after a metal sheet fell on him at his friend's house, speaking about his bronze medal performance said:
"Nothing is more special than winning a Paralympic medal. I want to thank Mahavir Saini my coach. I started slowly but managed to get the 64m mark in the fifth attempt and that was special. My next goal is to do well in the Asian Games."
The Jaipur-based Para athlete had won gold in the 2017 and 2019 World Para Athletics Championships. He has also won a silver in the 2018 Asian Para Games.
YOGESH KATHYNIYA CLAIMS SILVER
Another silver for India came in the men's discus throw F56 with Yogesh Kathuniya registered his season-best attempt of 44.38 in the men's F56 final.
Yogesh threw 44.38 in his sixth and final attempt to take up the top spot before Claudiney Batista of Brazil fired 44.57 in his first attempt to dethrone the Indian athlete.