Shooting athlete Avani Lekhara enters history books with gold
"I can't describe this feeling, I'm feeling like I'm on top of the world. It's unexplainable"
30 Aug 2021
Imagen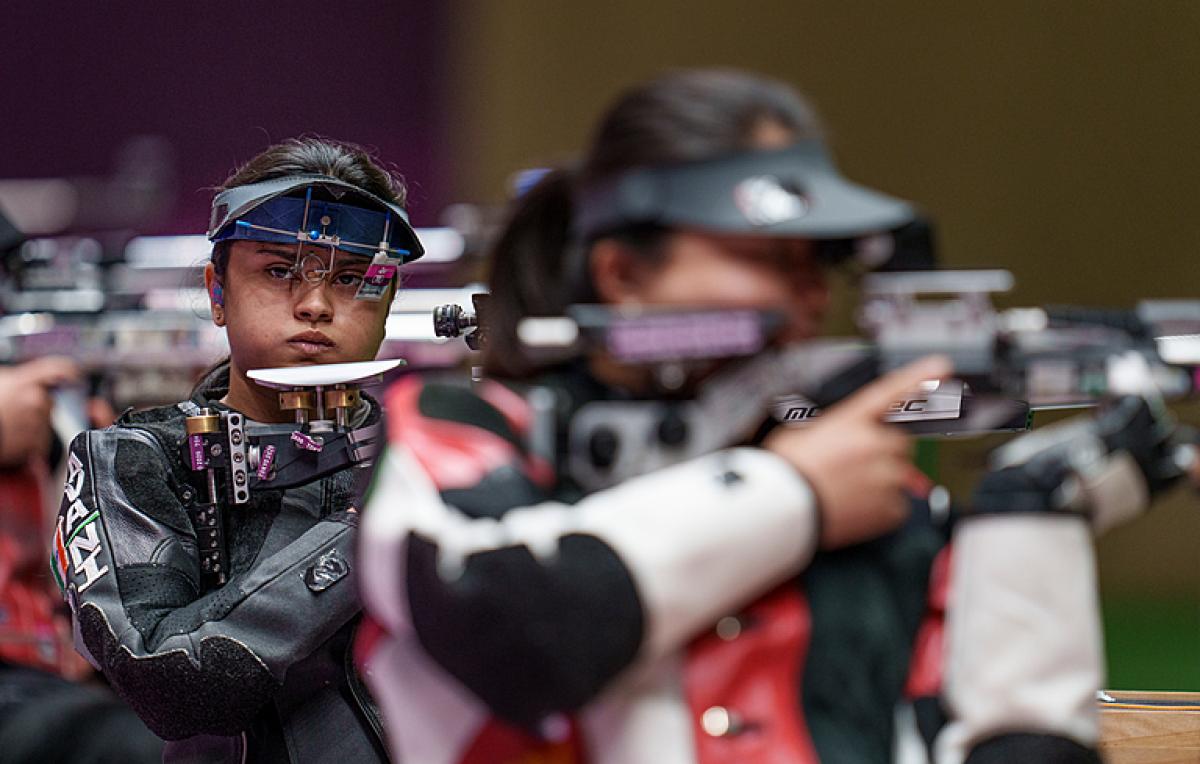 ⒸOIS
By ND Prashant I For the IPC
Nineteen-year-old Avani Lekhara become the first Indian woman to win a gold medal at the Paralympic Games on 30 August. 
Avani bagged gold in the R2 (women's 10m air rifle SH1) with a world record score of 249.6 at the Asaka Shooting Range. This was also India's first medal in shooting in the Paralympic Games.
"I can't describe this feeling, I'm feeling like I'm on top of the world. It's unexplainable," she said. "I'm so happy I could be the one to contribute it. Hopefully there's a lot of medals more to come." 
Rio 2016 silver medalist Cuiping Zhang of China again settled for silver, while Ukraine's Iryna Shchetnik finished with a total of 227.5 for bronze.
On Sunday, Bhavina Patel had also turned a new chapter in history with her silver medal winning performance in Para table tennis player at Tokyo.
She started the final on the seventh spot but then came up with some precision shooting to bypass seven athletes in the first elimination series. From then on it was Avani all the way till the end.
"I was just saying one thing, that I have to take one shot at a time. There is nothing else that matters now, just take one shot at a time and just finish it.
"I just think that I have to follow the process. Beyond that, I try not to think about the score or the medal tally," revealed Lekhara, a law student of Rajasthan University.
Lekhara sustained spinal cord injuries in a car accident in 2012, and picked up the sport in 2015.
"One summer vacations, my father took me to the shooting range. I fired some shots and they were pretty OK. So, I just started as a hobby, and here I am," reveals Lekhara adding that she feels "very homely" when she lifts a rifle.
"I feel a connection towards it. When you have to focus and the consistency, that's what I like about shooting."
Lekhara was not in the best of shape coming into the Games. The COVID-19 situation had disrupted her physiotherapy routine.
"With a spinal cord disability, I don't have any feeling below my waist. I still need to exercise my legs every day.
"I used to have a physio who would come to my home daily to help me exercise and stretch my legs," Avani had said in the run-up to the Games.
Silver medalist Cuiping Zhang said that she tried her level best to keep up with Lekhara but the latter was too strong on the day.
"I tried to close the gap with Lekhara and gave my best in the final shot. I'm happy, but I can do more."
Ukranian Iryna Shchetnik was choking with emotion as it was her first Paralympic medal.
"I feel very emotional about this medal because it's my first Paralympic medal," said Shchetnik, who also felt that shooting Para sport was growing and the competition was getting more challenging.
"You can see also there's kind of a change of generations, because before Veronika Vadovicova was always on top, but nowadays you can see that athletes from China, from India and also Ukraine are among the medalists.
"So there's an evolution in attitude to training and performances. It's good for the sport."
India's Chief National coach J.P. Nautiyal felt that the gold from Avani was well deserving. "She has done exactly what we have been doing in the training, and followed the process. She has definitely set an example for the upcoming shooters in the country. I don't tell the players to go out and win a medal but to give their best in every shot and that can together produce great result.
"Certainly, Avani has matured as a player. Now she knows what is best and how to achieve it. She knows that if you have to reach the top, it would be through only hard work, hard work and hard work."