From Sundhiya village to Tokyo – Bhavinaben Patel's struggle is now laced with silver
On the occasion of India's National Sports Day, Patel creates history
29 Aug 2021
Imagen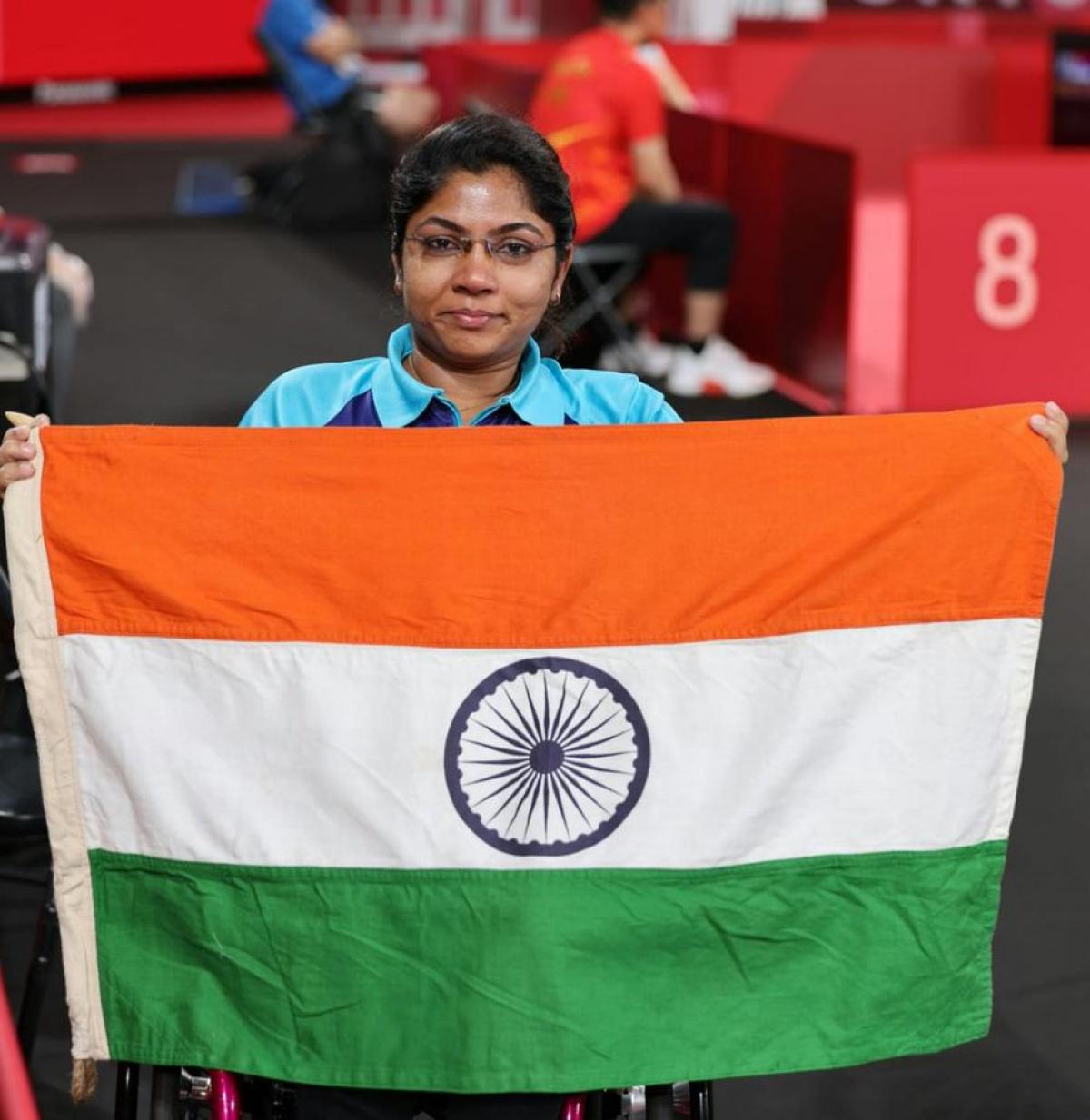 ⒸPCI
By ND Prashant I For the IPC
Shabash! Shabash! (Well done! Well done!) kept reverberating at the Tokyo Metropolitan Gymnasium Stadium on 29 August, as Bhavinaben Hasmukhbhai Patel rallied for each point against Ying Zhou of China in the women's singles class 4 gold medal match.
Behind the voice was her husband Nikul Patel, who was vociferously trying to egg his wife on to weather the onslaught from her Chinese opponent Zhou, who had much of the fire power to clinch gold in straight games 11-7, 11-5, 11-6.
However, for the country of 1.3 billion where medal haul at major events like the Games have come in a trickle, these are times of change. 
Patel's silver on the occasion of National Sports Day in India was the perfect recipe that could trigger a movement for people with disabilities where accessibility and support is a major issue.  
The phones immediately started ringing non-stop for the Paralympic Committee of India officials, who were seen trying to outwit each other to grab a piece of Patel for media sound bites.   
For a woman coming from a small sleepy village Sundhiya in Vadnagar Taluka in Mahesana District of Gujarat state, this success is a fairytale laced with nothing but hardwork and the will to excel.
"I'm extremely delighted to win a medal but also a bit disappointed as well. I got a bit nervous," said Patel, who has lost out to the same opponent in the league fixture, as well.
"I can only assure you that next time I meet her you will see a different me. She clearly got the better of me and had all the shots in her book to outsmart by effort. However, this medal will go a long way I can assure you that.
"More importantly, I have set and example for the people with disabilities that nothing is impossible," said Patel, also had a point to prove to her detractors.
Five years ago, bureaucracy had played a part in Patel missing the ticket to the Rio 2016 Paralympics and she was completely shattered.
"It took her over three months to get over it," recalled husband Nikul, adding in the same breath that, she has not seen a strong-willed woman like his wife and that is what attracted him to her.
"We have been married for four years and I'm saying she is much more stronger than me. There was an issue with her papers and it couldn't make it in time to the International Table Tennis Federation and she missed the opportunity. We both were devastated to say the least. I'm amazed the way Bhavina kept herself motivated," said Nikul.
Patel too felt that it was a blessing in disguise to miss out on Rio. "Had that not happened, probably I would not have been here with a medal. I want to tell all the ladies out there trying to break away the stereotypes to believe in themselves and just go for it," said Patel, who also appealed to the government of India to provide more opportunity for persons with a disability.
"What I went through growing up, I don't want the next generation of people with disability to suffer. Accessibility is a major issue and so is jobs and other opportunities. If my medal can somehow make the right noise and get people at the helm of affairs to be heard, I will be more than happy. I know it would happen as millions were praying for me back home, thanks for all their support."
Paralympic Committee of India President Deepa Malik too was elated with the effort.
"From one wheelchair silver medallist to another. I won at Rio and here too a woman athlete has got the first silver for the country. It is a huge moment for all of us to cherish.
"She will be a huge role model for women empowerment and gender equality. There is so much that a medal in sport can change. Kudos to her and more power to women in India," said Malik.  
Zhou was also all praise for Patel saying: "You might be thinking the match was easy but it was a tough contest. I had really prepared well for this game and had worked really hard. Every time I play against her it is a different contest. I'm really delighted for her and for myself. There will be more rivalries to come between us and I'm looking forward to that challenge."
FACT FILE
1. Born on 6 November 1986, everything was going smoothly until she was 12 months when it was discovered that she was suffering from poliomyelitis. Her family stays at a small village in Gujarat and the family of five - her mother, father, brother, sister, and herself - did not have the means to get her treated properly and the infection impacted the lower part of her body.
2. When she was in grade 4, her parents got surgery done on her to treat her impairment but Patel was negligent and did not follow the exercise regime prescribed by the doctor. Her impairment worsened and by the time she completed her 12th grade in her village, the impact of the surgery was lost.
3. For further education and to learn some vocational skills, Patel's father in 2004 got her enrolled in the Blind People's Association, a non-governmental agency in the state capital Ahmedabad that works for the welfare of the disabled.
4. Patel's life changed here as she not only completed a course in computers but also was introduced to table tennis as a means to maintain her fitness.
5. The supervision of the Blind People's Association introduced her to table tennis coach Lalan Doshi and the rest as they say is history. It was Tejalben Lakhia, the supervisor of the Blind People's Association, and coach Doshi who motivated her to take up table tennis as her fitness regime and soon table tennis became her passion.