For Ukraine's Iryna Shchetnik, it's about character, not competition
Competing at her first Paralympic Games, the World and European champion aims to set personal bests at Tokyo
07 Aug 2021
Imagen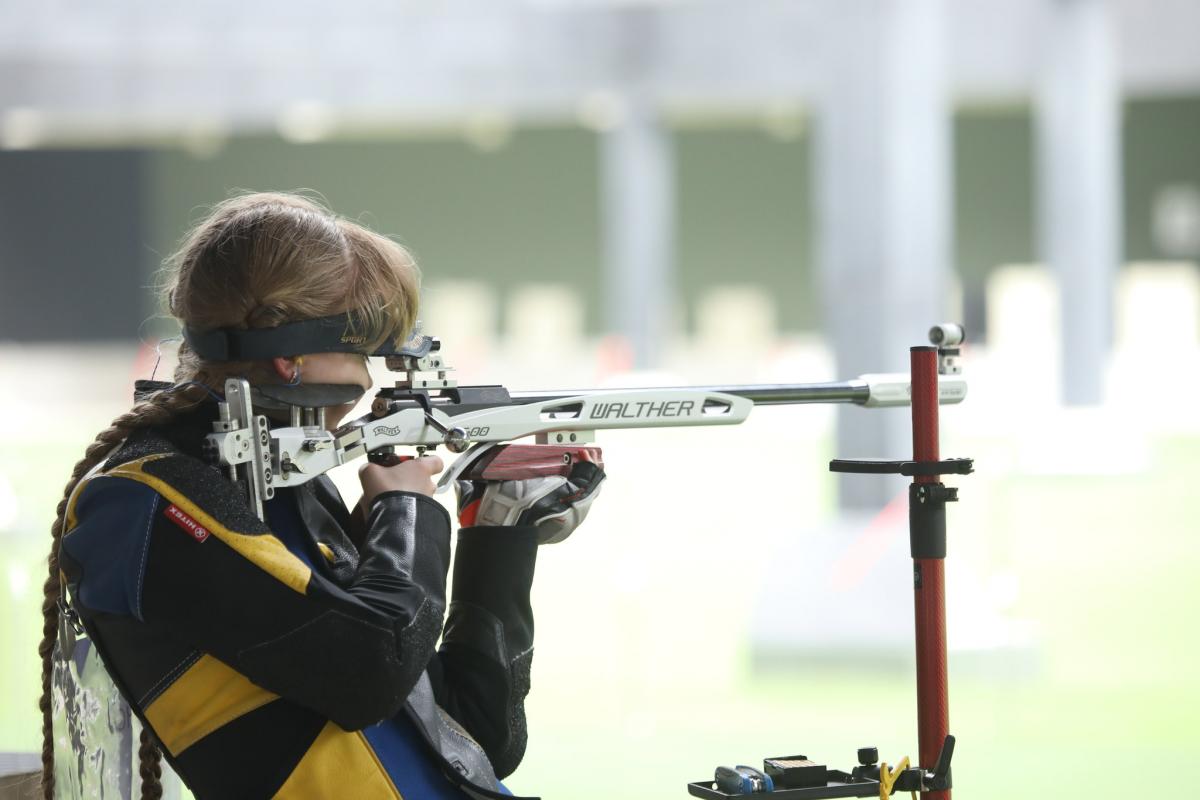 ⒸANPPeru
By Lee Reaney | For the IPC
There are few athletes in the world better with a rifle in their hands than Ukraine's Iryna Shchetnik.
She burst onto the scene in 2018 to pick up her first European title in the R2 (women's 10m air rifle standing SH1) in a stunning fashion, setting a World record on her way to besting Slovakian legend Veronika Vadovicova.
"It's not about who you beat personally", said Shchetnik, adding, "It's not about the person, but the result. We don't struggle between athletes – we struggle for our own results!"
That's why she's setting her sights on personal bests at her first Paralympic Games.
"Shooting stands out among other sports in that the struggle is within the athlete, first of all, and then with external factors … Any improvement of my results is the feeling of victory."
Of course, when you are the World record holder, personal bests mean Paralympic records – and the gold medals that come along with them. But that is secondary for Shchetnik.
She showed she's a threat for several medals in Tokyo by picking up the full collection at last week's World Cup event in Novi Sad, Serbia. She won gold in the R2 10m Standing SH1, silver in the R8 50m 3 Positions SH1, and bronze in the R3 10m Prone SH1, narrowly missing out on another by finishing fourth in the R6 50m Prone SH1 event.
"Shooting has become a real teacher for me! It teaches concentration and endurance, which helps to build character … There is constant self-improvement."
FAMILY SUPPORT BUILDS CHAMPION CHARACTER
At just 21, this approach has already netted her remarkable results. Shchetnik has won over 50 medals, including two golds at the World Championships, and set a few World records.
She credits her success to the support she receives from her family, who she calls before competitions. She has a special connection with her father.
"Since childhood, for some reason, I have loved small arms," she said. "When my dad learned that there was a shooting complex near our house, he immediately took me there."

He has provided more than just moral support. Her father also designs and builds her equipment adaptations, including her shooting table and the chair she uses in competitions.
"Dad came up with a design that is photographed by athletes and coaches from other countries – Japan, Germany, China … Thanks to the support of my dad, I now see the results in sports."
TRAINING MAKES ONE PERFECT
Of course, it takes more than just raw talent and family support to rise to the level of World Champion. Shchetnik trains with the National Team of Ukraine – one of the world's most successful – at a sports complex in the Ukrainian resort city of Odesa.
"We often have training camps that bring together athletes from all over the country. We train daily for 4 to 8 hours, six days a week – and they can last up to three weeks."
Ukraine is a Paralympic powerhouse, finishing third on the medal table at Rio 2016. The Ukrainian Shooting Para Sport team topped the leaderboard at the last World Championships in 2019.
The success has led to substantial government sport, including through the Sports Committee of Ukraine, which allows the team to train so extensively – sometimes even abroad.
"We do lots of exercises for elasticity and breathing – which is why we're called 'the siblings of swimmers' – and, of course, we shoot."
STRIVING FOR CONSTANT IMPROVEMENT
The theme of constant improvement applies to Shchetnik outside of sport also. She is currently finishing her Bachelors degree in Languages and plans to work as an interpreter someday, which Shchetnik sees as coming in handy.
"When traveling abroad for training camps or competitions, knowledge of languages is simply a necessity."
Shchetnik can speak six languages – Ukrainian, English, French, German, Russian, and Latin. "Every athlete dreams of improving her personal result; dreams of setting their own personal record."
And what will she tell her friend and rival Vadivacova, if she were to set her own personal record and win gold in Tokyo?
"We have a very friendly relationship" she said with a smile. "We correspond, chat, congratulate each other on holidays. The main thing I want to emphasise is, that I feel proud to be part of one of the strongest shooting teams in the world!"