From Stoke Mandeville to Tokyo 2020, Issy Bailey's shooting journey
Great Britain's only pistol shooter for the Games shares how influential rehab at the birthplace of the Paralympic Movement was for her
20 Aug 2021
Imagen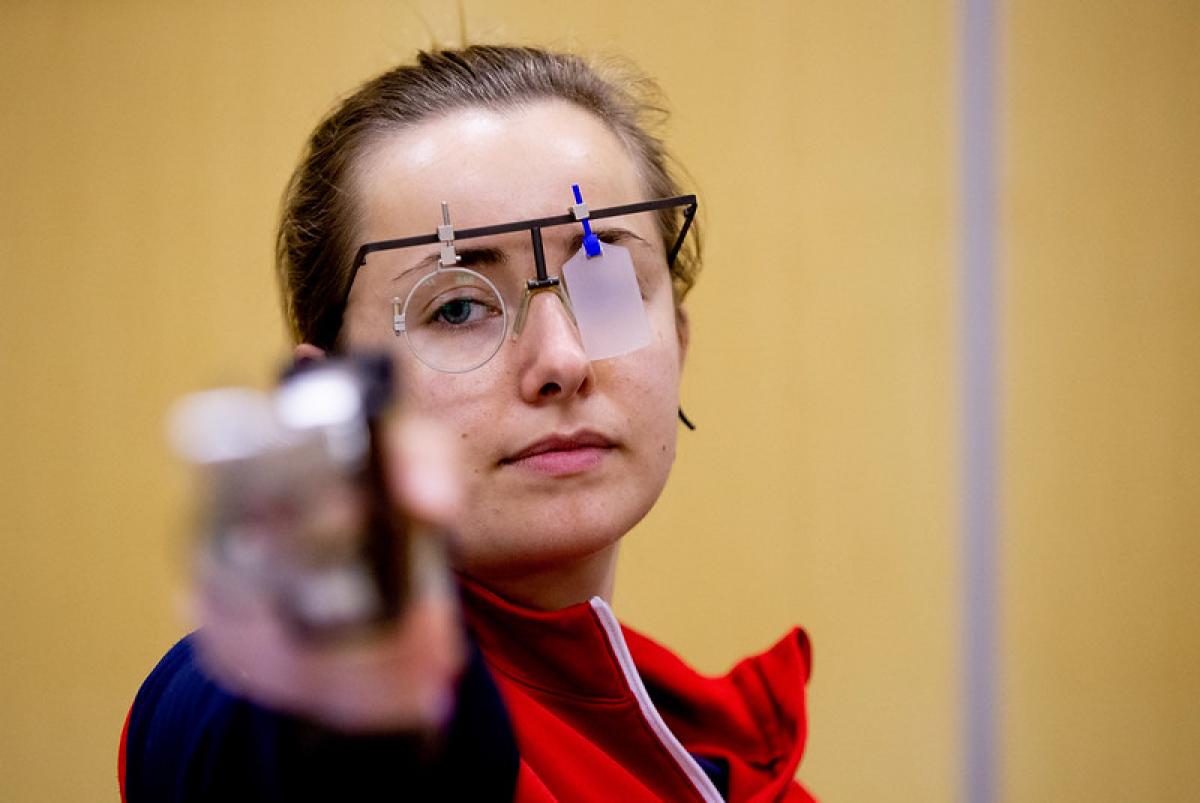 ⒸMatthew Dickens/imagecomms
By Emma Logan | For World Shooting Para Sport
Every four years, the Paralympic flame is lit in Stoke Mandeville before it travels to the host city of the Paralympic Games. A journey that holds a strong connection with British athlete Issy Bailey as she prepares for Tokyo 2020.  
Bailey was wearing the Great Britain squad jacket and competing internationally less than a year after the car accident that left her with a spinal cord injury in June 2013. 
It was during her rehabilitation that shooting Para sport was introduced to her - at none other than the birthplace of the Paralympic Movement: 
"I went to Stoke Mandeville [rehabilitation centre] and I remember being in the physio gym and seeing the posters and pictures of ex-patients who had gone through rehabilitation there and then achieved big things in sport. So I thought, 'oh wow ok, so a lot is still possible'.
"I was struggling," Bailey said after reflecting on her time following her injury. "It's really difficult to adapt to life after injury but I looked at these people on the wall and thought, if they made it through this and then did that, [becoming Paralympians] they were… I don't love the word inspirational but it did spur you on and show you what was possible.
"That was something they prided themselves on, at Stoke Mandeville, was introducing sport really early into rehab… I was really lucky, I think, that Para sport was introduced to me early on."
Call it luck or call it fate that during her rehabilitation the British shooting Para sport team were training at the Stoke Mandeville stadium. 
After a quick introduction with the pistol coach, it was evident that she had a natural ability for pistol shooting and within a few months she was competing successfully at national club level. 
"I made the score to make the Great Britain team and the next month I competed in my first international and came sixth."
A surprising choice
Whilst it wasn't unusual that Bailey took up Para sport following her accident – as she had always been a keen sportswoman – the shooting range was a surprise even to herself: 
"If you'd asked me at the time what I would have gone for it would have been something a lot more suited to what I thought I was interested in, such as is wheelchair rugby."
Having played field hockey all her life, the speed and contact, ball and team elements of wheelchair rugby appealed to Bailey.
Even though she now plays wheelchair rugby at club level, the injuries she sustained from her accident were better suited to the more "passive" style of shooting Para sport in her early rehab. 
Although played at a different pace, shooting Para sport did provide her with a great competitive outlet and more. 
"Going to shoot and be with a team of competitive people who had all at some point in their life dealt with what I was going through or worse, was a helpful headspace to be in at the time," she said.
In 2016 Bailey found herself jetting off to her first Paralympic Games on a wildcard. Now, at 27 years old and only a couple of days out to Tokyo 2020, she prepares to compete as the sole representative in pistol shooting for the ParalympicsGB squad. 
Having secured her plane ticket to the Games at the Sydney 2019 World Championships, the postponement of Tokyo 2020 has not come without its challenges, least of all a shoulder injury she sustained at the beginning of 2021 which casts a small shadow of self-doubt heading into her second Paralympics. 
Despite this, Bailey maintains a professional, competitive spirit.
 
"I'll just go out there, give it my best, leave it all on the line. If I can make the top eight then that is a massive achievement and if not, then I'll be regrouping and getting ready for next season."
Teammate and partner
Because of the COVID-19 pandemic, the Games will be held without spectators and family members. For Bailey, however, Paralympic champion Matt Skelhon is not just one of her teammates but also her partner. 
"We live together, we work together, we shoot together, we compete together so to not go to the Games together would feel pretty strange!
"I think the fact that we've both got each other [during Tokyo 2020] is a huge advantage emotionally. We won't be alone and we've got each other to lean on which is great." 
An experienced Paralympian, Skelhon has a good shot of landing a spot on the podium at his fourth Paralympics. 
"I get to travel, live and compete with my best friend," said Bailey. "He is obviously a lot more experienced than I am and I feel I can learn a lot from him."
Bailey's natural talent propelled her Para sport career which took her to all corners of the world. 
Although shooting Para sport is undoubtedly an important part of her life, "it's part of a bigger picture now," said Bailey. 
"Being a part of the Paralympic Movement, being a spokesperson for disability sport and equality of opportunities, getting messages out there to people who perhaps aren't acquainted with Paralympic sport, I think that is more important to me than the act of shooting."
Bailey will compete in the women's 10m Air pistol SH1 and the mixed 25m pistol SH1 at the Asaka Shooting Range on 31 August and 2 September.
The flame lit in Stoke Mandeville will be united to Flames from all of Japan's 47 prefectures to create a single Paralympic flame in Tokyo on Friday, 20 August.