Carmelo Milan and how to never walk alone
Uruguay's only international shooting Para sport athlete hopes qualification for Tokyo can inspire more persons with disabilities to follow his path
19 Feb 2021
Imagen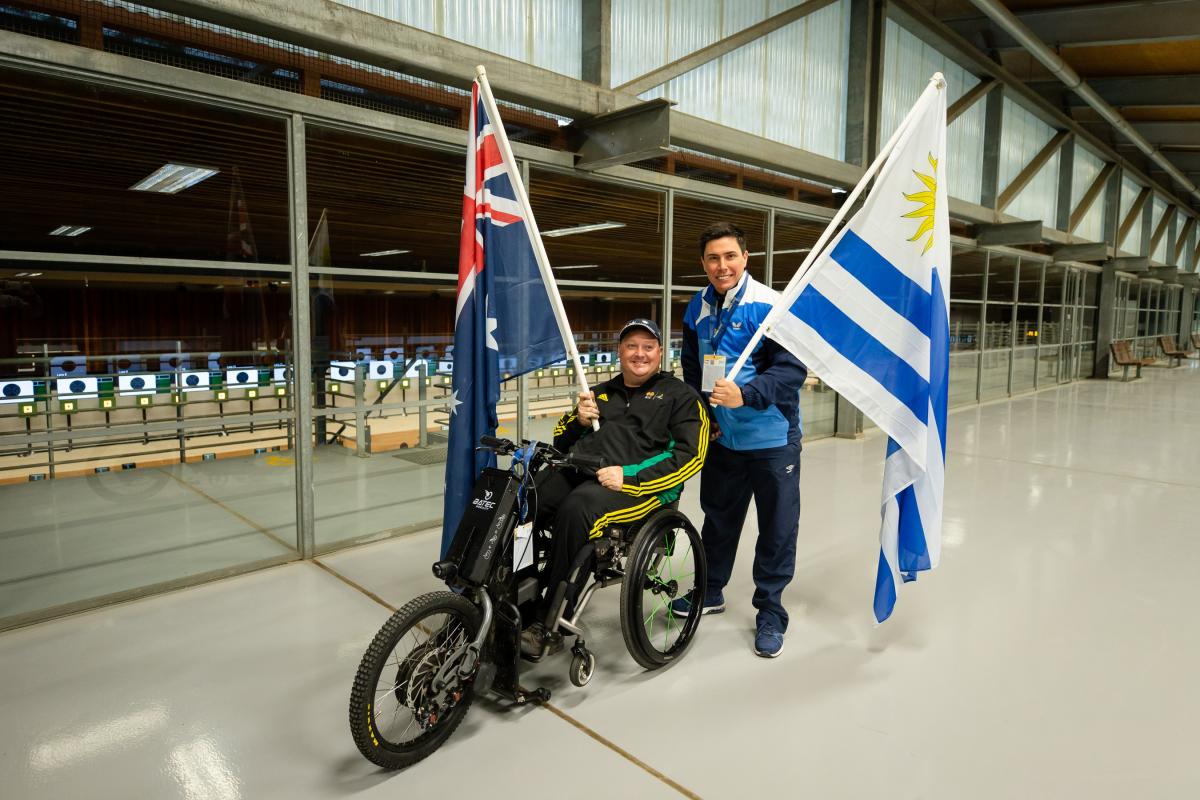 ⒸNarelle Spangher|Sydney 2019
By Sam Harris | For World Shooting Para Sport
When Carmelo Milan paraded as Uruguay's flag-bearer at the Opening Ceremony of the Lima 2019 Parapan American Games, that special moment also felt a bit unusual.
Milan's eight-year journey as the only international shooting Para sport athlete in his country has been a lonely one at times. Being part of a delegation was a new experience the shooter now hopes to repeat in August at the Tokyo 2020 Paralympics.
"I was very happy when shooting was included in the Parapan American Games. I always go alone with my coach to competitions, but to Lima I went with a group of athletes, coaches and other people from the Uruguay Paralympic Committee. It is a very enriching experience and makes you feel more united to Para athletes of different sports," said the 35-year-old shooter.
Shooting was a sport Milan was already familiar with when his life took a completely different turn in December 2005. He was involved in a motorcycle crash which resulted in him having his right leg seriously injured and losing mobility in his right arm. 
"I was a very active person before the accident, I worked as an electromechanical, studied, practiced rowing and shooting, and from one day to the next I was left with an arm without mobility and with a leg in very bad condition. After trying for three years to save it I asked to have it amputated," he said. 
"I had to re-learn to write, to walk, to look for another profession to be able to work. It was like being in a new world where every second I had to find a way to perform tasks that were once very simple to do."
While adapting to the "new life", as he call it, Milan rediscovered the passion for shooting. After two years competing with the Uruguayan Shooting Club, he made his international debut in 2013 and returned from the Brazilian Open Shooting Championship with a silver medal in a pistol P3 event. 
"The accident taught me to value life more, enjoy more simple things, have more patience and be happier. I always thank my family and friends for the support they always gave me," he said.
With shooting Para sport also came the possibility to travel around the world representing his country. In 2014, Milan took part in his first World Championships in Suhl, Germany. 
"Representing Uruguay is something beautiful, to see the flag waving in the wind in the different countries that I have gone to compete in and knowing that it is there for you, it is wonderful. It gives me a feeling of great pride and happiness. Also, for me, it is like a way to pay back all the people who have helped me in my recovery and after it." 
Since then, Milan has tried to attract more athletes to join him in his sport. 
"Unfortunately I have not had much luck in getting more people with disabilities to practice this sport. I have invited some people and lent them my competition weapons to see if they are interested in training and competing, but not having a club dedicated to people with disabilities has made it very difficult," he said. 
Lima and Sydney adventures
Convincing others to join the sport gets even more difficult when they hear about the challenges Milan faces to compete due to financial limitations. 
    
One of his more memorable competitions was the Sydney 2019 World Championships in Australia. At such a high-profile stage, athletes require a calm, stress-free build up but for Milan his preparation was anything but as he struggled to find accommodation. 
"In Sydney we got accommodation with an Uruguayan who lived there, Victor Silvera, who welcomed us and treated us as his family. If it weren't for his help it would have been impossible for us to compete. Uruguay does not have many financial resources to be able to meet all the expenses of some competitions, and we try to reduce them as much as possible in order to participate," Milan explained.
Then there were further complications upon flying back home when the airline lost his rifle. 
"That was very traumatic. It was my first competition with my rifle, in previous competitions I used borrowed air rifles. You make a very big sacrifice to buy the competition materials, you save years and you buy them little by little so that it adapts the best to you."Luckily, after a few days it appeared at the airport and I am very thankful to my friends and colleagues who helped me from their countries by pressuring the airline to find the air rifle."
Now Milan is looking forward to returning to Peru as Lima will host a World Cup in June, the last qualification event for the Tokyo 2020 Games. 
At the Parapan American Games in 2019, the Uruguayan finished fifth and sixth in the mixed 10m air rifle prone SH2 and mixed 10m air rifle standing SH2, respectively. 
"I really want to go back to Peru, improve my performance and qualify for Tokyo. It is a very nice and accessible place as it is close to Uruguay. I also want to see if the improvements I made after the experience at the World Championships in Sydney are useful to me," Milan added.
Home to 3.5 million people, Uruguay has only claimed one Paralympic medal to date, a bronze with Jorge Llerena in Para athletics in the men's 200m T10 at Atlanta 1996. If Milan fulfils his dream, he will become the first shooter to represent the country at the Paralympics. 
"Competing in the Paralympic Games would be a dream come true, it would be the reward for so much effort and work. In addition, it would make the sport more visible in Uruguay and thus perhaps we will get more athletes and support to be able to develop Paralympic shooting in Uruguay," he said.