Iran's Para snowboarders eager to script more national history at Beijing 2022
'I will never give up. My goal in the future is to inspire people who want to do great things with all their impairments.'
10 Mar 2021
Imagen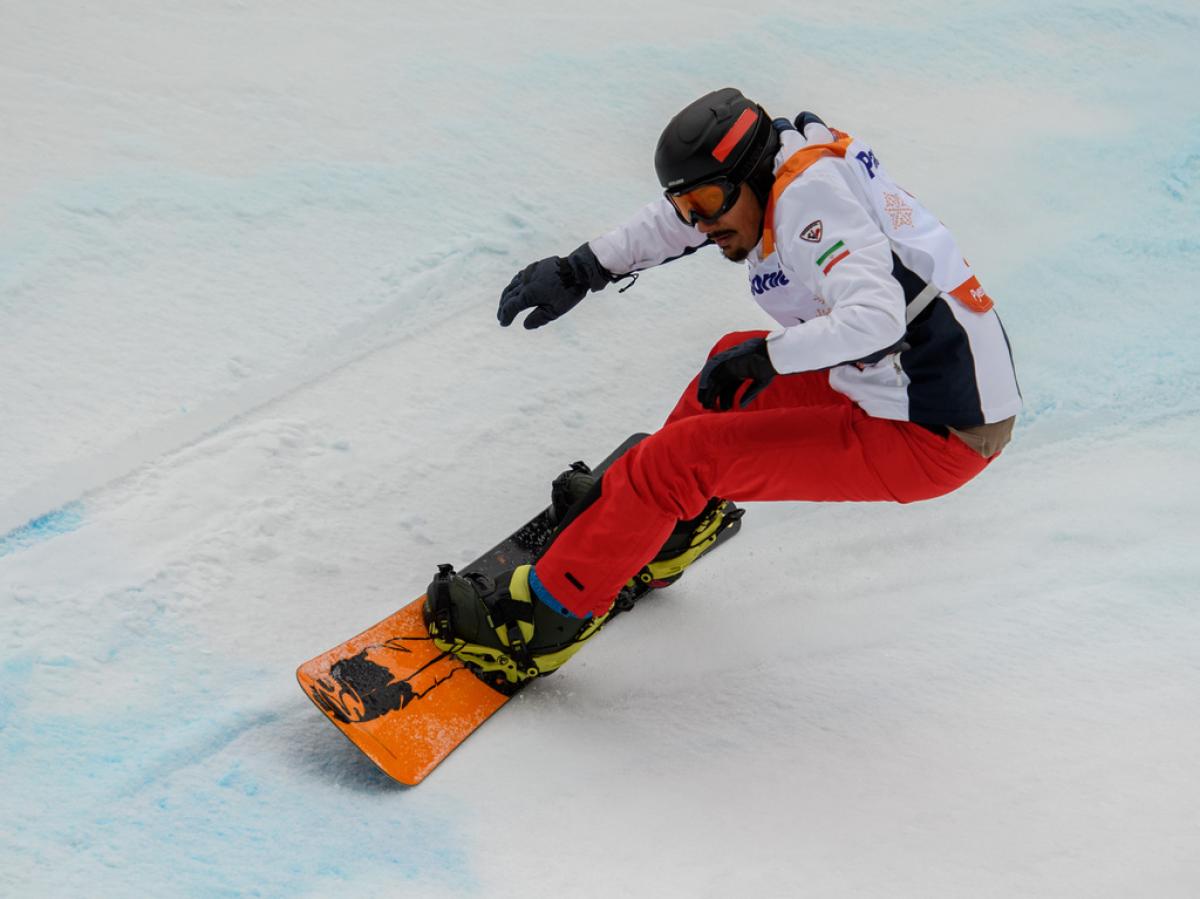 ⒸOIS Photos
By Lena Smirnova | For the IPC
Winter is a busy season for Puriya Khaliltash.
Not only is the Para snowboarder from the Islamic Republic of Iran training daily to qualify for his second Paralympic Games while balancing a full-time job as a snowboard instructor, he is also helping to design the courses that he trains on.
Khaliltash's story is just one example of the tenacious spirit shared by three sports enthusiasts who are determined to make Iran's second appearance in the Para snowboard events at the Beijing 2022 Winter Paralympic Games even more memorable than the first.
HISTORY BOOKS
Khaliltash, and fellow Iranian riders Hossein Solghani and Sedigheh Rouzbeh, made history at the PyeongChang 2018 Paralympic Winter Games where they became the first athletes to represent their country in Para snowboard.
Iran made its Paralympic Winter Games debut at Nagano 1998, but the only athlete to represent the country in 1998, as in the following four editions of the Games, was Para alpine skier Sadegh Kalhor.
In contrast, Iran's delegation at PyeongChang 2018 comprised of three Para snowboarders and two Para cross-country skiers, Aboulfazl Khatibi Mianaei in the men's standing class and Elaheh Gholi Fallah, with guide Farzaneh Rezasoltani, in the women's vision impaired.
On the Para snowboard side, Khaliltash competed in border cross and banked slalom in the men's SB-UL class. Solghani competed in both disciplines in the men's SB-LL2 class, while Rouzbeh competed in the women's SB-LL2 banked slalom.
The road to the Games was not an easy one for the three riders since they were among the first to take up Para snowboarding in their country and got little state support to grow their skills.
"It was my hardest decision when I wanted to start snowboarding," said Rouzbeh, who took up the sport in 2016. "I had to try to overcome my fears and I had to be stronger every day. Although the difficulties were getting worse, I fell in love with snowboarding more."
Khaliltash transitioned to snowboarding from skateboarding after his accident. Together with his hobbies of wakeboarding and surfing, skateboarding helped him gain confidence on snow.
"I started snowboarding competitively five years ago and before that I was a skateboarder," he said. "After I lost my hand in the accident, I realised I could compete in Paralympic competitions. Switching from skateboarding to snowboard, I didn't have any problems."
While the Iranian snowboarders did not come close to medal contention at PyeongChang 2018, their participation in the Paralympic Games still left a memorable mark.
Rouzbeh, in particular, was applauded for her gritty performance in the banked slalom race. The Iranian flagbearer injured her knees two days before she travelled to the Republic of Korea. On race day, she rode down the course at the Jeongseon Alpine Centre in obvious pain, trailing her nearest rival by nearly five minutes in the first run.
Despite this, Rouzbeh continued with the competition. She improved her second run time by three minutes and finished the race to cheers from the spectators and fellow athletes.
"After all the efforts, my knees were injured just before the Paralympic Games and I could hardly finish the race," Rouzbeh said. "It was a bad situation for me, but I wanted to go to Korea. When I crossed the finish line, I was very happy. I can't describe this moment."
COURSE TO BEIJING
Iran made a push to develop Para snow sports ahead of PyeongChang 2018. A talent identification programme was held in 2015, and in 2017, as the country's Dizin ski resort hosted World Para Alpine Skiing and World Para Snowboard events for the first time. Dizin continues to host such competitions on a regular basis to this day.
Despite growing interest in Para snow sports in Iran, training in Para snowboard is still a challenge for the country's Paralympic alumni.
With little state support and no formal team structure, Khaliltash, Solghani and Rouzbeh need to train independently in pursuit of Beijing 2022 qualification.
For Khaliltash, whose main focus at the next Games will be the snowboard cross, this means having to build his own courses so that he can improve in this discipline. He describes what he needs to his snowboarding friends who then shape the features out of snow.
"I have to make the design, nobody else does that, so I have to do that by myself," Khaliltash said. "I train almost every day in the winter, mostly at Dizin resort. Now we built a kicker here by ourselves because we don't have the opportunity to jump on anything else."
Khaliltash is determined to avoid the situation he faced in PyeongChang where a lack of training on proper courses prevented him from showing his full potential. He finished 20th in snowboard cross and 21st in banked slalom at the 2018 Paralympic Games.
"I didn't know how to represent Iran because they didn't build the cross for me," Khaliltash said. "I'm planning to design a cross [course] so I can train on it and get a better chance at the Paralympic Games."
Opportunities to train on courses outside Iran are also limited for Khaliltash. He and Solghani travel mostly to nearby competitions, such as the Asian Cup and World Cup races traditionally held in Dubai at the start of the season, but do not take part in the bigger European events.
Meanwhile, Rouzbeh faces the challenge of having to balance her training with raising two sons.
"I am training every day for Beijing, two days with a coach and the other days alone," she said. "I work hard because I have two boys and I am a mom, and then I am an athlete. Balancing my life and my sport is difficult, but I love both of them and I love challenge.
"I will never give up," Rouzbeh added. "My goal in the future is to inspire people who want to do great things with all their impairments."
All three snowboarders share this determination to persevere against the odds. With Beijing 2022 now one year away, they are focused on qualifying for the Games and hope that their participation there will draw more attention to the sport back home.
"I hope that more and more young people will come this way and the country will support us with the things we need," Khaliltash said. "I hope that they will shape something like a snowboard cross course, so that we can train, and maybe even do this before Beijing."