Montaggioni rises from 'black' days to renew pursuit of elusive Paralympic medal
French Para snowboard champion banking on brain power to succeed at Beijing 2022
10 Mar 2021
Imagen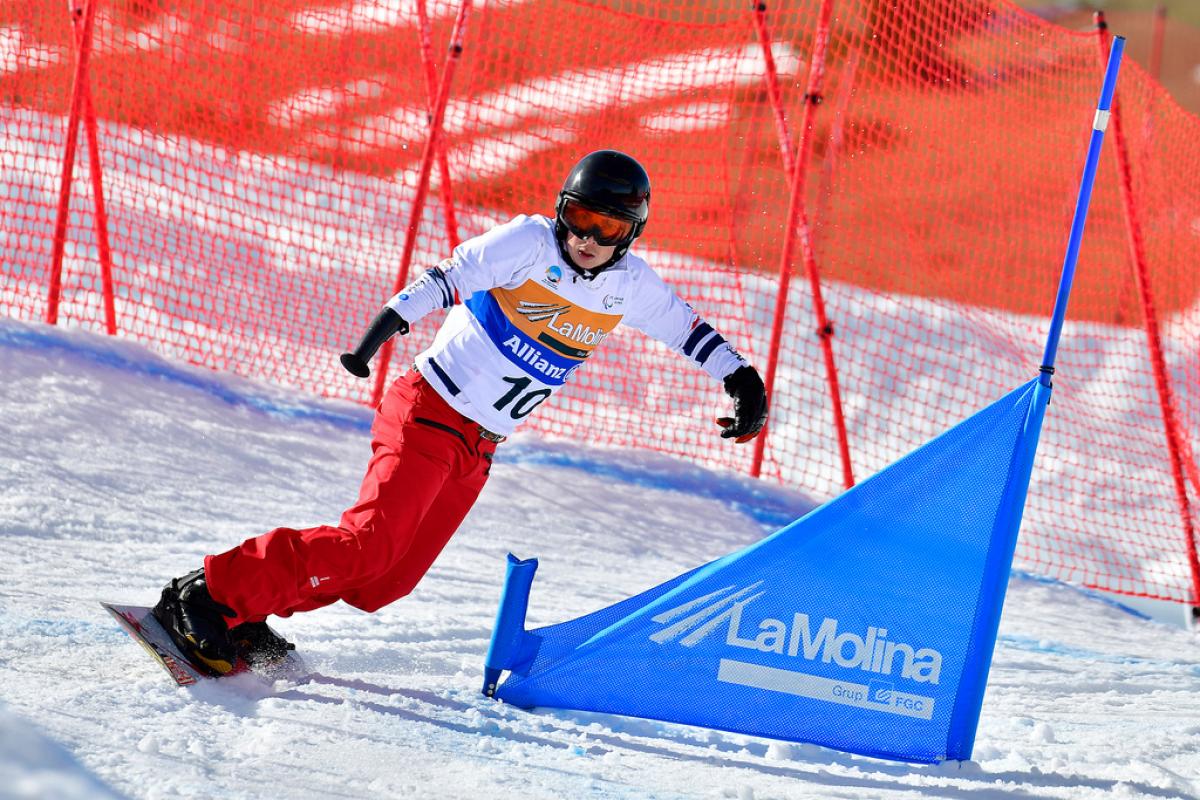 ⒸLuc Percival
By Lena Smirnova | For the IPC
As disappointing as it is for an athlete to finish below their target result, it is even more disappointing not to get the chance to compete at all.
And that's a disappointment Para snowboarder Maxime Montaggioni knows all too well.
The three-time world champion and four-time Crystal Globe winner in the men's SB-UL class was in top form when an injury took him out of the PyeongChang 2018 Paralympic Winter Games a few days before the first race.
Now the French rider is setting his sights on the 2022 Paralympic Games in Beijing where he hopes to win the one gold medal still missing from his impressive collection.
TOURIST AND PATIENT
Recalling his short stay in PyeongChang, Montaggioni jokingly sums it up as "a little bit of tourism and a visit to the hospital". This list of activities would also have included the banked slalom and snowboard cross races if not for his crash on the first day of official training.
The crash aggravated a knee injury Montaggioni sustained two weeks earlier when he overshot a jump in an able-bodied boardercross race in Andorra.
When he fell down again in PyeongChang, his first Paralympic Games were finished.
"For the training we decided to put low [knee] protection, just something to help me, but nothing very heavy. I trained once on the course and it was very good. And when I went for the second run of training, the knee just broke," Montaggioni said. "It was an emotional rollercoaster - you feel good, and in the second after you feel very bad."
Montaggioni returned home to Nice three days after the Opening Ceremony and tried to follow the Paralympic races from eight timezones away.
"I wanted to support my team but they said, 'No, you have to go home' because they didn't want my bad mood maybe affecting the other athletes, but for me it was very hard because when I came back home, I felt very alone," Montaggioni said. "After the party of the Games and all the people who take care of you all the time, you just go back home and you're alone."
In the aftermath of his ill-fated Paralympic debut, Montaggioni suffered from depression. Not only did the injury prevent the rider from competing at the Games, but it also sidelined him for almost a year.
What ultimately helped Montaggioni regain his former drive is a return to business school, three months after having his knee surgery in April.
"During the three first months after the surgery it was very complicated for me because I didn't have any objectives. It was very black in my mind," Montaggioni said. "I started to believe in myself again when I re-started my education…It helped me a lot to be confident and to project new objectives."
So much so that by the time Montaggioni returned to the World Cup circuit in February 2019, he was an even stronger and more determined version of himself.
He won two gold medals in his first, snowboard cross competition in February, and went on to win each race that he entered in the 2018-19 season with only one exception.
His comeback season culminated in the 2019 World Para Snowboard World Championships in Pyha, Finland where Montaggioni defended his banked slalom gold and won snowboard cross by the narrowest margin to the discipline's Paralympic champion, Simon Patmore of Australia.
"For me it was a real revenge on life," Montaggioni said of his golden sweep. "At the beginning I didn't know what my level was after my injury. It was a very complicated situation, but these medals made me feel very confident."
This winning momentum also carried into the 2019-20 season, which Montaggioni finished with the overall and banked slalom Crystal Globes.
A BEAUTIFUL MIND
The French rider credits his post-injury success to his new sports mentality. Whereas he previously tended to be aggressive on the course, Montaggioni has had to learn how to rely less on physical strength and more on mental power since his injury.
"It was a good challenge and I'm better now than before the surgery," he said. "Before I was very excited, so at each start I only thought to go down as fast as I can, but now I have more maturity like, 'OK, it's not a problem if you don't start first and if you are not first at the first turn. Just relax and analyse the course and your opponent'. We are doing a sport that creates a lot of mistakes so it's very important to be focused on the environment and not only me."
Montaggioni also tapped into his mental resources to handle the isolation felt by many during the COVID pandemic.
Since March, France has had two strict lockdowns as well as ongoing restrictions in public places. As a professional athlete, Montaggioni is allowed to train in a gym and use chairlifts at ski resorts even while tourism to these sites is barred - a privileged access that often feels surreal.
"I'm alone on the slope so it's as if time has stopped and I am alone everywhere I go. I try to work on my psychological state with a mental coach, to try and keep up the motivation, but it's very difficult," Montaggioni said. "I need to compete with other people. It's very difficult to train alone."
As ever, Montaggioni's main motivation is the elusive Paralympic gold. And when it comes to Beijing 2022, he is bracing for a real fight.
While his main rivals from 2018, Simon Patmore and Austria's Patrick Mayrhofer have since retired, several other riders are on the rise. This includes the UK's James Barnes-Miller, who was second overall last season, and Italy's Jacopo Luchini who nearly clinched the overall title before COVID restrictions scratched him out of the final races.
There is also the less known factor of the Chinese riders who have shown remarkable progress in recent seasons and are determined to succeed at their home Games.
"We saw last season that the Chinese are very good, they improve a lot. I don't know how they did it, but in two years they increased their technique a lot so for me it's also a nation that I need to consider," Montaggioni said. "It will be a good test."