From novices to champions, China's Para alpine skiing team revs up for Beijing 2022
Chinese skiers stun world's best with their quick progress
19 Feb 2021
Imagen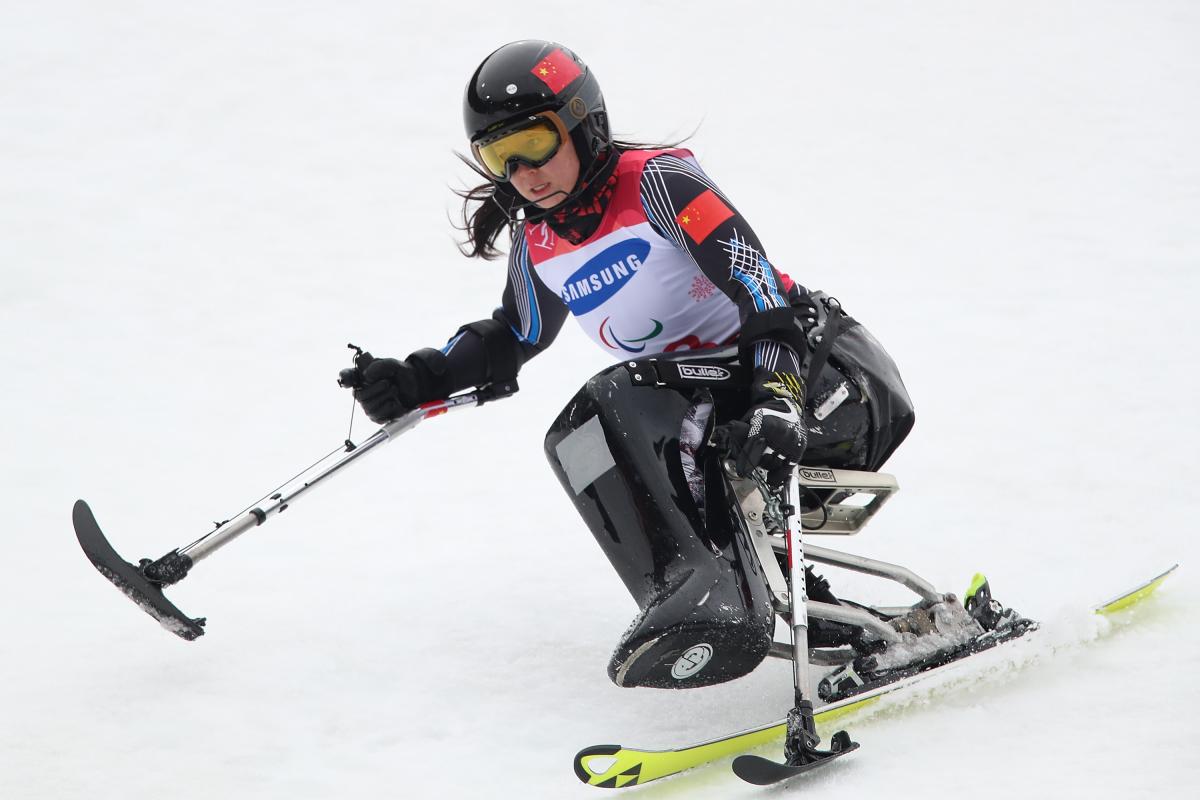 By Lena Smirnova & Zheng Guo| For the IPC
When Liu Sitong first tried Para alpine skiing four years ago, she was reminded of a game she played in her childhood.
In ice cart, a traditional winter sport in China's rural areas, children sit on a wooden board and try to ski by using two sticks, held in both hands, with a nail stuck to each stick's end.
"I tried skiing for the first time in November 2016. It felt as if I was playing ice cart like when I was a child," Liu said. "I felt that it was very slippery and I could not get in control."
But Liu and her teammates are not playing children's games anymore.
Instead, they are among the top medal prospects at the Beijing 2022 Paralympic Winter Games. Thanks to their meteoric progress, the world's best skiers are now eyeing the Chinese newcomers as their biggest threats.
Snowy transformation
Alpine skiing is an emerging sport in China. There are now more than 700 ski resorts in the country, including the impressive Yanqing National Alpine Ski Center that will host the 2022 Olympic and Paralympic Games, but the sport is not yet a top leisure activity among locals.
The Chinese Para alpine skiers were no exception to this rule. Most tried skiing for the first time only after they were handpicked as potential members of the national team.

Coming from a range of other adaptive sports, it was a drastic change of scenery for the future skiers to find themselves on the mountains, strapped to skis and asked to go down at speeds of more than 100 kilometres per hour.
"I was very nervous during the first training session. Even on a small slope, all the muscles in my body muscles were straining. I was making turns and falling. It was very difficult to get up because my disability is very serious," recalled Li Xiang, a former Para ice hockey player and hand-cyclist, who had his first official ski training in December 2017.
The high speeds were the most challenging aspect of the sport for the athletes. At the same time, this adrenaline rush also proved too hard to resist.
"This is a high-risk sport and speed is the number one issue I need to conquer," said Zhang Haiyuan, who practiced multiple summer sports before switching to skiing in 2016. "This is a passionate and brave sport. I want to challenge myself, overcome myself and enjoy the passion."
This feeling is shared by many on her team.
"What attracts me most about this sport is the feeling of freedom in the mountains and the ability to master the speed in the snow," said Liu, who was China's only alpine skier at the 2018 Paralympic Games. "Alpine skiing combines speed and skill perfectly. It is both exciting and elegant."
Alpine family
The Chinese Para alpine skiers made their debut on the international stage at the 2019 World Para Alpine Skiing World Championships. Their best finish there was Liu Sitong's sixth place in the women's sitting slalom.
Less than a year later, the Chinese skiers debuted at the World Cup. Their results in the first three stages of the 2019-20 season exceeded all expectations.
The skiers won 18 medals, including six gold, nine silver, and three bronze. All of these came from races against Paralympic and world champions, Crystal Globe and World Cup winners.
This medal rush was extraordinary. But then so is Team China's approach to training.
Not only do the athletes have intense practices almost every day, the sport has literally become their lifestyle. The skiers live together year-round and are now such a tight-knit group that their Italian-born coach Dario Capelli says he has become a near father figure on the team.
"We help each other like family every day," Liu said. "They are like my other leg and I am their other arm."
The family-style dynamic takes on different forms, from sharing laundry detergent to having secret snack parties.

"When you live with teammates for a long time, you will gradually get used to their presence," Li said. "It is inevitable that there will be some differences in our habits and some conflicts too, but usually we are in harmony. We do our own things and help each other. For example, when someone is missing laundry detergent, we share. We sometimes have dinner together, we have snacks secretly together, like friends."
Chen Liang, a former track and field athlete who came to alpine skiing in early 2017, also counts on his teammates for useful tips about ski equipment.
"If you want to be more harmonious, you can discuss technology together in your spare time and make progress with each other's help," he said.
The team's athletes are united by a single goal - to win medals at the home Paralympic Games that will begin in one year's time on March 4. It is a tall order for a novice squad, but the skiers are up to the challenge.
"I will strive for medals! Although it is not easy, I will try my best," Zhang said.
In the long term, the skiers are optimistic that Beijing 2022 will put the sport into the spotlight, ensuring that future generations no longer simply compare it to the childhood ice cart game.
"Alpine skiing is indeed not very popular in China, but in recent years the country has been developing and promoting ice and snow sports," Li said. "More and more of my friends have started skiing. After the Winter Olympics and Paralympics end, I think more people will like alpine skiing. As for me, I want to continue skiing in the future and I will promote alpine skiing."
"I feel free when I am on snow. I can do anything I want. It's completely different from the feeling of sitting in a wheelchair," he added. "Although my whole body hurts the next day after falling, I love skiing."