Giuseppe Romele starts off third World Cup season with big surprise win
Four athletes grab double gold in season's opening races, including USA's Laureus Awards winner Oksana Masters
04 Mar 2021
Imagen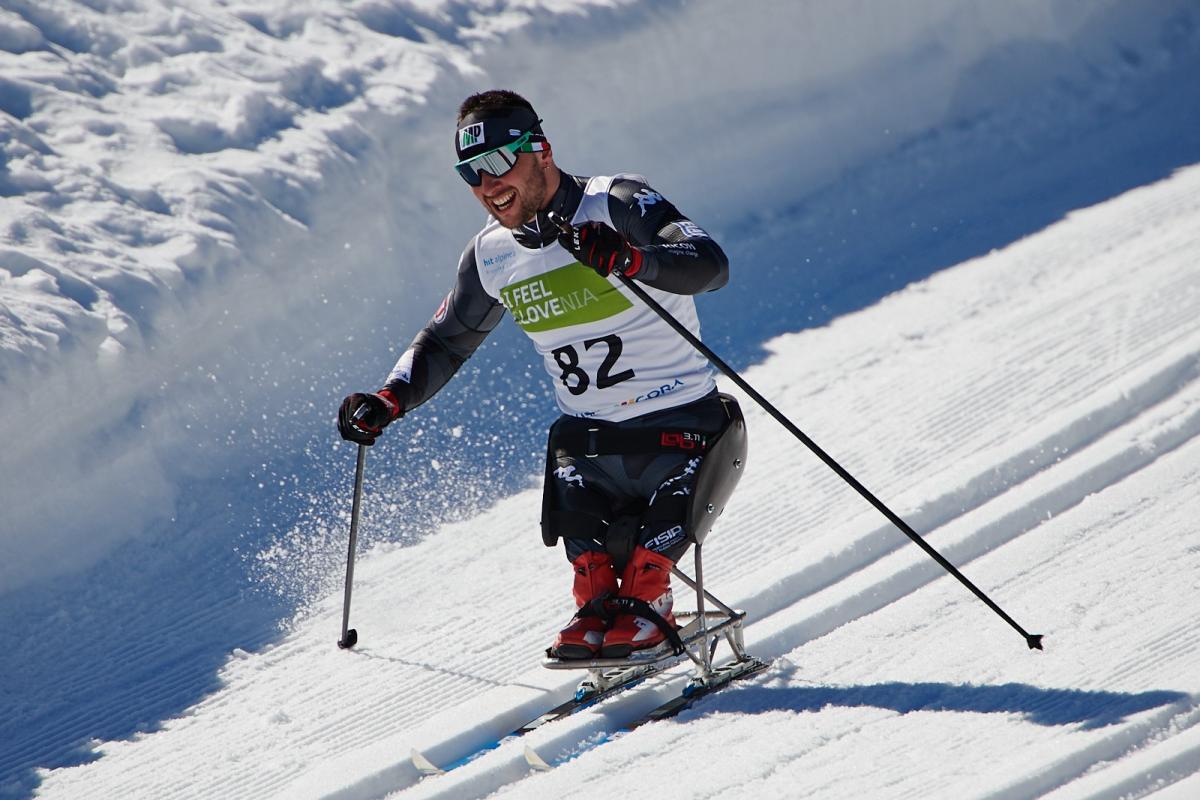 ⒸAdrian Stykowski/World Para Snow Sports
By Lena Smirnova | For World Para Snow Sports
Giuseppe Romele was a fairly unknown factor going into the 2020-21 World Cup in Para Nordic skiing. The Italian sit skier was 12th in the cross-country ranking last season, but managed to start this season with a victory, his career's first, over the biggest star in his class. 
"I am happy about the competition," Romele said. "But I will not celebrate yet. After the last race, I will celebrate."
The World Cup in Planica, Slovenia opened with the cross-country short distance on Wednesday (3 March) and sprint races on Thursday, the day that marked one year to go to the Beijing 2022 Paralympic Winter Games.
The competition continues until 10 March with one more cross-country race and three biathlon events.
The 29-year-old Romele clinched the top spot in the cross-country short distance with a 13-second lead over Russian superstar Ivan Golubkov, the cross-country and biathlon Crystal Globe holder from the last season. 
Extending his impressive performance into the second day, the Italian also took a silver in the cross-country sprint behind Golubkov. 
"It was the first race of this season, and overall, I am happy with it," Golubkov said after the short distance. "I was not expecting this result from him, but I am happy for him."
Russia's Aleksandr Davidovich and Ukraine's Taras Rad also took medals in the first sitting races.
An open mind
While the winning sensation is still a new one for Romele, it is a more familiar feeling - though no less joyful - for double Paralympic champion Oksana Masters.
The USA sit skier was unsure what to expect from the season's first World Cup in Para Nordic skiing. But after the first two cross-country races, she came away with two gold medals and a fresh confidence boost. 
"Going into the race today after not racing in over a year at Nordic World Cups or internationally I honestly didn't have many expectations. I approached this race with an open mind," Masters said after her first victory.
"The biggest difference is I did not spend this winter season in the gym due to COVID protocols. I wasn't sure where my fitness would stack up with the field at this point. This was a great start and also reassured me that there are always positives to every situation. I lost a lot of gym time but gained a lot of snow time," she added.
Masters is also competitive in Para cycling and aspires to qualify for her third Paralympic Summer Games in Tokyo this summer. Although she won two Paralympic gold medals in the sport, the dual athlete says that Para Nordic is still a learning experience for her.
"I know there are people who won't believe me when I say this, but I truly still feel like a baby in this sport. I have so much learning to do," she said. "Being a better and more confident ski handler is something I want to get better in."
Fellow USA skier Kendall Gretsch picked up a silver in the short distance and bronze in the sprint, while Russia's Marta Zainullina took silver in the sprint and Brazil's Aline Rocha a bronze in the short distance.
Double gold
Austria's Carina Edlinger also brought her team two gold medals from the opening World Cup races. Skiing with guide Daniel Bauer, Edlinger clinched a narrow, 9.5-second lead over the runner-up, Russia's Anna Panferova, and almost a minute over Vera Khlyzova, who swept the Crystal Globes in the women's vision impaired class last season. 
The Russian skiers doubled up on their silver and bronze medals in the sprint.
Their teammate Vladislav Lekomtsev had even more success in the men's standing races where he picked up two gold medals. Another Russian skier, Rushan Minnegulov took two bronze, while triple Paralympic champion Benjamin Daviet of France finished with two silver.
"I'm very, very happy," Daviet said. "Vladislav Lekomtsev is very strong. I was one minute behind his pace [in the short distance]. Minnegulov is very strong too. As for me, I am very happy about my skiing skiing and my physical shape."
Continuing last season's tradition, Ukrainian women swept the women's standing races. Liudmyla Liashenko took two gold, with teammates Oleksandra Kononova and Yuliia Batenkova-Bauman wrapping up the podium in both events.
Meanwhile, Russia's Nikolai Polukhin Nikolai Polukhin, skiing with guide Eduard Berezin, and Stanislav Chokhlaev, skiing with Oleg Kolodiichuk, split the gold and bronze in the men's vision impaired races. 
Polukhin was gold in the short distance, ahead of Ukraine's Iaroslav Reshetynskyi and guide Kostiantyn Yaremenko, and Choklhaev in the sprint. Germany's Nico Messinger and his guide Robin Wunderle were second in the sprint.
"My classic technique isn't that good, that's why I decided to double pole today," Messinger said. "It was really tough because the track was getting soft, but we had three good races today and I think it's the best race this winter for me, for sure, and I'm very happy,"
Broadcast feed free of rights
The World Cup resumes on Saturday with the first day of biathlon events. Both Saturday's and Sunday's events will be livestreamed.
The content will be available free of rights & non exclusive. Broadcasters interested in acquiring the feed can contact mcr@teleho.eu.
Pictures from the World Cup are available for editorial purposes on Flickr.
Full results from the races in Planica can be found on the World Para Nordic Skiing website.